Bristol mental health patients are still being sent miles from home. How are local services trying to eliminate the damaging practice?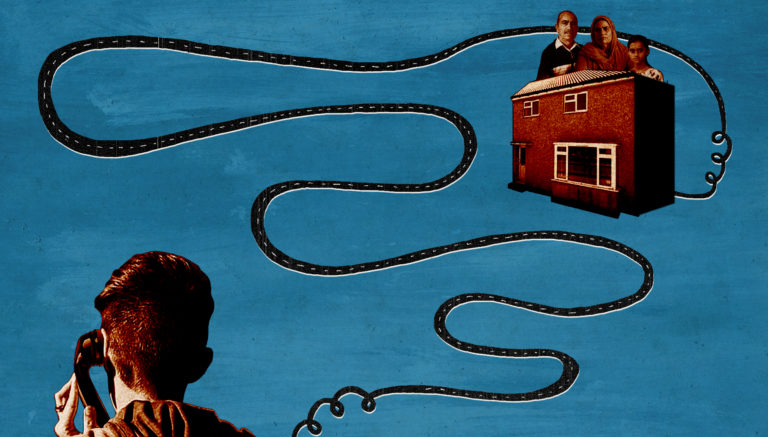 "I hate the idea of anyone going out of area. It makes me feel sick when you have to tell the family."
Dr James Eldred is a consultant psychiatrist at Avon and Wiltshire Mental Health Partnership (AWP), Bristol's local NHS provider of mental health services. He is leading local attempts to eliminate inappropriate out of area placements – where people are sent miles outside the city for mental health care due to local bed shortages.
The NHS made a commitment to phase out this damaging practice by March 2021, but more than a year later, it is still happening in many areas in England, which has been branded a "scandal". It happened to more than 200 people in Bristol and surrounding areas, which is higher than many other places across the country.
The task of reducing these placements to zero is an uphill battle when local bed capacity is limited, services are historically underfunded and demand for mental health services is at an all time high. But Eldred says that local interventions are making a difference and he hopes to see reductions over the next year.
The Cable has previously reported extensively on people in a mental health crisis being sent across the country away from their families and support networks. It is widely accepted this causes isolation, can lead to longer stays in hospital and slow down recovery.
As a result of bed shortages, then 21-year-old mother-to-be Safia*, was sent 100 miles away to Priory Hospital Woking in Surrey before being transferred to Cygnet Hospital Beckton in east London. "When you're taken away from your family, taken to another city and you don't even know where you are," she said. "It's horrible for anyone to go through."
The number of people sent out of area by AWP fell from 290 to 205 from 2020/21 to 2021/22 – nearly a 30% reduction. The number of active placements as of March 2022 was 30, which was the same as the year before.
But the overall number of total days people spent in hospital out of area increased by 28% to 12,390, which means although fewer patients were sent out of area, their stays in hospital were much longer on average. This number of bed days was the third highest in England. The overall cost of these placements increased by 25% from £4.9m to £6.2m, which is also cause of financial concern for the cash-strapped trust.
System under pressure
The failure to eliminate out of area placements comes in the context of rising demand for treatment since the start of the pandemic and staff shortages.
Last year, AWP said efforts to reduce them were hampered by infection control measures during the pandemic reducing bed capacity. And some infection prevention control measures are still in place.
Meanwhile, the demand on mental health services has also surged since the start of the pandemic. As of March 22, 1.6 million people were in contact with mental health services in England, the highest number since records began and an increase of 14.2% on the year before.
Bristol's mental health services have already had to adapt to rising demand for care. And nationally, it's expected that 1.8 million additional referrals will be made to mental health services between 2020/21 and 2022/23 as a result of the pandemic, an overall increase of a third.
On top of higher demand for treatment, there is an increasing number of staff shortages at AWP, which is creating higher demand for temporary agency staff. At the end of May 2022, 81% of posts were filled by permanent staff, which in real terms means there are more than 900 full-time equivalent vacancies.
The national picture
The issue of out of area placements does extend beyond Bristol. Although AWP is among the trusts with the highest number, most trusts sent some parents out of area and only nine trusts managed to meet the target of zero out of area placements due to local bed shortages. Across England, inappropriate placements cost the NHS £102 million last year.
Dr Adrian James, president of the Royal College of Psychiatrists (RCP), said: "The failure to eliminate inappropriate out of area placements is a scandal. It is inhumane and is costing the NHS millions of pounds each year that could be spent helping patients get better.
"We need to understand what is driving this unacceptable practice in different parts of the country and invest in local, properly staffed beds, alternatives to admission, and follow-up care in the community. Central to this is government backing to address the workforce crisis that continues to plague mental health services."
The RCP has welcomed ambitions set out in the NHS Long Term plan, including developing new community-based care to ensure adults with severe mental illness get varied care in their local area while living at home and expanding crisis support to reduce inpatient admissions. These reforms are also backed by at least £2.3 billion annual additional investment in real terms by 2023/24.
What is being done locally?
Eldred says that compared with other trusts AWP has a low number of beds per head because of historical funding allocations, and it's hard to do something about that. "To open up a new mental health ward, you need to take funding from somewhere else, which is unpopular and difficult," he says.
"Sending people out of area is undeniably completely the wrong thing to do," he adds. "We haven't been assertive enough with our impatient arrangements and discharge. We've ended up with people in inpatient wards waiting for social care provision, who don't have a suitable environment to move into."
He says last year the trust did a major piece of work identifying "inbuilt delays" in discharging people back into the community, and they found that roughly 20% of people in inpatient beds didn't need to be there.
As a result, the trust has been exploring a new model of discharge where patients move into temporary accommodation when they're ready so they can be assessed before moving back into the community.
The transition from hospital to the community means beds can be freed up for others earlier when people no longer need higher levels of supervision and support. A pilot project is being delivered in Brighton and Hove, but a provider is yet to be found in Bristol, Eldred says.
"Opening a couple of new wards wouldn't solve the problem, people would get stuck there and it's difficult to recruit to staff the wards. It's about dealing with them early to prevent people reaching crisis points and steering them away from long admissions."
Instead, the trust has been focusing on working more closely with the council and primary care, better understanding how to improve the flow of patients as they are admitted and discharged, and only admitting patients when they really need it.
"These are the small gains that are helping us to bite into the problem."
Eldred says a number of setbacks have made the task even harder in Bristol, such as a crisis house run by homeless charity St Mungo's closing down last autumn, and an eight-bed women's ward at Callington Road Hospital being closed for refurbishment, which is due to reopen soon.
But he hopes that a major restructure of services this year will better integrate different health and social care services, reduce the messy referral system and make life easier for patients. The new Integrated Community Mental Health Service says it will be more tailored to local people's needs and provide more 'proactive, personalised and preventive mental health care'.
The good news is that since the start of April the number of active out of area placements has fallen from 30 to 14, Eldred says. "I hope to have the issue sorted in the next few quarters."