'I was hospitalised with monkeypox. I would never want anyone to go through what I've been through.'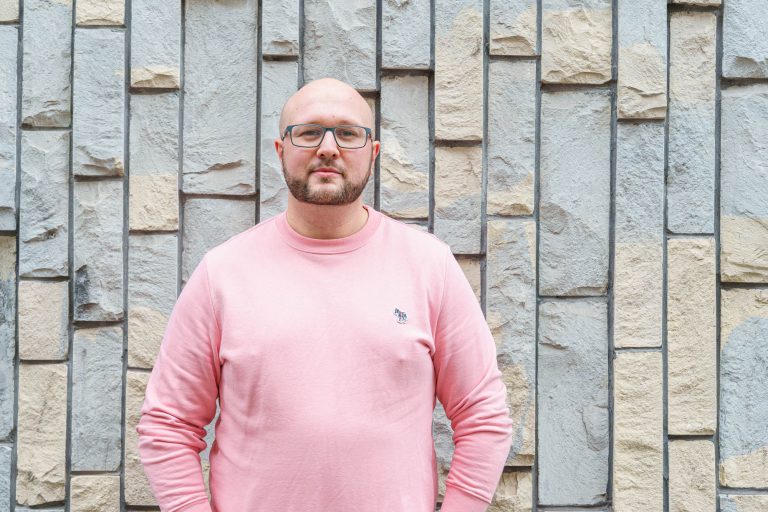 I was the first monkeypox patient to be admitted to Southmead Hospital. At least, that's what doctors told me, and it certainly felt that way. The doctors were taking photos of me for the medical record and everything just felt a bit like trial and error. Every time I saw a doctor it was someone different.
I don't fault them for that, but more education is desperately needed in healthcare settings about how to respond to this disease. It feels like the focus has already shifted back to Covid and autumn pressures, even though the monkeypox outbreak continues to grow.
Hopefully my three nights in hospital will have progressed knowledge about the disease and will help others who might become ill in the future.
But let's rewind for a second. A few months ago, I had never even heard of monkeypox. My partner Jonny and I still don't know where we got it from and no one we've seen recently has had any symptoms or knows of anyone with symptoms. It all feels like a bit of a mystery.
Jonny came down with it first. I was really worried about him because he had a bad fever and was in a lot of pain due to the open sores which are characteristic of the disease. But after calling 111 and getting some antibiotics he started to feel better.
Sadly, my experience was much worse. I had a terrible fever for three days and my lymph nodes swelled up so much in my groin that I couldn't urinate without being in agony. I couldn't even lie down or sleep because I was in so much pain. Doctors tried giving me antibiotics but that didn't help. Then they gave me oral morphine but that did nothing either.
When I finally got referred to a hospital, they sent me to the wrong one. I was sitting there on a plastic chair writhing in agony, but because the doctor who saw me didn't know enough about monkeypox they basically told me off for coming to the hospital. That's why I think education about this is key.
Eventually I made it to Southmead. The main thing they did there was pain management and monitored my swelling. The hospital staff were wearing full gowns, masks, double gloves and visors but I knew that they were taking a risk every time they came in to see me, so I found myself not requesting for help too often. It was a very isolating and lonely few days.
Thankfully the pain started to slowly get better. I genuinely don't know how I would have coped with the pain at home. Unity Sexual Health, an NHS-ran sexual health service in Bristol, also called me every other day to check how I was doing. They were brilliant actually, but they need more funding for the vital work they do.
'The first signs of monkeypox can be flu-like symptoms'
Currently, we know that monkeypox is disproportionately affecting the gay community, with 98% of current infections across the world affecting gay and bisexual men. That's important to recognise because I think if this was not confined to the gay community then the vaccine roll out would be much bigger and pumped with way more money.
Vaccines have pretty much ran out across the country. The next batch is expected to arrive in the UK at the end of September, meanwhile cases continue to double every 15 days. That's just not fast enough and will cost people their health.
However, it's important to remember that just because it's affecting the gay community, that doesn't mean that sex is the only way you can catch monkeypox. When I told friends about catching it myself, they said things like 'oh, you must have had an orgy' and 'have you been having fun around?', which did bother me.
I'm by no means ashamed of my sexuality or my sex life, and monkeypox can of course be passed on through sex, but I think it's dangerous to just focus on that. It will make people less cautious. For all we know, Jonny and I could have caught it in a bar, on a busy dance floor, standing next to someone with a sore on their arm that they didn't know about.
I do worry that the monkeypox outbreak is putting a big strain on sexual health services though. At Unity in the city centre they've had to close off part of their clinic so that it could be made into an isolation area. Jonny said the staff were worried about cases going up because they might not have the capacity to deal with it.
I know people are fed up with self-isolation, not being able to go out or having a cough and thinking it might be Covid, but let's all just be aware of how we are feeling. Thankfully, I'm doing much better now.
After 23 days I'm officially out of isolation and I couldn't be more relieved. You can't finish your isolation until your sores have healed, so that was really challenging, not knowing when I was going to be let out. I would never want anyone to go through what I've been through. Jonny and I could help each other through the process, but not everyone will have that support. That's why I'm speaking up.
My advice to others is to be cautious, because the first signs of monkeypox can be flu-like symptoms, such as a fever, headache, muscle aches and tiredness. Most importantly, if you have something which you could pass on, whether that is an STI or Covid or monkeypox, we shouldn't be afraid of letting people know.
In response to Carl's experiences, a spokesperson for NHS Bristol, North Somerset and South Gloucestershire ICB, said: "We are sorry to hear this person did not have a smooth patient experience. Local NHS and public health organisations are working closely together to deliver vaccination for those affected by monkeypox, and support people who need our care.
"There were limited stocks of the smallpox vaccine available in the UK, and globally, when this outbreak was identified. This is because this vaccine is not routinely used, and a small supply is only held as part of wider emergency planning arrangements.
"The UK has rapidly made arrangements to secure additional supply of the smallpox vaccine to respond to this outbreak, and has procured 100,000 additional doses, which are due to arrive in the UK in September. These doses are being physically manufactured to order, and it is this that has led to the delay in supply." They encouraged people affected to share any feedback: bnssg.customerservice@nhs.net or 0800 073 0907.
The UK Health Security Agency says anyone concerned they could be infected with monkeypox should phone NHS 111 or get in touch with their local sexual health clinic but call or email ahead of a visit.
If you live in Bristol, Unity Sexual Health have a Monkeypox Helpline on 0117 342 6965. They ask that you leave your name, date of birth, telephone number and postcode for us to return your call.
---
As told to Billy Stockwell