'Rwanda is just one part of the government's latest attack on asylum seekers'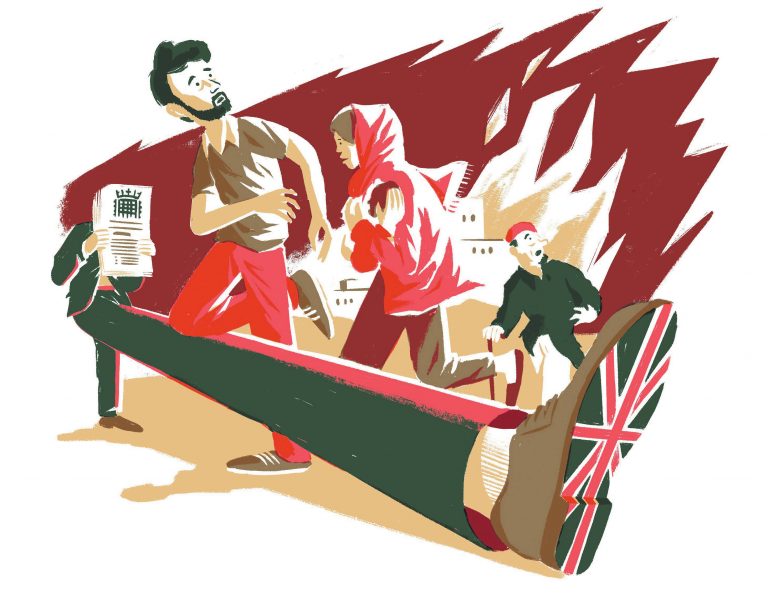 It's hard to imagine the feelings of the seven asylum seekers whose removal flight to Rwanda was cancelled on 14 June. The government, which is still determined to go ahead with deporting migrants there, is planning a second flight which could take off before the courts have ruled on whether the whole project is lawful.
Horrifying as it is, the Rwanda asylum plan is just one part of the government's latest attack on refugees and other migrants. The Nationality and Borders Act (NBA) is an attempt to make our asylum system even more hostile and to punish those who arrive outside of legal channels. However, the UK has made sure there are no safe routes available for most refugees – with the exception of specific schemes for Ukrainians and Afghans.
The logic underlying the NBA is that asylum seekers should be punished for coming to the UK through irregular routes in order to deter others. Unlawful entrants to the UK – meaning most asylum seekers – will face up to four years in prison. People who have passed through a 'safe' country en route to the UK will not be allowed to claim asylum here. The Rwanda plan means that now the Home Office will try to remove those people on a one-way ticket, and they are expected to claim asylum there instead. There is, at present, just one Rwandan official whose job it is to assess all these claims. If people win their case, they still won't be able to return to the UK and will have to make a life in Rwanda instead.
Beyond the Rwanda plan
We don't know whether this plan will go ahead, as legal battles continue. Even if it does, there are many who can't be sent to Rwanda, including unaccompanied children, meaning eventually the Home Office will have to process their claims in the UK. In the end, most of them will be accepted as genuine refugees, because they are. The Home Office accepted 75% of asylum claims in the year ending March 2021 and for the remainder, chances of success at appeal are 50-50.
However, the government still plans to take revenge on those who have broken the immigration rules, even after accepting they were fleeing persecution. Under the new act, they will be offered a much worse status with only 30 months of leave before they have to apply again, a 10-year route to settlement and a much reduced right to family reunion. 
On the 10-year route, refugees will have to make four applications before they finally get indefinite leave. Many will miss deadlines or submit the wrong paperwork and end up losing their status, despite being recognised as a genuine refugee. This will likely leave them facing destitution and homelessness, playing into the hands of traffickers and exploiters. There are provisions to reduce support for victims of human trafficking, punish late submission of evidence, and target unaccompanied children and victims of trafficking.
Assessing age is a difficult and sensitive job currently being done by social workers. The NBA gives the Home Office new powers to carry out their own age assessments, to overrule local councils and to use discredited 'scientific' methods. Bristol Refugee Rights (BRR) has been working with dozens of frightened children housed alone in adult accommodation, and this situation will only intensify with the transfer of powers from social workers to a biased Home Office.
The government says it is bringing these brutal new rules in to deter people traffickers and dangerous channel crossings. But by sowing fear and confusion, politicians create ideal conditions for more exploitation. Many asylum seekers will be driven underground and be afraid to claim asylum or go to the police. Children will be subjected to unnecessary and scientifically worthless X-rays or dental examinations, told they are adults and then be removed to Rwanda. Many of them will run away instead and be easy targets for abuse.
Another focus of the act is asylum housing: the NBA lays the groundwork for increased use of large reception centres such as army barracks. There are also proposals to rehouse asylum seekers at each stage of the asylum process. This would be cruel and destabilising for traumatised people who would have to start again each time with finding support networks.
The NBA does nothing to solve existing problems in the system. It will not deal with the dysfunction and long delays in the asylum process. It doesn't create safe routes and is unlikely to deter desperate people, smugglers or traffickers. It doesn't address the causes of forced migration. 
What the act does is allow the government to abandon responsibility and hand it over to Rwanda, to the UK's voluntary sector and to migrant communities to try to reduce harm and suffering. BRR will be looking closely at its likely impacts and planning our response both in terms of services and campaigning.