'You shouldn't be expected to report on the cost of living crisis and have to be using a foodbank yourself'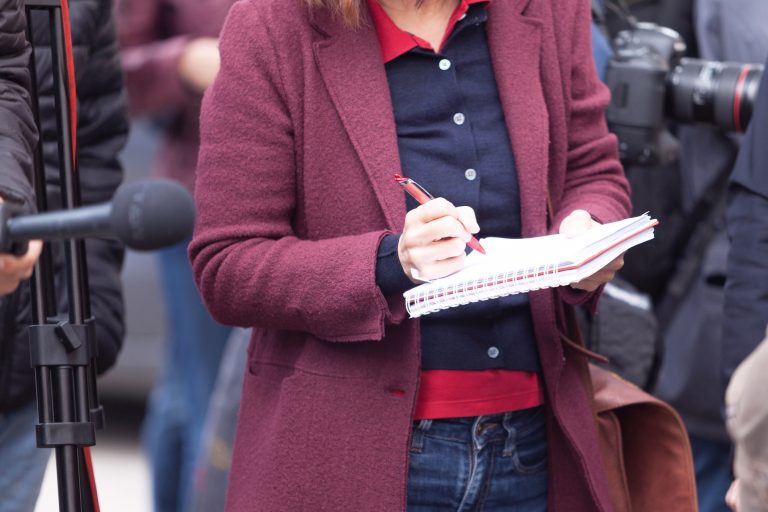 Update: Strikes by Reach PLC journalists will be going ahead from Wednesday 30 August after negotiations broke down. Since this article was published, National Union of Journalists (NUJ) reps have unanimously passed a vote of no confidence in Jim Mullen, chief exec of Reach PLC who earns £4m yearly.
"Reach management have stuck their fingers in their ears while the rate of inflation and cost of living has gone up," laments James Garrett, the chair of the Bristol branch of the National Union of Journalists (NUJ). He was speaking to the Cable on the eve of the first of four days of strike action served by the NUJ over a pay dispute.
Reach PLC is the biggest commercial publisher in the UK – owning nationals such as the Mirror, Express and Star titles, as well as more than 100 regional news brands, including Bristol Live.
After a 1% pay rise last year, members voted overwhelmingly for industrial action after rejecting an offer of a 3% pay rise; the NUJ has said this is "unacceptable" and has asked for 8.5%.
Around 9pm, some two hours after our conversation, news came that the strike had been called off after the NUJ accepted a proposal by Reach to enter immediate negotiations.
Reach staff at Bristol Live as well as Somerset and Gloucestershire titles had been due to hold a picket outside the new Bristol offices on Baldwin Street this morning, with other pickets to be held across the country.
"We welcome the invitation to talks and both sides will enter into the process of negotiations in good faith and with a sense of urgency," NUJ general secretary Michelle Stanistreet said.
In a statement to the Cable, a Reach spokesperson said: "This is a positive and significant step in finding a way forward for everyone."
If both parties are unable to hammer out a deal over the Bank Holiday weekend, the NUJ says it will go ahead with the strike action planned for 31 August, then again on 14 and 15 September.
As the cost of living crisis sets in, a wave of strike action is sweeping the UK. Over the past few weeks, Bristol has seen workers from Great Western railway to Amazon down tools in response to a 40-year inflation high of 10.1%, resulting in real-terms pay cuts. Now, journalists are adding their voice to the chorus of dissent.
'Our members are expected to live and report on areas they cannot afford to live in'
At Bristol Live, with salaries ranging between less than £20,000 for junior staff and £25,000 for senior staff, Garrett says some are struggling to make ends meet in a city like Bristol where rent and cost of living is increasingly on par with London.
"You shouldn't be expected to report on the cost of living crisis and have to be using a foodbank yourself," he continues. "Our members are expected to live and report on areas they cannot afford to live in."
Paul Breeden, treasurer of the local NUJ branch, adds: "Reach management make reporters write about their own struggles with the housing crisis in Bristol and the West Country, oblivious to the bitter irony!"
The refusal to increase pay rubs salt into already raw wounds. In 2021, Reach shut all but 15 of its newsrooms, telling the majority of its journalists they would be permanently working from home. Despite the increased burden on energy bills that caused, journalists' pay packets were not increased to match.
In Bristol, a new office on Baldwin Street was opened, but staff are only being allowed to access it once a week, and are told that it's not fully operational due to IT issues. This being the location for the picket was therefore poignant.
"Then, from their cramped bedsits or shared houses, they watch senior management, sitting in big houses with their own studies or office rooms, demand more work on Zoom calls," adds Breeden. "Reach management seems totally tone deaf on matters like this."
The result has been a "mass exodus of staff" according to NUJ South West rep Tim Lezard: "A total of 14 journalists have left the Bristol team alone since the start of 2022 – well over half Bristol's editorial staff."
After being squeezed by the pandemic and now unsupported by their employers with a looming recession, membership of Bristol's NUJ has soared as workers see the need for collective action to make change.
A foreseeable crisis
The story of this strike is similar to others across the country. While newsrooms are squeezed and journalists take the hit, Reach PLC continues to make millions in profit each year.
At Reach, senior journalists' median pay can be up to £25,000, while regional reporters receive around £21,000. Meanwhile, Reach chief executive Jim Mullen enjoys a total pay packet of £4 million, and his chief financial officer Simon Fuller, around £3.4 million.
As we reported during the pandemic, while Reach PLC staffers were furloughed on 80% of wages, executives were paid almost £300,000 in bonuses for 2019 at the end of March the following year.
The difference between the company's offer of a 3% pay rise and the NUJ's demand for 8.5% translates to a cost of around £11 million a year to the company.
As Garrett tells the Cable, "If only the company had chosen not to make this £14 million payout to shareholders – that in itself would allow them to pay their staff a 7% pay rise."
Co-founder of the Cable Adam Cantwell-Corn, who left the team earlier this year, has given evidence to the Department for Digital, Culture, Media and Sport on the sustainability of local journalism. In response to the strikes by Reach journalists, he said: "Journalism should be seen as a public service, accountable to the communities it's meant to serve and those who work in it.
"But in the case of Reach PLC, and the other corporate conglomerates that dominate local media, they are accountable to remote shareholders and investment funds that ultimately own it. At every turn they have chosen quick profits, leaving the workers, the journalism itself and communities to suffer."
And journalism does suffer; newsrooms are stripped of resources and run off a skeleton, over-stretched staff in order to increase the bottom line for their shareholders, while an unrelenting focus on advertising revenue prioritises 'churnalism' over quality reporting.
The Cable has long been beating the drum for the need for an alternative financial model for journalism. This is not intended as one-upmanship: We extend our full solidarity to our fellow reporters at Reach PLC, but their situation serves as a reminder for the pressing need to radically rethink our model for media.
The Cable's pay policy has a maximum pay ratio differential of 1:1.2 (i.e 20% max range), with 4 increments within this range from £21,499 to £25,799. Staff members' pay increases each year, including a 5% uplift this year.