Calls for West of England mayor to step in as bus service cuts bite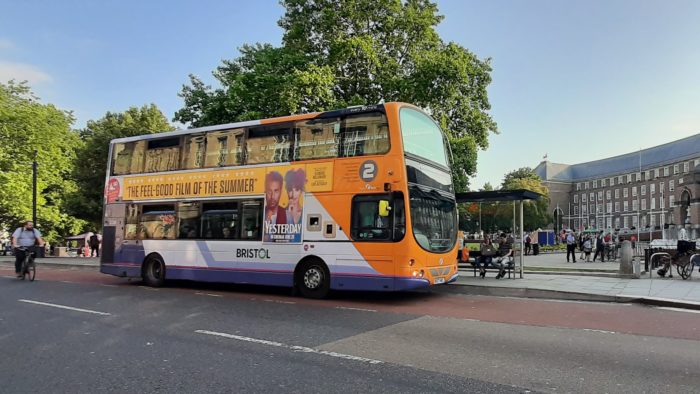 Councillors from Bristol and neighbouring local authorities have called for action from West of England metro mayor Dan Norris as bus services face the axe.
On Friday 2 September, most bus services operated by Bristol Community Transport ended as the organisation ceased operations, blaming financial pressures related to the pandemic as well as the recent cost of living crisis.
Meanwhile 18 First Bus routes in the Bristol area are due to be cut or altered in October, Norris announced at the end of August.
During a cabinet meeting on 6 September, Bristol City Council leaders were pressed as to how they are urging companies to keep bus services running in the poorest parts of the city. David Redgewell, a transport campaigner, said firms were focusing on routes in richer areas.
Labour councillor Don Alexander, cabinet member for transport, said there was a "danger" commercial operators would naturally focus on running bus services in the most profitable parts of the wider Bristol region. He also called for a look at changing how local buses are run.
Redgewell said: "The concern is that we have a number of services which aren't profitable. What are we doing to make sure that [bus companies] Stagecoach and First Group don't purely concentrate their efforts — as they seem to be doing at the moment — on the most profitable bits of the network?
"At the moment the accountability may not be there for the delivery of service levels and where they're putting their public resources. Maybe we should nationalise the buses. How do we get them to maintain the buses into the poorer parts of the city region, which may in fact be left without bus services from October?"
'Teaching a pig to dance'
The West of England combined authority is responsible for strategic transport, rather than Bristol City Council. Norris has blamed the service cuts on a shortage of drivers – but more funding is due to come next April.
In this week's cabinet meeting, Alexander said he agreed that services should be prioritising poorer arears, adding that "it's not exactly built into the system" to meet the needs of the most vulnerable people.
"A commercial system doesn't naturally do that, so there's a danger that it's a bit like teaching a pig to dance," he added. "I would welcome [Norris] looking at the overall governance structure."
As well as a shortage of drivers, one issue preventing Bristol from having democratic control of its bus services network is a lack of funding, according to Bristol mayor Marvin Rees. While cities like Manchester and London are making major changes to their bus networks, bringing them under greater public ownership, those cities receive much more transport funding, he added.
Rees said: "We agree with transport being a public good, ideally publicly owned and run. But always remember that there's no substitute for money. The governance model is one thing, but changing the governance model without additional resources could bring its own risks. That's one of the challenges we've been grappling with."
'Take greater control of bus services'
The remarks came as Green councillors from Bristol, Bath and North East Somerset and North Somerset wrote to Norris, calling on him to "take greater control" of "abysmal" bus services and provide more funding.
Bishopton and Ashley Down representative Emma Edwards, co-shadow cabinet member for transport, said: "Bus services are a lifeline for many people and their main way of traveling around the city.
"Protecting vital bus services should be a priority for Bristol City Council and WECA," she added. "We need to encourage people to drive less in order to clean up Bristol's air and reduce traffic, and we can only do that by investing in our bus services, and working towards bringing them into franchise."
Lockleaze councillor David Wilcox, who shares shadow cabinet member for transport duties, said the city region had been "left behind for the last decade" because of poor public transport provision.
"Now is the time to move to a different model of financing and providing services for the residents of WECA to provide the most useful – not the most profitable service," he added.
The bus services being axed around Bristol are:
5: Downend to Bristol
71: Hengrove to Muller Road
72A: Temple Meads to UWE Frenchay   
96: Hengrove to Brislington 
178: Radstock to Bristol
X2: Bristol to Yatton
Y3: Yate to Bristol
Y4: Yate to Bristol    
Y5: Chipping Sodbury to Bristol 
A full list of bus services scheduled to be cut or changed across Bristol, BaNES, North Somerset and South Gloucestershire is available on the First Bus website.