'Miss Conduct' yacht owners face misconduct claims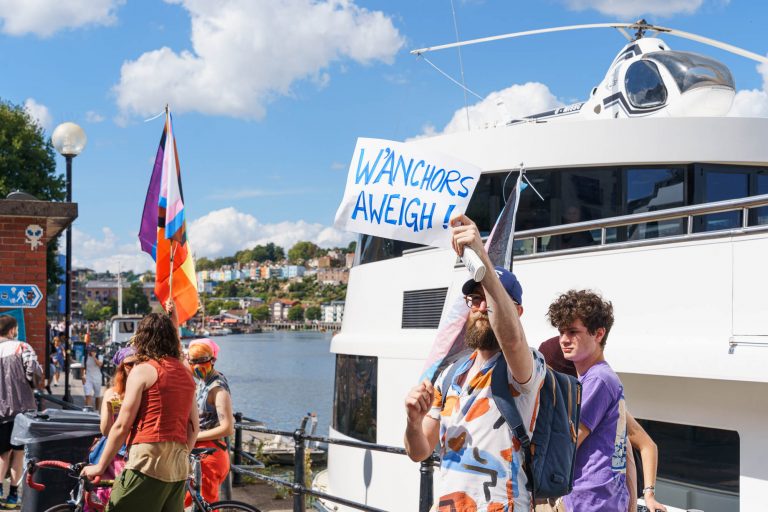 In the news this week, have you heard of the Miss Conduct? It's that massive yacht with a helicopter on top, docked in the harbour near Wapping Wharf. Its owners are well-known members of Bristol's LGBTQ+ community, respected in some circles for throwing big parties and using the vessel as a HQ for their charity fundraising.
But this respectability is a "veneer" say protestors who picketed the yacht on Monday to highlight various allegations of, ahem, misconduct against them, particularly in relation to one of the owner's practices as a landlord. We can't report the claims in detail due to an upcoming court case, but watch this space for reporting when we're legally able to do so. 
Monday's boat-party-themed protest saw several banners pinned to the railings in front of the Miss Conduct, including ones that read 'W'anchors Aweigh!' and 'All Landlords Are Bastards', while dozens of demonstrators danced and heard a speech denouncing the two yacht owners, Harry Steeley and Airbnb landlord Thomas Flight.
"We're here to show them that Bristol's watching," one protestor told the Cable at a demonstration in front of the 40-metre, multi-million-pound vessel that arrived in Bristol in December, as those aboard watched on from the cabin. "They need to be held to account."
Other Cable stories this week have focused on Bristol's vulnerability to heatwaves, particularly the disparities in different areas of the city; the clearing of a former Avon & Somerset Police officer accused of sexual misconduct; and Neil Maggs in conversation with Bristol NUJ treasurer Paul Breeden for this week's Bristol Unpacked podcast, outlining the decades-long cost-of-living crisis local journalists have faced.
---
Your Bristol news round-up
? Bristol Zoo closes this weekend after a 186 year history, making it the fifth oldest zoo in the world. The land was sold after dwindling sales during the pandemic, and the Bristol Zoological Society plans to open at a site in South Gloucestershire in 2024. The current site will become public-access gardens, and has planning permission for sustainable housing.
❤️ Takayo Nembhard, a 21-year-old Bristol musician who performed as 'TKorStretch', was fatally stabbed at Notting Hill Carnival. Takayo had been a talented footballer, playing as a schoolboy for Bristol Rovers Academy, and was about to become a father. Tributes have poured in from fans and loved ones.
? The Council has broadcast a reminder that there are 3 months to go until Bristol's Clean Air Zone comes into effect. The mayor says three quarters of drivers won't be charged because their vehicles already meet emissions standards, and £42 million has been secured to help people make the switch to lower-emission vehicles.
?️ Forwards Festival takes place on the Downs this weekend, an event focused on promoting positive change that will track its emissions data and provide work experience for Bristolians who are underrepresented in the events industry. As well as musical acts, the festival will host information sessions, such as a panel on harm reduction with Bristol Drugs Project on Saturday evening.
?️ Bristol City Council have finalised a £350 million deal with Legal & General to develop the disused Temple Island space formerly earmarked for an arena. More office blocks will be built, as well as hundreds of flats, a hotel and a conference centre.
? Accommodation for students in Bristol is reportedly at a "crisis point" as the academic year begins, with housing waiting lists having more than doubled from last year. UWE's waiting list had 150 students in 2021, but this year has 485 according to one letting agent, as a result of a large number of deferrals during the pandemic, and Bristol's ongoing housing crisis.
? Henleaze-registered Leave.EU, funded by controversial businessman Arron Banks to support Nigel Farage's Brexit campaign, has gone into liquidation with millions owed to banks. The group also owes tens of thousands to the Information Commissioner's Office in fines, after it was found to have breached marketing rules.
? Only 7% of flats in 'Redcatch Quarter', a potential development on the site of Broadwalk Shopping Centre in Knowle, would be affordable, according to a new proposal. According to council policy, any new developments outside the city centre must consist of at least 30% affordable homes. The developers say they have consulted residents, but the Knowle Neighbourhood Planning Group has urged local residents to view the plans in detail. 
---
This Week in Bristol: Thousands of Bristol Cable readers get this essential digest of local news sent to them every week. Sign up to join them and receive in-depth reporting and analysis that cuts through the noise of daily news.