*Following this investigation, Bristol City Council has confirmed Eccleston House was fitted with an EPS cladding system that contributed to the spread of the fire.
Tom Renhard, the authority's cabinet member for housing, said the authority is working to remove the material from its other high rises.
He has also committed to attending meetings with those affected by the recent fires, after previously failing to show up.
Read our latest report on all of this here.
Matt Taylor's flat began filling with smoke. It was pouring in through gaps in his front door and the escape hatch fixed into his bedroom wall. He was struggling to breathe, feeling faint, choking and vomiting.
A fire was rapidly spreading through the west stairwell of Eccleston House, a council-owned tower block in Barton Hill. Matt and other residents whose flats are closest to this stairwell were trapped in their homes.
"I tried to escape through the front door and I was just hit by a wave of heat and black, acrid smoke," he tells the Cable. "And the amount coming through the escape hatch, there was no way I could have got out of there."
The 43-year-old called 999 and the operator asked him if he could safely climb from his living room window to escape the smoke, out onto the scaffolding that had been fitted to the building for cladding repair works.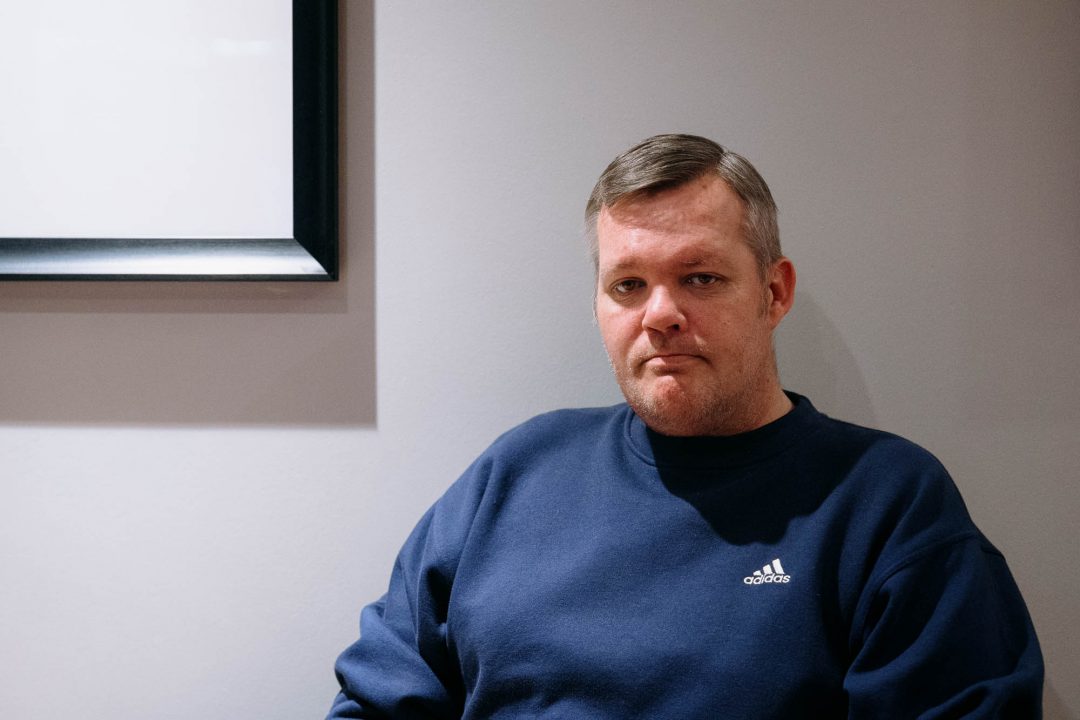 "I had to get out. It was a bit of a drop but I had no choice… If the scaffolding wasn't there, well, I would be dead," says Matt, who lives on the top floor of the nine-storey block. "I managed to throw myself out. I was petrified."
Matt says the scaffolding was closed off at both ends, and so he was forced to wait on its wooden panels for 20 minutes before firefighters could reach him and help him to safety via the block's east stairwell. He was rushed to hospital and treated for smoke inhalation.
Like many residents of Eccleston House, Matt feels shaken by recent events and desperate for answers. Lack of communication from the council in the aftermath of the blaze, and a racist hate crime that followed it, has made matters worse.
This Bristol Cable investigation uncovers the first-hand experiences of those worst affected by the blaze, and probes how incomplete fire safety works at the site might have allowed the flames to spread.
A wall of silence
Almost three weeks after the fire, which broke out shortly after 6am on October 20, Matt and a number of other residents remain in emergency accommodation provided by Bristol City Council. He's scared to return home.
"I'm reluctant to go back, and scared because I know nothing will have changed," says Matt. "I'm shitting myself… I've heard nothing, not a sausage from the council about how my home or the whole building will be made safe."
The fire was started deliberately, officials say. Four arson-related arrests have been made in connection to the incident, which occurred little under a month after a fatal flat fire at Twinnell House – another tower block less than a mile away in nearby Easton.
Abdul Jabar Oryakhel, 30, died after falling from a window on the 16th floor of the building, as he tried to escape the flames that ripped through his flat on 25 September. The fire was caused by a fault with an electric bike.
No one died in the Eccleston House fire, but six people were injured. Three people were taken to hospital suffering from burns or smoke inhalation. Everyone inside was evacuated.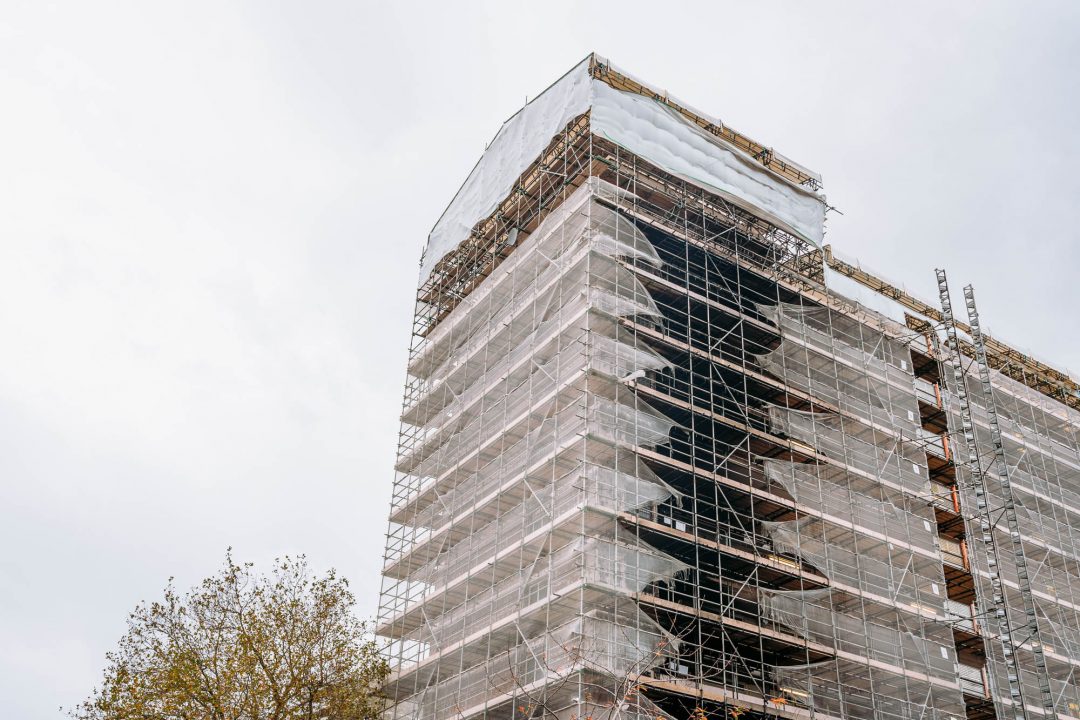 Bristol's mayor Marvin Rees said after the fire at Eccleston House: "It's completely understandable that high rise residents across the city may feel upset and worried. We will be doing all we can to support them."
Speaking to reporters at the scene, he added: "It's incredibly unfortunate, to put it mildly, that we've had two fires in a short space of time, but before speculating on why two have happened so quickly, it's important to wait for the investigation to find out what happened."
Council officials met with residents to reassure them that their safety is a priority. But the meeting, one Eccleston tenant says, was "totally meaningless", as officials used ongoing investigations to dodge urgent questions about safety.
"They were like 'let's take your details, we can learn some lessons from this'," the resident said. "But what are they actually doing? The whole thing was just really condescending and now [the council officials] have just disappeared. It's like [the fire] never happened."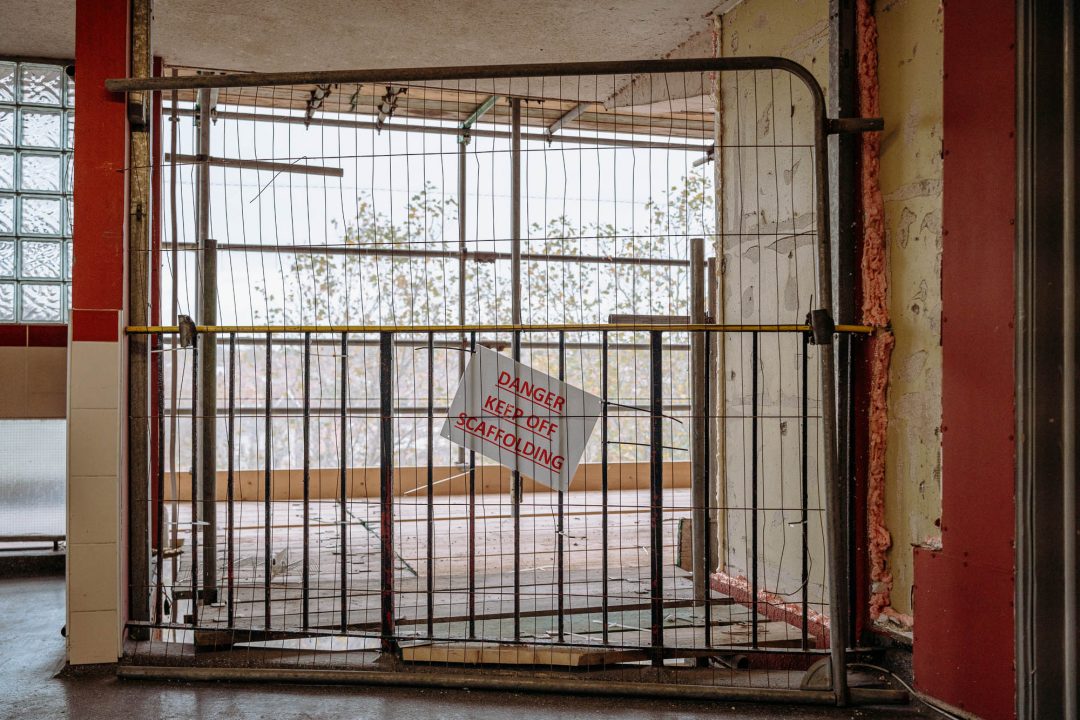 Eccleston residents' safety fears were heightened further on Sunday morning, when worshippers making their way to morning prayers at the nearby Tawfiq Mosque discovered a pig's head had been dumped on a wall outside Eccleston House.
The mosque was the first place of safety for those evacuated from the building during the fire. It provided shelter for more than 50 people, while a rest centre was also set up by the council at the nearby St Patrick's Church.
Avon and Somerset Police is treating the incident involving the pig, which the Koran forbids Mulsims from eating, as a hate crime.
Chief inspector Deepak Kenth says an investigation has been launched, adding: "There is absolutely no place for hate, or crude attempts to cause upset or division, in our communities."
A racist hate crime
Ali is fighting back tears. It's Monday morning and he's arrived at Barton House, a block next to Eccleston, for what he thought would be a meeting with council employees to discuss the impact of the blaze, and the suspected hate crime that followed it.
Nobody from the council has shown up. Instead, Ali and a small number of fellow Eccleston House residents are left to talk amongst themselves.
Ali, who lives in Eccleston House with his wife and four young children, says: "We're still traumatised by the fire. For someone to do that – to leave a pig's head here – it just causes more upset."
"There are people that don't like us – Muslim people – to live here," he adds. The incident has triggered memories of hate crimes he and his family were the victim of in years gone by while residents of the tower blocks.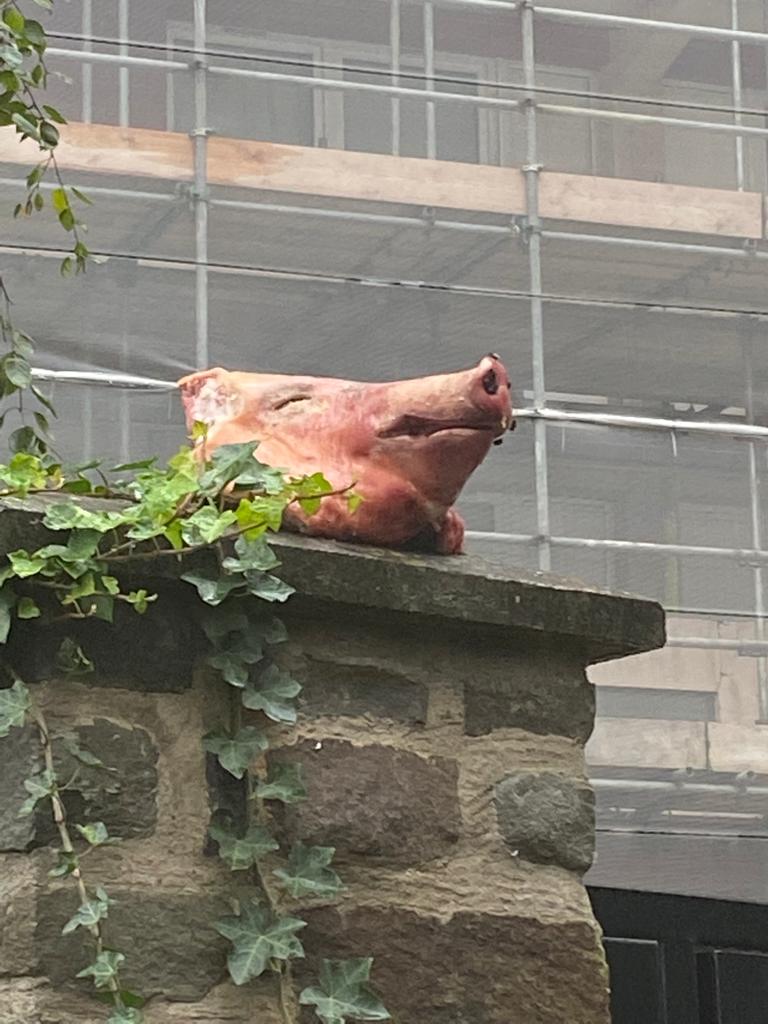 "A man knocked on my door, he had a knife and he said 'what are you doing here'… He told me to go back to where I came," says Ali, a 50-year-old man originally from Yemen, recalling an incident he said was never properly followed up by officials.
"We were all starting to slowly recover from [the fire]. It's just sad that now we're being intimidated by someone putting a pig's head there," says Muna, 33, who lives in the building with her husband and three children.
"It's totally unsafe here and we never felt safe before… If people are being racist, [the victim] would inform the council and nothing would be done," she says. "Even now after this incident we haven't had any information from the council, since the first and last meeting."
Muna, 26, who moved into the block just a few months ago, says of the pig's head: "This is a racist crime and they need to do something about it. We're being told, 'yeah we're going to do something', but realistically nothing is being done."
Another resident says he and his family, and many of his friends who also live in Eccleston House, "don't sleep at night".
"The security doors are always open – they don't work," says the man, who wished to remain anonymous, of the entrance to the building. "After what's happened – the fire and now this – you've got to do something to make sure people are safe."
A Bristol City Council spokesperson says the authority has no record of a public meeting for Eccleston tenants on Monday, at Barton House or elsewhere. They did not confirm if the authority planned to meet with residents in the near future.
The local authority has not responded to several requests for comment on any of the other issues raised in this report.
Did polystyrene insulation help the blaze spread?
While separate investigations into the blaze continue, questions remain over why the fire was not contained to the first floor – where it started – and why some homes became overwhelmed.
Eccleston residents say the council were in the process of stripping the building of insulation material at the time of the fire. In the aftermath of the blaze, specks of a polystyrene material could be seen scattered around the building.
The cladding system on the building comprised 100mm thick polystyrene board type material (EPS), secured with mushroom headed plastic drive fit fixings, driven into pre-drilled holes in the underlying concrete walls.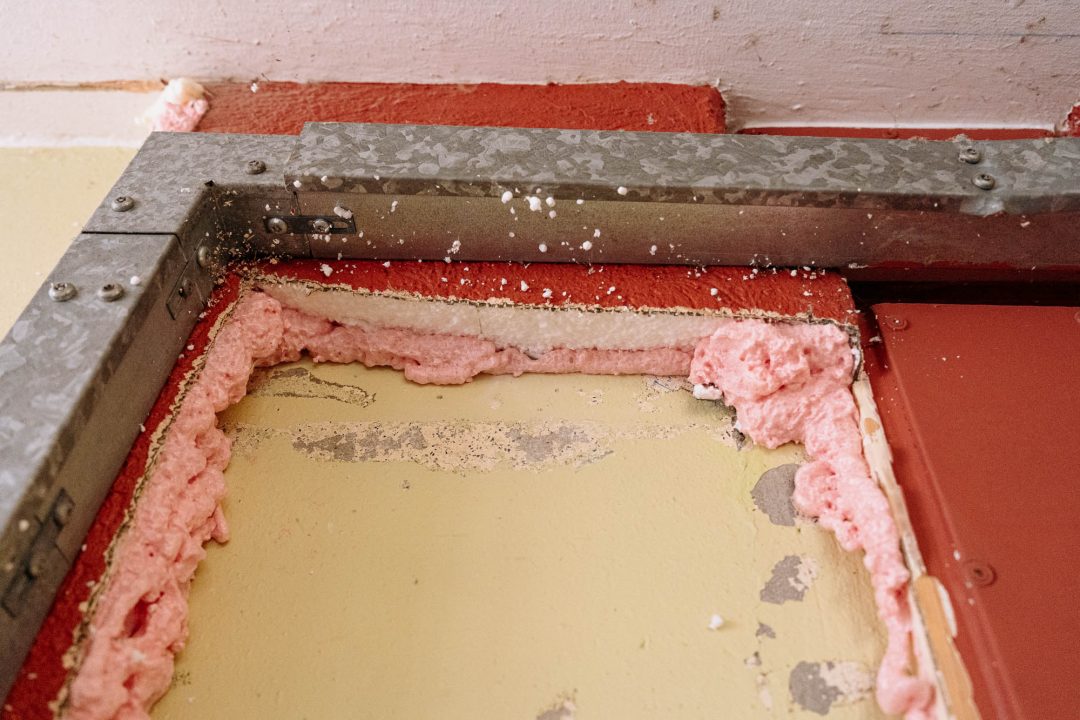 This is according to a 2019 independent fire assessment report by Easton Bevins carried out after the Grenfell Tower tragedy two years earlier, which the Cable acquired via a Freedom of Information (FOI) request to Bristol City Council.
Polystyrene is highly flammable and ignites at relatively low temperatures. It has been linked with huge fires. Experts say, however, that EPS would not burn if encased in a cement-based render.
The surface finish of the render at Eccleston house was "in very poor condition", according to the Easton Bevins report, "and unlikely to remain intact in the event of fire."
The fire safety report made clear there were cracks in the material. "The cracking to the render on the southern gable in particular, is significant enough to compromise the system's performance," the report states. "There is a strong argument for replacing the cladding rather than local repairs and additional fire break installation."
There are believed to be hundreds of buildings that have EPS systems in the UK.
The government has previously refused to add this system to its post-Grenfell testing regime, according to Inside Housing. The aluminium composite material (ACM) panels used on the Grenfell Tower is treated as a unique threat to fire safety.
But a report from an Australian government research agency that tested an EPS system, similar to that used on Eccleston House, found there is "clear, test-based evidence" that the system can result in "vertical fire spread and pool fires" when exposed to a large fire.
Bristol City Council has not confirmed if the EPS system present at Eccleston House was being removed, nor did it make clear exactly what works were being carried out on the building before the fire.
However, a list of fire safety improvement works on the council's high rises seen by the Cable suggests that there were numerous works still to be completed at Eccleston House.
The progress report, obtained via FOI, states that work had begun but was not completed on the building's internal fire doors, fire breaks and balcony reinforcement. It said this work was due to be completed in 2024.
Compartmentation remedial work – this would mitigate the effects of fire spread by containing it to where it starts – has been partially completed on the building, according to the report. This remains in progress and will not be completed until next year.
It appears that the polystyrene material present in the building has now been completely ripped out of the remainder of the block. The council would not confirm when this was done, or if this was carried out on the recommendation of fire officials after the blaze.
Design flaws left people trapped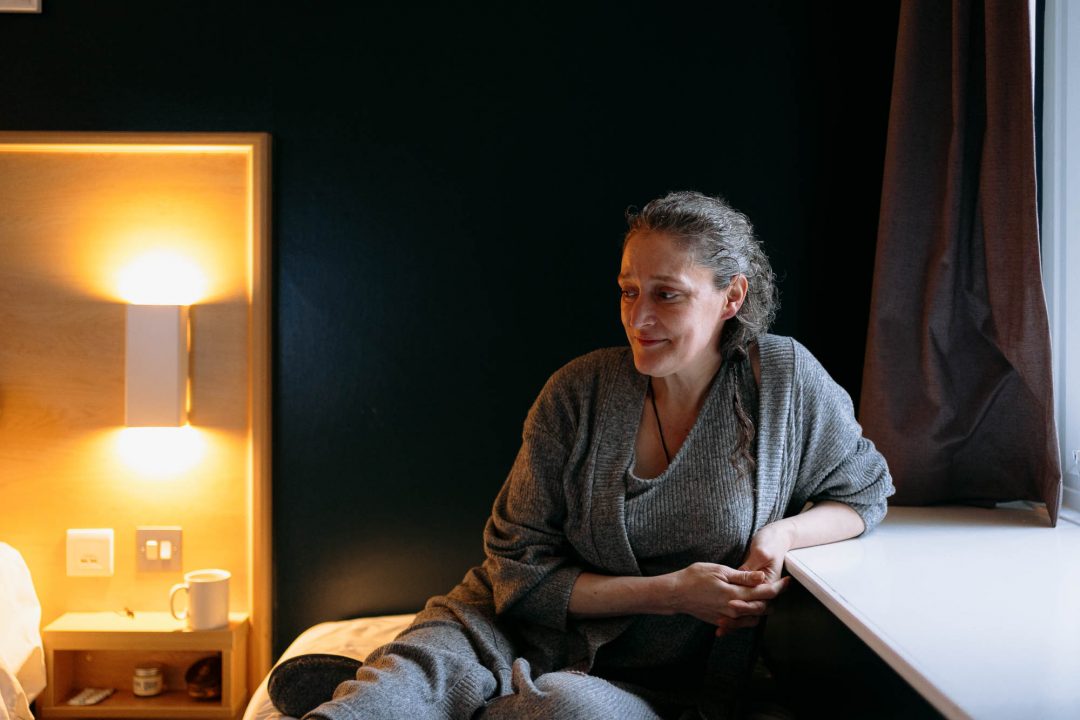 Bronwen Grove, 49, lives on the eighth floor of Eccleston House, in the flat directly below Matt's. The layout of their properties, which are next to the west stairwell where the fire spread, are almost identical.
She and her partner Gary Stevens were also trapped when the fire took hold on the morning of 20 October.
"It was bloody scary," she says. "I got out of bed and smoke was swirling around my feet. I couldn't see a fire anywhere, but I could feel heat coming from the kitchen. I went towards the front door – there were flames coming through the letterbox."
The couple and their dog, Kane, were forced out onto the scaffolding, which is sealed off at each end of the building by a metal fence. Gary managed to break the cable ties on the fence, and the three of them escaped via the east stairwell.
"The scaffolding sounded like it was going to give way. It was creaking and crunching and it was on fire," says Bronwen. "The scaffolding clips were starting to warp. We were desperate. We had to get out of there as quickly as possible."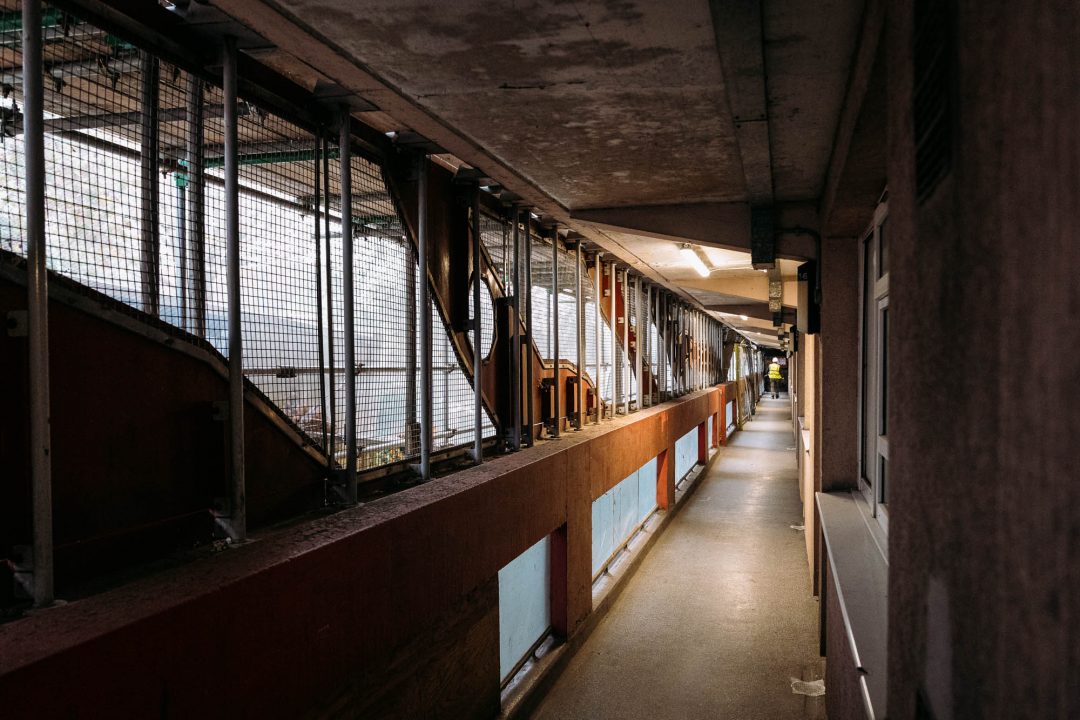 Bronwen says the design of Eccleston House, which was built in the 1960s under long-outdated building regulations, is not fire safe.
The flats on each floor of the building are served by an open air walkway that leads to both stairwells at each end of the building. It's the flats closest to the west side, like Bronwen's and Matt's, that were worst affected by the blaze.
They were unable to use the escape hatches in their bedrooms – small fire escapes that look like cupboard doors – because they led to the stairwell that was being ravaged by flames and full of smoke.
Their front doors are also close to the stairwell, which is not isolated from the open-air walkways on any floor.
By contrast, residents in other parts of the building were able to access the open-air walkways, where the flames and smoke didn't spread to, and so they could escape the building via the east stairwell.
Matt and Bronwen, who almost three weeks after the blaze both remain in emergency accommodation, say they were woken by the sound of their flats' smoke alarms. They said if a communal alarm was present, they would have been able to escape quicker.
A stay-put policy is in place for Eccleston House, which means if there is a fire somewhere else in the building then residents are advised to stay inside your home unless the heat and smoke from the blaze is affecting them.
Bronwen says she has had little contact with her housing officer following the blaze. The council has extended her stay at a Travelodge hotel to 21 November, she says, but would not tell her exactly what repair works are being done.
"I don't know when I'm going to get my keys. I don't know when I'm going to be able to get my clothes, my medication," she says, speaking from her emergency accommodation. "We're stuck, here in limbo… No one's checking in on us."
No accountability
Matt says the council is either keeping residents in the dark about planned fire safety improvement works, or not doing enough. Greater transparency on the issue, he says, would go a long way to helping council tenants feel secure.
"Each one of us gets a specification about the works that are being done, like windows being replaced, doors being replaced. We get a newsletter every Friday, and there's never a mention once about any new fire systems being put in place."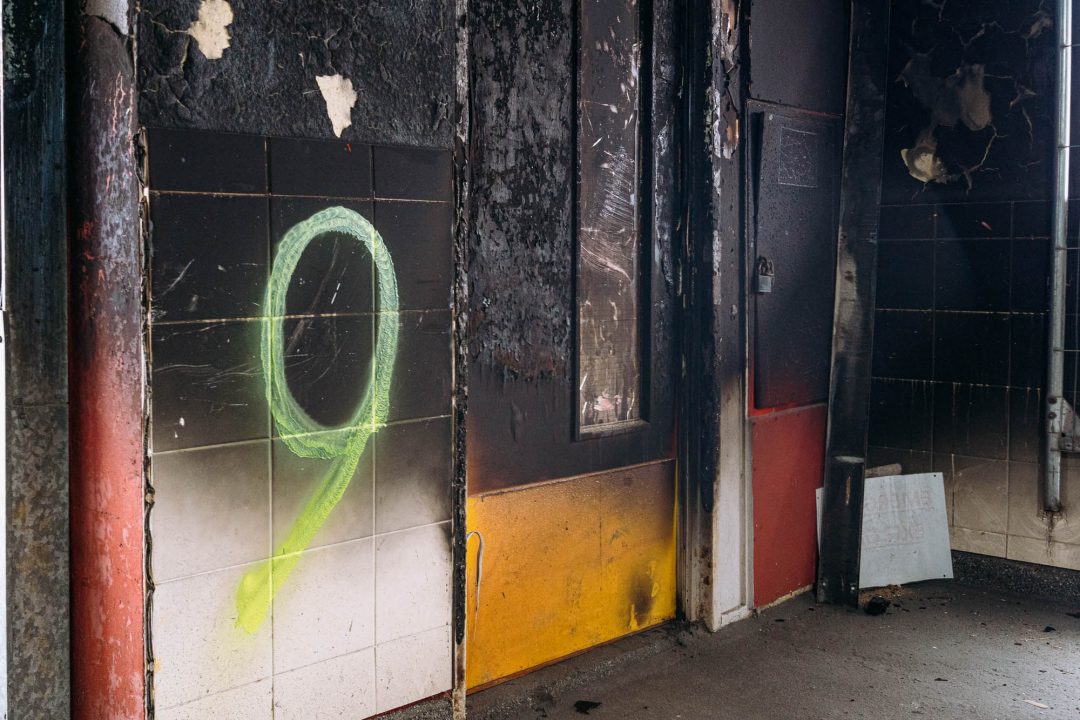 Asked what he would like the local authority to do to ensure its tenants' safety, he says buildings like Eccleston should be fitted with a sprinkler system, a communal fire alarm, and fire marshal should be present around the clock.
"There's no fire hose reels, no fire extinguishers," he adds. "Even in the kitchens, there's not even a fire blanket… and if there was a communal fire alarm we would have known about it with plenty of time to get out."
Matt's lack of trust in Bristol City Council to make his home safe is shared by many. Following the fire at Twinnell House in September, tenants' union ACORN launched a campaign for residents of Bristol's BS5 tower blocks. They are demanding regular fire safety checks, sprinklers and fire marshals at the buildings.
In the aftermath of this blaze, residents of tower blocks in BS5 met to press council chiefs for answers on fire safety measures. Bristol's mayor and cabinet member for housing Tom Renhard were invited to the meeting, but failed to show.
Instead, Renhard released a statement saying that the council spends £2.5 million a year on fire safety of its 62 high-rise tower blocks, and that all of these buildings would be inspected for fire safety due to new government regulations.
Shaban Ali, a resident of Barton House who attended the meeting, said: "It's obvious no lessons have been learned and nobody wants to take accountability, nor put it right for remaining residents."
Venues in the Barton Hill area, including the Tawfiq Mosque and the Barton Hill Settlement, have hosted events for residents of Eccleston House, Twinnell House and the wider community, to reflect on these recent events.
The overriding concern aired by residents was Bristol City Council's poor communication, particularly with those worst affected, about the work it's doing to make them safer.
Lack of information, coupled with the fact public officials are failing to show up for accountability meetings, means people are shouting into the abyss.