'Childcare costs prevent countless ambitious women from fulfilling their potential'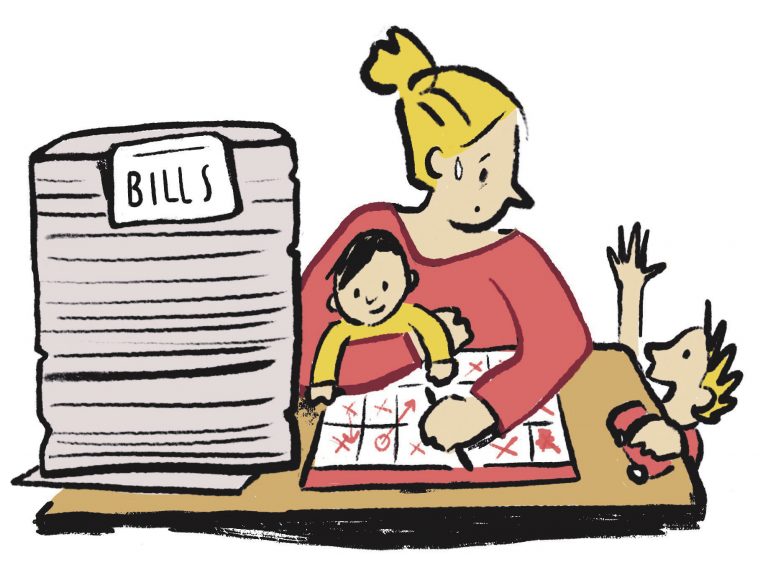 One Wednesday this autumn, I'd just left work with my three children in tow and once again needed to stop at the supermarket on the way home for something instant for tea. 
The day had been full on. My role as a learning support assistant at a nursery working with four- and five-year-olds is far from boring. That morning, in one lesson, we had no less than three safeguarding issues arise in under 15 minutes. 
The day before, we were searching around for clean clothes for a child who didn't have any. Regularly, children come in hungry and we quickly and quietly find them something to eat. On a weekly basis we hand over food bank donations at the classroom door. 
The needs of the children in this inner-city school can be overwhelming, and I am processing this as I push the trolley towards the Aldi door. Then I see it: a sign that says I could be paid quite a lot more to work in this shop than I do looking after some of this city's youngest and most vulnerable children. It is heartbreaking and tempting in equal measures.
Ten years ago, after the birth of child number one, I went back to work part time. I had to, as I needed the money and I'd already spent my maternity pay. Luckily my partner was able to condense his hours and do some of the childcare and that halved our costs. Full time wasn't an option as we'd be paying out more than I made.
But going part time changed my work life. I was taken off one-to-one SEND (special educational needs and disabilities) work, which I loved, and given a more generic role seemingly made up for me and my now 'awkward' hours. Any ambitions I had – to specialise in special educational needs, or to retrain as a speech and language therapist – disappeared.
By the time number one was in school and number two was on the scene, the juggling of childminders, after-school club and work became increasingly hard to get my head around without it exploding. And critically, it wasn't financially worth it. Even though I work in schools and so don't need hours and hours of extra childcare, I couldn't work out a way that left me with money in my pocket and headache-free.
So, I stopped working for five years, and we mostly ate dal and jacket potatoes.
Going back to school
But a year ago, with two kids at school and one at nursery, I saw an advert for a role in early years education. And the thing that made this job a possibility, that made it seem in some way financially plausible, was that it was in the school that my kids attend. It felt like my only choice.
I had stopped working in schools six years ago, disheartened and vowing to do something else. I trained in the evenings in horticulture – I had plans. But the reality is, I'm limited by the hours I can work without using paid childcare. So, like an autumnal supermarket advert, I went 'back to school'. 
Across the country there are countless ambitious, smart and hardworking women unable to fulfil their potential because of the cost of childcare.
Now, my working day ends with all three of my children in the classroom with me as I try my hardest to finish my job in a professional manner. My working day overlaps with my parenting at 3.30pm, which my colleagues are fine about – and luckily my employer is supportive. But really, I wish it didn't.
The childcare system is failing women
I am not alone. Everywhere I look are parents (mums mainly) trying to figure out how to work without spending all their wages on childcare.
One friend wants to retrain but with only the hours between drop-off and pick-up there aren't many options. Another is swapping her creative set designer role for a nine-to-five that she can work childcare around. A colleague I know has unachieved ambitions to start a local support group, engaging women from marginalised communities. 
Across the country there are countless ambitious, smart and hardworking women unable to fulfil their potential because of the cost of childcare. Relying heavily on friends and family to help out, as I do, comes with a guilty conscience. Think what could happen if a system was in place that enabled them to work, to train, to progress without this pressure.
Luckily for me, returning to work in a school has turned out to be better than I ever imagined. My passion for caring for the very youngest in our society has been reignited, and the difference I can make is evident on a daily basis.
So, I won't be applying for that Aldi job just yet, but you never know.
This article was commissioned ahead of the March of the Mummies, a protest against the UK's broken childcare system, which took place in Bristol on Saturday 29 October. The writer asked to remain anonymous.