Explainer: How many protected bike lanes does Bristol actually have?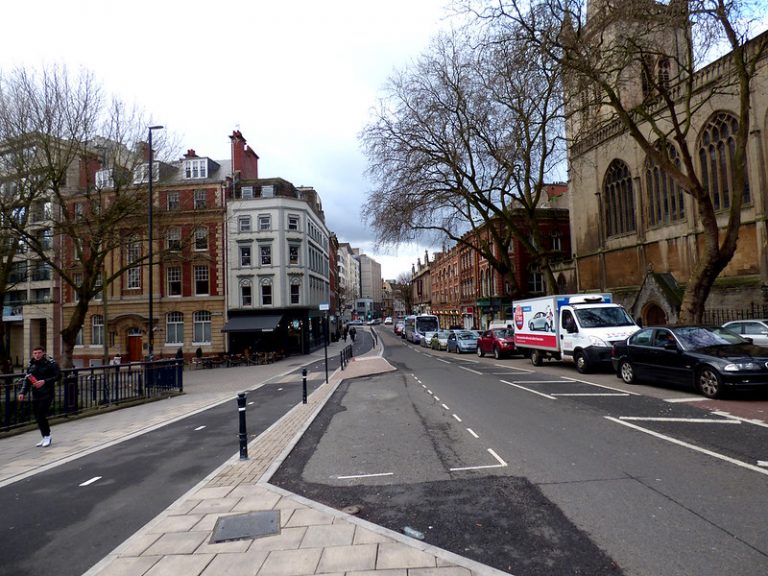 Bristol City Council today debates a petition launched by Bristol Cycling Campaign calling on it to take action for safer cycling in the city.
The petitioners are demanding the council create a "comprehensive network of protected cycle lanes connecting all parts of the city" and a new cycling plan for Bristol.
The petition received more than 3,700 signatures and so is being debated by the full council this evening at 6pm.
In response to campaigners' calls for more protected cycle ways, the council has said the city had 75 miles of segregated cycle ways. Campaigners have called out this figure as misleading and a gross overestimates the infrastructure that's in place. So what is actually going on?
Why do segregated cycle lanes matter?
Bristol generally has higher cycling rates than many cities, but these could still be better. A survey a year ago by Bristol Cycling Campaign of 1,200 people, a third of whom didn't cycle regularly, found that people's main reasons for not cycling more were concerns about road safety, bike theft and personal safety.
Campaigners argue making cycling seem safer means continuous, protected cycle corridors across the city.
And the government seems to agree. In 2020, the Department for Transport published something known as Local Transport Note (LTN) 1/20, which guides local authorities on designing cycling infrastructure.
In that document the government generally encourages local authorities to build bike lanes separated from motorists and pedestrians where possible, although it does permit shared routes for cyclists and pedestrians where appropriate.
How many protected bike lanes does Bristol have?
There doesn't seem to be a definitive answer as to how many miles of protected bike lanes Bristol actually has.
The council says Bristol has 75 miles of segregated cycle lanes. But cycling campaigners say it's actually much lower, putting it at somewhere between two and five miles.
The Cable asked the council to comment on the claims that the 75 miles figure is misleading and that, in fact, the amount of segregated cycleways in Bristol is much lower. The council did not answer our questions.
However, the Cable understands that the council's 75-mile total is in fact based on a 2017 report by the cycling charity Sustrans. That figure consisted of 53.7 miles of traffic-free off-road routes, such as the Bristol to Bath railway path, as well as 1.2 miles of cycle tracks physically separated from traffic, such as on Baldwin Street, and 20.5 miles of shared use footways.
But Sustrans has apparently since abandoned the 75-mile figure. In its Walking and Cycling Index 2021 the charity said Bristol had "52 miles of traffic-free cycle routes away from the road" and "12 miles of cycle tracks physically separated from traffic".
We asked Sustrans why it had revised down the amount of segregated cycle ways in Bristol. It said the main reason was that the 2017 figure included shared-use footways. "We don't include those any more in the figures we report because much better alternatives should be provided," a Sustrans spokesperson told the Cable.
How can things be this ambiguous?
So what's at the root of all the confusion? This is a relatively new area of transport planning, so government guidance is open to interpretation.
"People talk about cycle lanes being compliant [with the latest guidance]," says Nick Davies of Bristol Cycling. "It's not quite as black and white as that.
"LTN 1/20 encourages best practice like Baldwin Street, and discourages bad practice like the shared space in Hotwells or the centre [near the fountains]. It doesn't outlaw shared space. Instead it says the Department for Transport is much more likely to fund segregated, than shared, schemes in urban areas.
"There are different types of segregation and some of it is quite technical, for example kerb segregation on Clarence Road, light segregation with wands on Park Row, shared space with pedestrians elsewhere. It's varying shades of grey."
Looking for a definition is just going down a rabbit hole, according to Davies.
"Rather, ask yourself, can an unaccompanied 10-year-old cycle to school safely, and will their mum or dad ride to work or the shops?" he says. "If the answer is yes, then it's good enough. If not, it needs improvement."
What happens next?
Today's debate is about the petition and there is no vote at the end of it. So there is no question around whether the motion is passed or otherwise, but equally there will be no definitive decision made.
Instead, the motion will be referred to Bristol Mayor Marvin Rees or a Cabinet member – in this case the Cabinet transport lead, councillor Don Alexander – for a formal response.
They will be obligated to write a response to the petitioner (Ian Pond) within two weeks about what happens next.