Flammable polystyrene cladding used on Bristol towers: was the writing on the wall?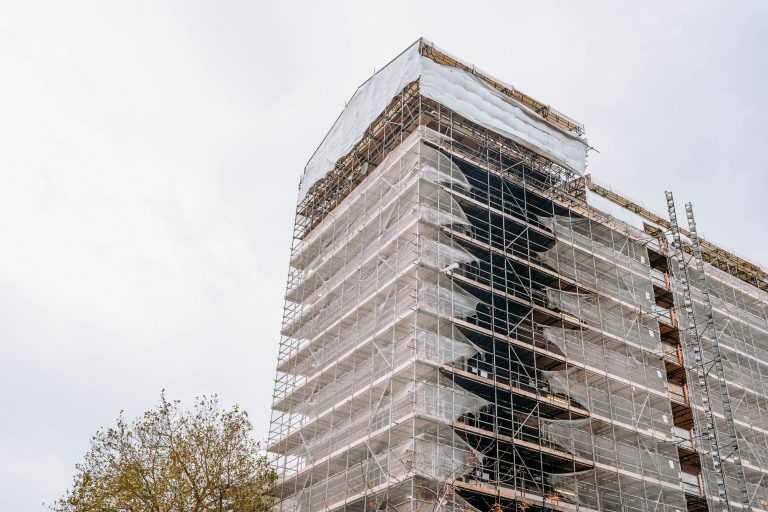 The polystyrene insulation fixed to more than half of Bristol's high-rises and many other UK tower blocks should never have been allowed to be used, leading fire experts have said.
Expanded polystyrene (EPS) is highly flammable and could "completely undermine" a building's ability to stop a fire spreading, Richard Hull, a professor of fire science and chemistry at the University of Central Lancashire, told the Cable.
"I've seen tests on EPS where it simply melts away behind the [building's external] render, forming pools of molten polystyrene, which burn like spilled fuel oil, that can run off in different directions," says Hull, who contributed to a series of reports for the Grenfell Tower inquiry.
The warning comes amid growing concern over the fire safety of Bristol's council-owned high-rises following two serious fires in the space of four weeks, at Twinnell House in Easton and Eccleston House in Barton Hill.
Both blocks are fitted with EPS.
The fire at Eccleston House in October spread due to the EPS cladding system, officials confirmed. A recent investigation by the Cable also revealed that warnings were issued four years ago about the condition of the building's EPS system.
Bristol City Council announced this month its intention to strip EPS from all 37 of its towers that are fitted with the system, and implement 24-hour 'waking watch' patrols as a precautionary measure in the meantime.
The local authority is now under scrutiny over its decision not to introduce stronger precautionary measures like waking watches sooner at Eccleston House, which was part way through remedial works to its cladding when the fire hit.
The fact the 11-storey building was in the middle of refurbishment meant it posed an even "higher risk", Hull says, as its polystyrene insulation was likely exposed and the building covered in wooden scaffold planks.
Widespread use
EPS insulation is made of boards of polystyrene foam, the same type used in packaging for electrical goods. Along with extruded polystyrene (XPS), EPS has grown popular in construction because it is cheap and lightweight.
On external walls, it is considered safest sandwiched between two layers of brick. However at Eccleston the polystyrene was used as cladding in its own right, finished with a cement-based render coating to protect it from the weather.
This method of external wall insulation is a cheap way of making draughty tower blocks more energy efficient. It became popular in the late 80s and 90s, when a number of Bristol's blocks, including Eccleston House, were reclad.
"It's a quick and easy way of doing it", explains Frances Maria Peacock, a chartered architectural technologist and fire engineer. She adds: "You put polystyrene all over the outside of a building and then cover it with cement-based render."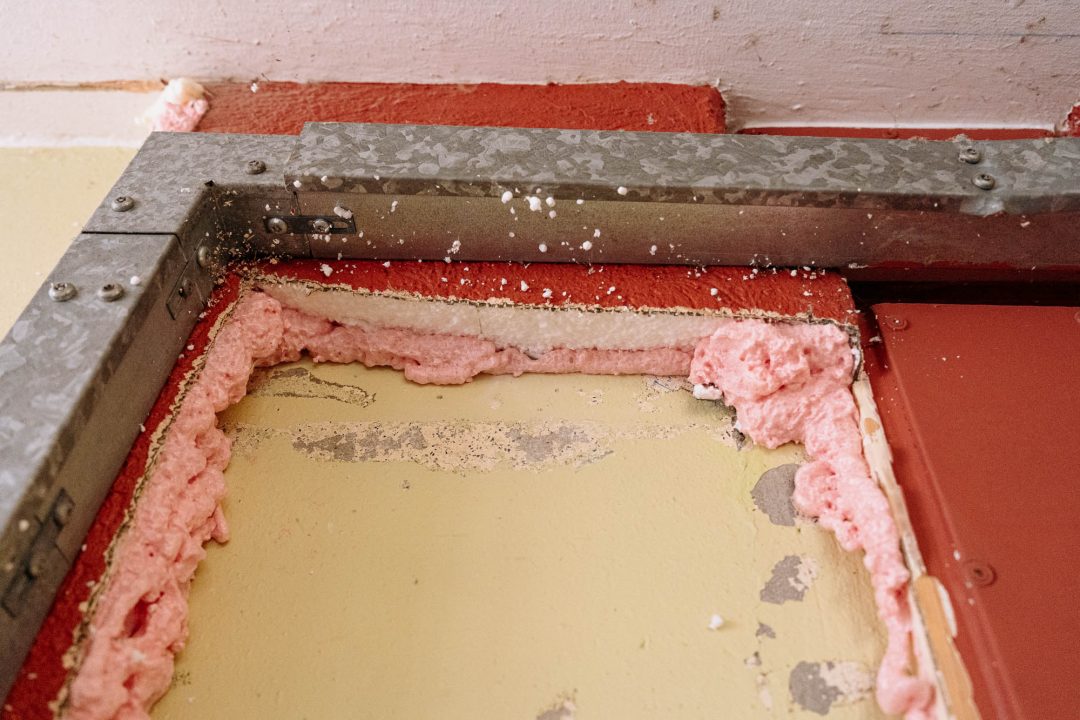 Hull estimates around 3,000 UK high-rise buildings and 50,000 low rise blocks have been insulated in rendered EPS systems. Other buildings will have different types of combustible insulation such as PIR or phenolic foam, or non-combustible material like mineral wool.
It might be cheap, but polystyrene is highly flammable. There have been many fires at EPS-clad blocks, including fatal blazes in Hungary and Berlin. A London Fire Brigade report into a 2016 blaze in Shepherd's Bush, obtained by Inside Housing, said polystyrene in window panels was "likely to have assisted" the spread of fire.
"The idea is a fire doesn't come into contact with the render, but this is not good enough because the render can very easily crack. In my view, it's highly dangerous. When polystyrene burns it melts, and gives off noxious fumes," explains Peacock.
Damaged cladding
Hull also stresses that in a real-life scenario, this type of external render is easily damaged to reveal the naked insulation behind. "Widely used plastic ventilation ducts which link kitchens and bathrooms to fresh air also undermine the fire protection offered by the cement render," he adds.
At Eccleston House, a 2019 report by surveying firm Easton Bevins revealed, the render finish was damaged and "unlikely to remain intact in the event of fire."
In many cases, EPS systems have not been installed correctly. In July, a housing association won a multi-million pound lawsuit against a contractor over five 1960s concrete tower blocks in Portsmouth it refurbished using an EPS cladding system.
The judge ruled that the EPS boards had not been fixed correctly to the back wall, and that mineral wool fire barriers needed on each floor level to mitigate the risk of fire spread had been defectively installed.
Both Peacock and Hull say that Eccleston House would also have been in a more vulnerable position than usual when the fire hit in October due to the fact it was midway through refurbishment and scaffolding was fixed to the building.
"Scaffolding has been known to spread fires," says Peacock. The second-worst cladding fire in the world after Grenfell, in terms of fatalities – in Shanghai in 2010 – occurred where scaffolding ignited at a tower that like Grenfell was covered in highly flammable aluminium composite material (ACM), she adds.
Hull also raised concerns over the fatal fire at Twinnell House, an Easton tower block less than a mile from Eccleston, in September. While the building's exterior wall looks at first glance like a solid brick, a supplier's website reveals it is made of an acrylic brick-effect finish with grey EPS insulation behind.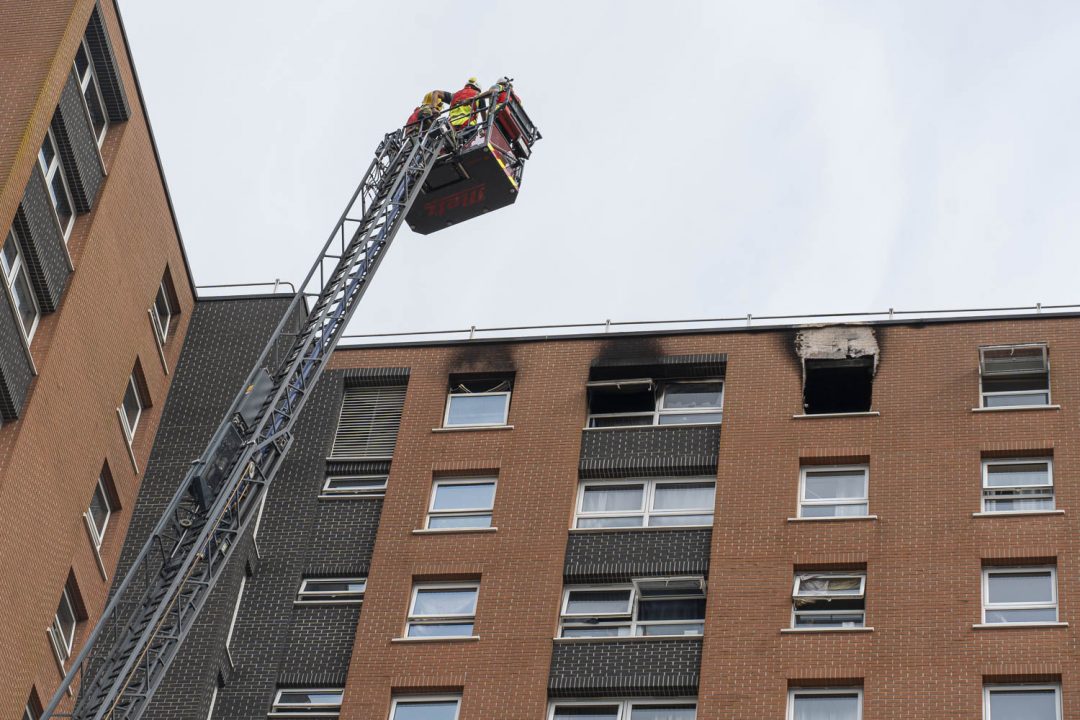 The fire report says the materials had not contributed to the spread of fire. Yet analysing photographs by the Cable of the damage to Twinnell House, Hull says the 'brick' finish had started to melt. If the fire had taken hold in a lower flat, rather than at the top floor, it could have spread up the outside of the building, he adds.
This was also hinted at by the council's cabinet member for housing, Tom Renhard, who told the BBC the local authority was "not sure" if the Twinnell House fire would have spread if it had happened on a lower floor.
A spokesperson for Avon Fire and Rescue said: "The investigation [into the Twinnell House blaze] appeared to show that the building operated as expected and we cannot anticipate whether the fire would have spread differently if it had started in a different location in the building."
Removing EPS
Due to its flammability, combustible insulation was prohibited from being used in external wall cavities until 2006, when the government relaxed the rules under pressure from the plastic industry. This led to its widespread use on hundreds of high-rises across the UK. 
In the mid-90s, when EPS was installed in over a dozen Bristol towers including Eccleston House, official guidance stated it could not be used on buildings above 20 metres. Eccleston House is over 30m high.
Despite this, combustible insulation products from six companies were approved for use on tower blocks under a loophole in the guidance.
Bristol City Council has said previously that all its EPS external wall systems were installed "in line with regulatory practices at the time". The Cable has asked the council for clarification on how compliance was achieved.
Many London councils acted to replace EPS after the Grenfell fire. In 2018, Kensington and Chelsea Council, which owned the west London tower, announced it would remove the polystyrene cladding from two 14-storey blocks nearby.
That year Hackney Council, acting on the advice of the London Fire Brigade, also started work to remove EPS on four tower blocks, with the total buildings included in the programme later widening to six. Islington Council and Tower Hamlets also commenced removal of EPS from blocks in 2018.
Many private blocks with EPS also require remediation works. Back in 2017, Greater Manchester fire chiefs said the cladding on NV Building in Salford Quays was a fire hazard and needed to be removed.
Focus on ACM
In the wake of Grenfell, the government has tried to keep a narrow focus on what it called the "unique danger" of ACM cladding, eventually widening its scope to look at the dangers of high-pressure laminate (HPL) materials too. This followed a major fire at an HPL-clad student accommodation block in Bolton in 2019.
Combustible materials including insulation were banned on residential buildings above 18 metres in 2018, and more recently the government has announced a fund for the removal of non-ACM cladding.
However, requests for EPS to be added to the government's post-Grenfell testing regime were turned down, according to meeting minutes obtained by Inside Housing in 2019.
"There are far more buildings with external insulated panels. If they [the government] tested them it would open up another can of worms," explains Hull.
"Combustible materials should never have been allowed on the outside of buildings and now the government cannot afford the cost of putting right its mistake by paying to remediate such a large number of homes," he adds.
In the absence of clear government guidelines, however, some sectors are taking matters into their own hands.
Bristol City Council's submission to a government consultation earlier this year revealed Renhard had told the housing secretary it was coming under pressure from its own insurers to replace the EPS cladding.
"Insurance firms are risk-averse when it comes to EPS cladding systems, regardless of them meeting building regulations standards and the FRA [fire risk assessment] processes; and are requiring that all EPS clad blocks have the cladding removed and replaced," he wrote.
Yet for fire safety experts like Peacock, the risks of EPS cladding systems have been known about for decades. "It's been known about since the 1980s and even before," she says. "It's common sense that polystyrene burns, and it gives off nasty fumes as well."
She is calling for more urgency in removing it from residential buildings, in Bristol and beyond.
"It's a case of how they [councils] prioritise funding," she says. "People think, 'polystyrene might be dangerous, but it's not ACM, so we can leave that for a bit.' But some of these types of cladding are just as dangerous."
The Cable has approached Bristol City Council, Avon Fire and Rescue Service and the Government Department for Levelling Up, Housing and Communities for comment on the issues raised in this article.