'I can't die, I've not made my solo album': Holysseus Fly on overcoming cancer and looking forward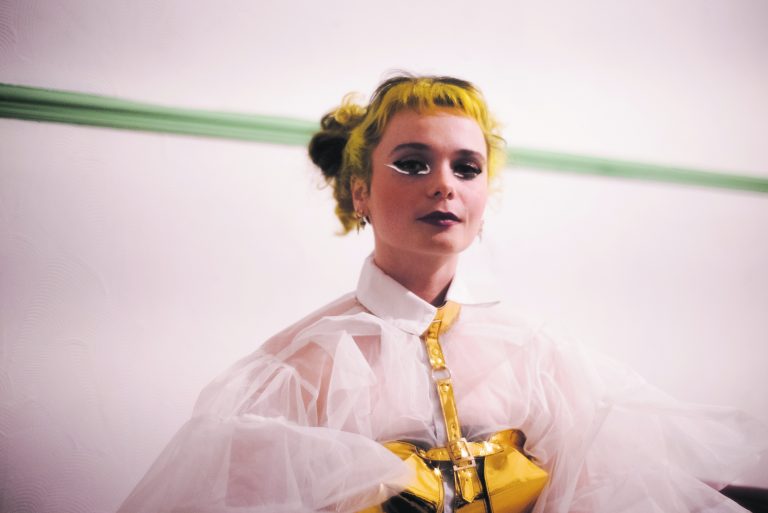 Holly Wellington, 28, played her first headline show as Holysseus Fly in early October to celebrate the release of 'Marigold', her debut single as a solo artist.
The track is about her brush with aggressive cancer aged just 25, which was what made her determined to find her creative identity as a solo artist.
In 2019, Holly played in a few bands, was fully immersed in Bristol's music scene and was about to go on her first tour as vocalist and keys player with local collective Ishmael Ensemble when the doctor gave her the unexpected diagnosis of stage two breast cancer.
What followed was a year of chemotherapy, radiotherapy and surgery. She didn't go on that tour and the momentum she had been building as a musician, music teacher, painter and promoter ground to a halt.
But not entirely. Over tea in her living room in St George, Holly explains how she would start to feel better in the weeks after a chemotherapy appointment. The stars aligned when she had recovered enough to perform with Ishmael Ensemble at Glastonbury 2019.
"I got the Beyoncé treatment. I got driven in and out – that never happens," she laughs.
"I was completely hairless. There's this video of me saying, 'I will be back to this magical place, I will get through this.' In a lovely turn of events, I played with Ishmael Ensemble at Glastonbury this year on West Holts stage. The dream gig."
It was a career highlight for her, and one of the biggest crowds the band had played to.
The interim between those two Glastonbury appearances was turbulent. Stared at in hospital because she was so young, Holly started to embrace the rubbernecking by dressing in wigs and platform boots for her appointments. But she was also left immunocompromised by her treatment, and retreated to a remote Perthshire village in Scotland to shield during the pandemic.
Her physical recovery from cancer was only half the battle: "I think it really hit me afterwards, and then I fell into this pit of fear of recurrence, fear I was going to die young, fear I hadn't done all of the things I wanted to do."
It also made her start to think about her legacy, the impact she wanted to have on the world: "I thought, 'I can't die now, I haven't even made my first solo album yet.'"
On a solo mission
Time lost to illness and recovery left Holly determined to pursue what she'd had in mind for years: finding her creative identity as a solo artist. She won a grant from Young Lives vs Cancer (also known as CLIC Sargeant) to start work on her debut record, which is out in 2023.
The single launch for 'Marigold' took place at the Crofters Rights. "I tried to make (the show) a Grammy performance even though I don't have the resources for it," she jokes.
She describes her performance as a mixture of James Blake and Lady Gaga, moving between "super intimate emotional vulnerable moments at the piano" and "extra showmanship vibes". 'Marigold' is more the former, with a skeletal track of stripped-back piano and percussion that leaves her vocals and storytelling centre stage.
The track is named after an image her mother and aunt saw while praying for Holly when she was unwell.
"They saw marigold flowers on my chest, and that has stayed with me because they protect my chest and keep me safe," she says. "Marigolds symbolise life and hope and strength, and the light that lives inside a person."
Holly is now throwing herself into the world of solo gigs, performing as Barbara Streisand with drag crew House of Savalon and starting an 18-month artist development programme with Sound and Music, where she will write her second record.
"This is really just the beginning. When I first got diagnosed, there wasn't anybody that I could see living the career I wanted, having overcome something like that," she adds thoughtfully.
Holly has set her mind on becoming that person, to show, as she puts it, "that it is possible to live your best life when shit hits the fan."