Meet the new queer collectives pushing the boundaries of Bristol's nightlife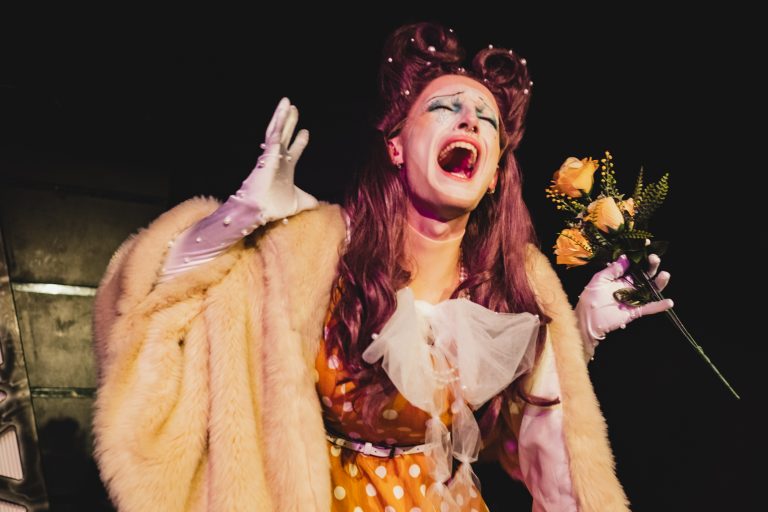 Bristol is famous for its nightlife, from the busy pubs of King Street to the warehouse spaces surrounding Temple Meads station that pump with techno. Yet the city isn't exactly overrun with venues for the queer community.
"There's a large queer community in Bristol, but not enough dedicated spaces," says Jamie Smith, one of the co-founders of Queer Haus, a new night centring on intimate vibes and creating a sense of community.
Established clubs such as OMG have gained a reputation among some queer people for accommodating too many punters who don't understand that LGBTQ+ needs must be prioritised in these spaces.
This is problematic, given that this is a vulnerable community that struggles to find venues where they feel comfortable and free. The fact 'dedicated' queer clubs aren't providing this risks visitors, and those without the necessary social connections, not being able to access Bristol's wider LGBTQ+ community.
On top of the limited number of appropriate spaces, the coronavirus pandemic impacted Bristol's queer nightlife immensely. "Lockdown caused an absence of spaces of connection," reflects Astro-Zenica, creator of The House of Savalon, a queer cabaret and drag collective.
But in recent months, since Covid restrictions have eased, new collectives of queer creatives have been filling that absence, setting up new spaces and events and in doing so pushing the boundaries of Bristol's nightlife.
The Cable sat down with some of the key figures – including Jamie and Astro – to find out what's driving the city's new positive energy.
'A space that deconstructs polarisation'
Ola Poroslo runs CROTCH, a night bringing queer and non-queer communities together, and is co-founder of the PHATBristol record label and collective, which first came together during lockdown.
"Lockdown was really tough for everyone," Ola recalls. "But it also provided time for creatives to focus on what they really wanted to do."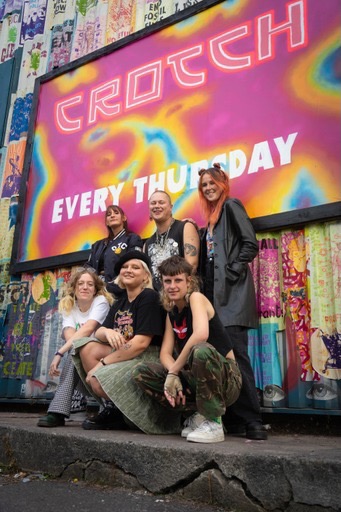 This enabled people to explore and assess their values – and for Ola, this meant creating an intersectional space, with PHAT defining its ethos as "working towards progressive change, cultural diversity and reducing polarisation".
Restricting queer people to queer spaces not only fuels such polarisation, but can deny learning opportunities for people questioning their own sexuality or wanting to learn about queer culture. By contrast, creating intersectional spaces, where people gather and share perspectives, can play an important role in breaking down the barriers between queer and non-queer people.
"CROTCH was created not exclusively as a queer night, more as a night where anyone who was open to it could experience a space that deconstructs polarisation," Ola says.
It began in heteronormative (meaning where heterosexuality is the normal, sometimes even preferred mode of sexual orientation) venues in places like King Street.
Hosting a queer-friendly night in this area, at the Llandoger Trow, brought tensions between customers as well as security (an area PHAT has also been looking to move into) – but, Ola stresses, it felt important to address these. "Having queer people outside their bubbles allows conversations to be created with punters who otherwise wouldn't have access to these insights and perspectives," Ola says.
Like CROTCH, Queer Haus came into being in the midst of the pandemic, thanks to Jamie and their friend and fellow-student Henry Parsons, who found themselves "[stuck] in uni halls of residence with no classes and no way to meet people".
"Summer was coming, but Pride had been cancelled," explains Jamie. "There was an absence of spaces for queer people to meet and celebrate, so Queer Haus was originally created as a celebration to replace Pride."
It ended up launching over last winter to fill a gap in the city, bringing in a third member, Soph Robinson to help run the night as it has expanded. The collective's first Instagram post set out its aims "to offer queers an opportunity to meet each other and express themselves in a safe environment that fosters, most importantly, a sense of community".
'These spaces are necessary for people to engage with their own identities'
The importance of new nights fostering creative, tangible, and supportive communities is highlighted by Astro-Zenica (aka James Crawley), whose House of Savalon party troupe were the subject of a memorable photo-essay in the Cable last year.
The House of Savalon run a night called Get Qweird, which has this autumn started its second season of events, running Wednesdays at Lost Horizon.
People would often show up to their first event in their ordinary, everyday clothes, Astro recalls of Get Qweird's opening run earlier in 2022. "[But] by the end of the programme people would be completely transformed, fully expressing their gender, sexuality and confidence." A space was created in which people felt liberated, allowed to be the truest forms of themselves.
"People need an environment like Get Qweird where they can feel comfortable to experiment and be inspired by performance artists as well as through meeting other queer folks," Astro adds. "These spaces are necessary for people to engage with their own identities."
The power of dressing up, and the carefree atmosphere it can unleash, has also been harnessed by the Queer Haus crew in the form of themed nights. "These themes [most recently, carnival] create a sense of solidarity and collectivism that help foster connection," Jamie explains.
Observing the networks that build as a result is one of the main motivations driving Jamie to continue with Queer Haus. "Seeing people turn up alone, and have conversations and form friendships, is hugely rewarding," Jamie says.
The House of Savalon's Astro-Zenica agrees. "Recently I was at a birthday party surrounded by a group of people from the trans community who had all met at The House of Savalon events," Astro says. These people may not have otherwise met or formed those bonds without Bristol's queer nights.
'Pushing for radical change'
Queer nightlife spaces also allow for the revolutionary aspect of being queer to continue. "Queer people have always been on society's fringes and as a result have been historically vocal in advocating for radical change," Astro says.
At a basic level, the community can gather and share thoughts and opinions in a supportive space. But the way ideas are discussed at Bristol's new queer nights is often through a comical and satirical lens.
"The House of Savalon uses absurdist themes to critique societal norms," Astro says.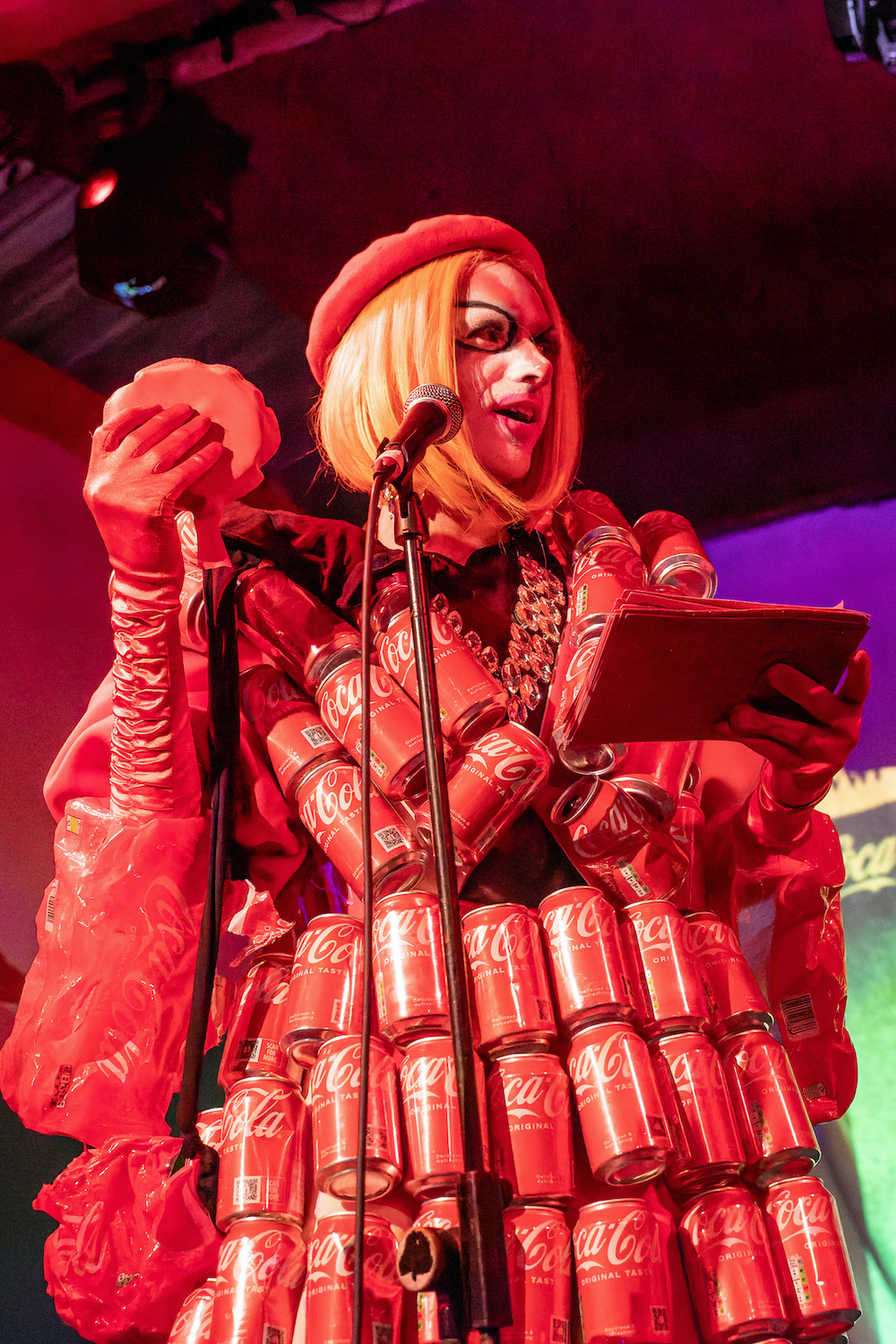 Most recently at Get Qweird, there was a performance where Astro posed as a mock-representative for Coca-Cola in the context of them sponsoring the COP27 summit. Combining humour with the harsh reality of Coca-Cola's impact on the planet is an example of how the collective takes things over the top to poke fun at what is accepted as normal. Astro and I discussed how these spaces don't want to be accepted by heteronormative society, often choosing to make a joke out of it instead.
For CROTCH's Ola, queer communities and radical politics can readily be intrinsically linked. "We want to resist what we're going through right now with Kill the Bill and the dissolution of the right to protest," Ola says.
It could be said this has helped fuel the new radical, political queer and intersectional spaces popping up around Bristol. "We've been told we're not allowed to protest in the ways we want to, so instead we've gone back to the clubs," Ola adds.
While queer people are using nightlife and performance art to highlight contemporary issues, Ola cites the free party movement of the 90s, which defied mainstream society, as a huge inspiration. "Those were spaces that combined partying and rebellion," Ola says.
'Solidarity is actually practised in Bristol'
Bristol often punches above its weight where radical change is concerned. From toppling Colston's statue to last year's Kill the Bill protests, the city regularly makes headlines for its part in cultural movements.
But politics isn't the only thing that makes the city stand out. Speaking to Astro about what makes Bristol special, they comment on the fact that "it's a friendly city filled with artists and creators".
Astro also highlights how proactive the community is in terms of helping events happen. "Solidarity is spoken about a lot, but in Bristol it is actually practised – for the opening night of House of Savalon everyone got involved, there were immersive performers, punters really threw themselves into the event."
Bristol's relatively small size also makes it ideal for spreading the word about upcoming queer nightlife events, Ola reflects. "It was through talking constantly about CROTCH that led to so much support for the night," they say.
Bristol's queer nightlife scene is full of nuances, but it's clear that after the void of lockdown there's now a significant movement under way.
The queer community has risen to the challenge and is forging a diverse, blossoming nightlife landscape that's bringing vital and politically progressive new energy to our city.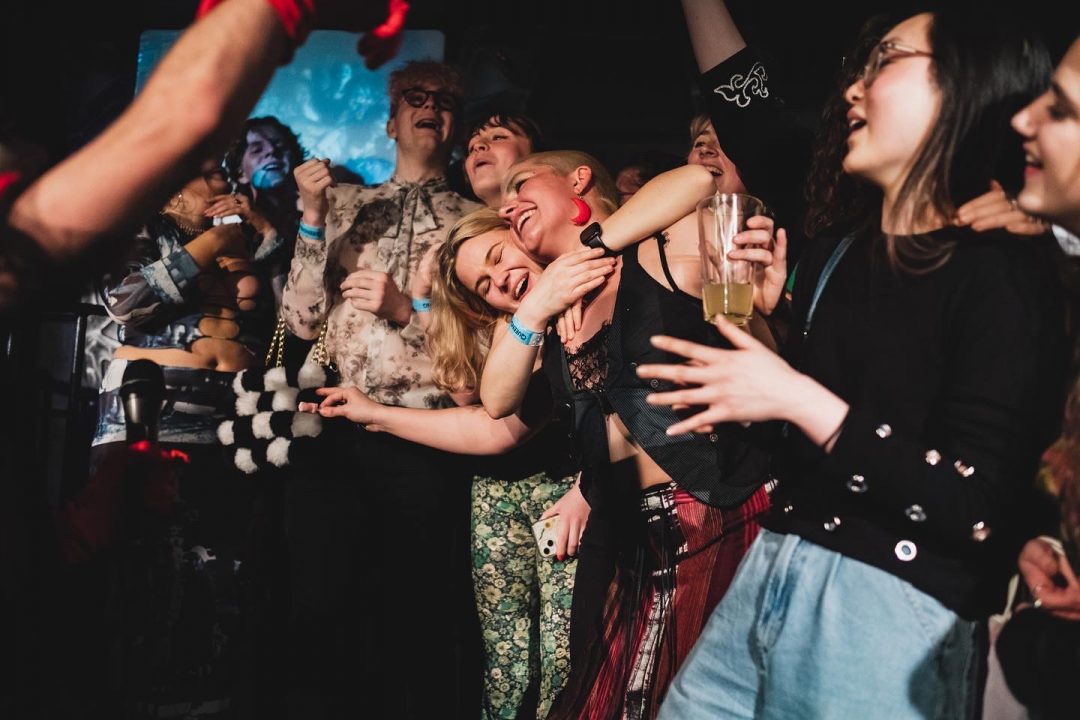 The House of Savalon is at Loco Klub tonight (Friday 10 November) with Get Qweird weekly Wednesdays at Lost Horizon until 7 December 2022, CROTCH is at Strange Brew Thursday 17 November and Lost Horizon Thursday 8 December, follow Queer Haus to hear about their upcoming events.