The cost of clean air: how Bristol's CAZ has left disabled people feeling forgotten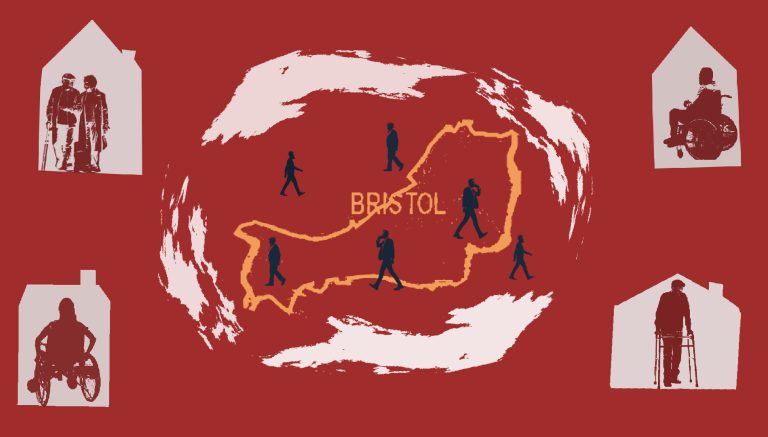 Everyday tasks like shopping, cleaning and making appointments can be overwhelming for James Deane, 47. He is autistic and relies on the support of two personal assistants (PAs) to live a normal life.
"If I need assistance because I'm feeling low that day, or a bit overwhelmed or tired, or I can't work out what I need and I've got too many thoughts in my mind or something like that, then I need my PAs to be able to go with me," says James.
On November 28, James's life will change as Bristol's long-awaited Clean Air Zone comes into effect. From that date, drivers of more polluting vehicles (see box) will have to pay a daily fee of £9 or face a larger fine.
Both of James's PAs drive non-compliant vehicles and cannot afford new ones, he says. When the CAZ begins, because he lives within the zone's boundary any trips to or from James's house will cost £9 a day. This, said James, will severely reduce his options for participating in a normal life.
"One part of accessing the world is being able to actually physically move around and do things – and if that's curtailed, well then I don't have the same rights and accesses and privileges as other people."
'Not worthy of consideration'
Air pollution is a major environmental issue in Bristol and contributes to the death of 300 people each year.
Disabled people, especially those with heart and lung problems or asthma, can be particularly affected by dirty air. Many support the aims of the CAZ and the health benefits it will bring.
"A lot of us disabled people want clean air because it affects us greatly," says James. "My doctor has told me that my breathing difficulties and coughing are related to the air quality in this city, he told me that years ago. I want a clean air zone."
The frustration, which James shares with many others, comes from how some disabled people feel the CAZ is being implemented – without adequate consultation or communication from Bristol City Council.
Fears the CAZ will introduce new barriers into their lives, cost them money and limit their ability to enjoy a normal life have left disabled people like James feeling "not worthy of consideration", he says. Earlier in the autumn, campaigners protested outside City Hall about the CAZ's impact on blue disabled badge holders.
Gordon Richardson is the co-chair of Bristol Disability Equality Forum (BDEF). Paralysed from the age of three, the 69-year-old knows the feeling of being excluded from everyday life by poorly thought-out policy decisions.
When former mayor George Ferguson introduced parking restrictions across the city, Richardson said, wheelchair users like him were prevented from seeing friends due to being unable to park near their house. More recently, Gordon has complained to the current mayor, Marvin Rees, about new houses being built with doors that are too narrow for a wheelchair to fit through.
The imposition of barriers is all too often simply accepted by people in power, Richardson said, with disabled people's difficulties seen as being "just your tough luck".
He fears similar attitudes will carry through to the implementation of the CAZ, and would like to see more flexibility from the council to make broad exceptions for blue badge holders.
Richardson says this is not about seeking special treatment, but rather "allowing disabled people to take as normal a part as possible" in life.
"That's all we ask for. We just want to be independent and normal," he adds. "We don't really want people falling over backwards doing things for us, we want to be able to just go and do them ourselves."
Lack of consultation
At a meeting on 3 November of Bristol Reclaiming Independent Living (BRIL), an organisation that campaigns for disabled people's rights and provides direct peer support, members discussed their worries about the CAZ.
One member lives in Fishponds and travels to the city centre for hospital appointments. At age 74, he said his driving days are coming to an end, but he is unclear about what will happen next.
At present he is sometimes given a lift by his son in his van, but once the CAZ comes into force this will be uneconomical. Public transport, he added, is too often inaccessible for disabled people.
"I won't be able to go into Bristol unless I get an ambulance to come and pick me up and take me in, and vice versa coming out. Which is absolutely crazy," he said.
BRIL members agreed with the principle of the CAZ. One said: "We like the 'clean air' part but we just feel that again, instead of disabled people being asked at the inception, we were asked – I think it was – about six weeks before it comes in, and it's just wrong."
Gordon Richardson, who also sits on the Bristol Disability Equality Commission as transport commissioner, echoed the BRIL members, saying that he had not been consulted at all about the CAZ.
Asked about the lack of prior consultation, a Bristol City Council spokesperson said: "Bristol is already offering more exemptions for blue badge holders than any other city with a Clean Air Zone." They added that phone operators have been given specific Disability Equality training to respond the concerns of disabled people.
The council has in recent weeks held Clean Air Zone advice clinics for disabled people's groups, in order to offer face-to-face support, although they were not well attended.
CAZ costs and exemptions
Anyone caught driving a non-compliant vehicle in the CAZ will be liable to pay the £9 fee within six days or face a fine of £120. According to the council, 71% of vehicles in the city are already compliant.
The daily fee, says Richardson, could prove a "pretty steep charge" for disabled people, many of whom live on benefits and cannot work.
A 2018 study found that one third of disabled adults are in poverty. Meanwhile disabled people can expect to pay, on average, an additional £583 per month on care and equipment costs, according to disability charity Scope.
Campaigners also argue the six-day CAZ fee window is not enough time for neurodivergent people, or people with limited access to computers, and have asked for a greater time allowance.
Earlier this year it was reported that a disabled woman in Bath had had to pay £800 in fines in the first year of that city's CAZ, despite being exempt from charges under national regulations. Her condition meant that she easily forgot to complete tasks such as logging her journeys in the allowed time.
Some exemptions are available for motorists, and will last until March 2023. Vehicles with a disability tax class are automatically exempt by national regulations. Locally, blue badge holders can apply for daily or long-term exemptions until the end of March. In October, Rees told councillors that extending this "would likely result in not meeting our legally mandated timeframe for air quality compliance".
Blue badge exemptions will not though help people like James, whose disabilities are not physical and therefore aren't eligible for a badge even though they rely on the vehicles of others. 
Grants of up to £2,000 are available for motorists to replace a non-compliant vehicle or upgrade an existing one, although campaigners point out that wheelchair accessible vehicles (WAVs), adapted so that a person can sit inside, or even drive, while remaining in their wheelchair, can cost up to £40,000.
Current exemptions, and their expiration date of March 2023, are set by national government, not the council. The council has not given a definitive answer to the question of whether it can introduce local exemptions of any kind.
Just transitions?
Richardson wonders what the effect on the CAZ would be if blue badge holders were afforded greater leniency. "I wonder sometimes, have they [the council] done a proper assessment of what the effect would be if blue badge holders were allowed to drive into the Clean Air Zone without having to pay?"
He added: "If it's not that many, do we really need to have the draconian bans?"
Tim Wye, Green councillor for Ashley ward, recently put the question to Marvin Rees of how many blue badge holders travel through the CAZ. Rees admitted the council does not possess such data.
Wye has said he will continue to work with the council to identify options to give greater support to disabled people who need it and BDEF has created a list of possible solutions which the forum would like to see the council implement, including increased financial support and more accessible information.
A spokesperson for Bristol City Council said: "After listening to feedback, we will be offering financial support on a case-by-case basis to blue badge holders on low incomes, regardless of whether or not they meet the required number of working hours."
"Nothing about us without us" has long been the refrain of disability campaigning. In the view of many disabled people in Bristol, the CAZ has fallen short of this appeal.
The council says it has a "legal and moral duty" to bring Bristol's air pollution within legal limits in the shortest possible time. But James wants more than words.
"It does feel like the council are good on the words, sometimes, and then when it comes to equality they do the normal practice of putting disabled people last," he said.
As we enter an era of increasingly necessary and increasingly urgent action to combat the effects of climate change, from clean air to flood risk, heat waves and pandemics, it is more important than ever to ensure that the needs of those who are already disadvantaged by the problem are not further disadvantaged by the proposed solution.