This week in Bristol: Politicians push for public control of buses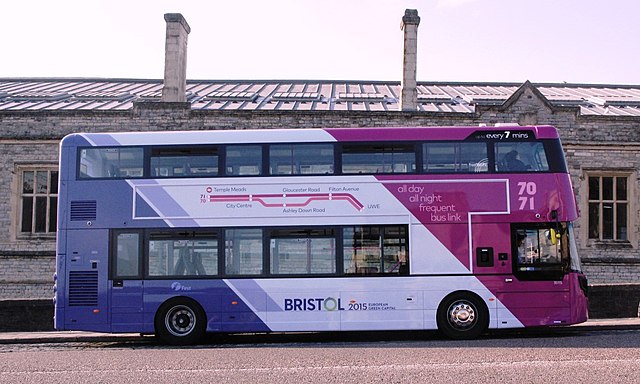 In the news this week, the latest raft of cuts to Bristol bus services has pushed local politicians to call for a radical change to the operation of transport in the region.
In November, First Bus announced the cancellation of 1,450 bus journeys a week due to ongoing driver shortages, which came just a few months after 11 routes were cut entirely.
Carla Denyer, co-leader of the Green Party and Bristol Green councillor, has hit out at the Labour Party for "inaction" over the city's transport crisis, and this week revived calls she made in 2019 to investigate a public control of buses under a franchised system.
This would see bus routes, timings and fares regulated by the West of England Combined Authority (WECA), which is responsible for transport across the region, and contracts for operation of the buses put out for tender.
"Bristol has four Labour MPs, a Labour-run council, a Labour City Mayor and a Labour regional mayor who have ultimate responsibility for our public transport, and so far Labour's response to thousands of bus journeys being cut appears to be hand wringing and inaction," Denyer said.
Transport for London's well-respected bus system runs as a franchising system, and the council-regulated system has recently been adopted by Labour's Andy Burnham in Manchester in response to private company failures.
Metro Mayor Dan Norris is the leader of WECA, whose constitution states that the mayor is responsible for transport strategy, including "bill powers" for bus services, "for example franchising". So far, the mayor has focused on a driver recruitment campaign and a one-off cash injection of £435,000.
Karin Smyth, Labour MP for Bristol South, also called for a move to the franchise system saying she has been "deluged" with letters from constituents about the failures of Bristol buses, before and after this year's cuts.
Smyth said a move to a franchise system would "reverse the deregulation of the 1980s", and that she would "continue to press those responsible on this issue".
Your Bristol news round-up ?️
? An Avon & Somerset police officer has received a caution for sexual communication with a child. DC Scott Burton, who was formerly a detective in North Somerset but is no longer serving, is accused of gross misconduct and has a misconduct hearing set for December 5 at the Avon & Somerset police headquarters in Portishead. In August, he accepted responsibility for the accusations in a statement.
? Access to fertility treatment in Bristol has been amended after a successful legal challenge under the Equality Act. The Bristol, North Somerset and South Gloucestershire (BNSSG) Integrated Care Board heard that certain groups were being discriminated against under current rules, and agreed to extend fertility treatment to single women and transgender people for the first time, but bring down the upper age limit for women from 40 to 39 to pay for it.
? The organisers of street art festival Upfest have announced it will not take place in 2023 due to rising costs. Upfest is Europe's largest street art festival, but will move to a biannual schedule to protect the financial security of running the festival amid inflation and the cost of living crisis, which costs "at least £180,000" while being open to the public for free.
? A new rail service between West Wales and London via Bristol has been approved by an industry regulator. The new service, operated by Grand Union Trains, signals the first competition on the route, could potentially lead to lower fares, and will provide a significant increase in frequency. The service is planned for the end of 2024.
?️ 200 new homes are planned for south Bristol on the site of the former New Fosseway School. The council are expected to approve the plans next week, which would include 70 residential "extra care" apartments for the elderly, and 60 "affordable" homes on the site in Hengrove, alongside new pedestrian and cycling access.
? The 'waking watch' fire marshals promised by the council to patrol its high-rises in the wake of two serious fires will cost Bristol City Council £200,000 a week. The council are hiring 77 wardens to cover the 37 council high-rises with flammable polystyrene EPS cladding, and one with similar cladding.
?️ Long-delayed plans for the redevelopment of Redcliffe Wharf are due to be restarted with public funds. The vacant site next to Redcliffe Bridge, currently occupied by the pop-up roller disco Bump, has planning permission for commercial and residential development but has faced long delays. The new funds will allow the site to be prepared for construction, including the relocation of a Victorian water main.
---
Solutions and Successes ?
? The council is due to sign off on a 20-year, £424 million investment into renewable energy for Bristol next week. The City Leap deal with Ameresco will see renewable energy generation projects, as well as upgrades to how the city distributes, stores and uses energy, including retrofitting homes and installing heat pumps and solar panels.
? Bristol-born actress Maisie Williams has become an ambassador for Bedminster food charity the MAZI project. Williams recently spoke for the first time publicly about her family's experience of fleeing domestic abuse, and revealed that they relied on food bank charities.
? Local legend Jeffrey 'Big Jeff' Johns, well known for his enthusiastic presence at Bristol gigs,has finally returned home from hospital six months after suffering severe burns in a house fire. Big Jeff has spent the last four months in rehabilitation at Southmead Hospital after being released from a burns unit in Swansea, and says that with the help of friends he has been able to return to gig-going.
---
This Week in Bristol: Thousands of Bristol Cable readers get this essential digest of local news sent to them every week. Sign up to join them and receive in-depth reporting and analysis that cuts through the noise of daily news.