Campaigners seek new community asset listing for pub with hidden cinema in bid to stop flats plan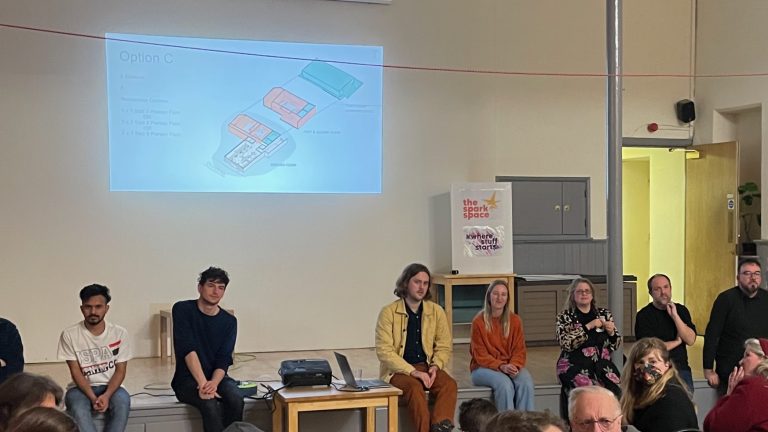 Campaigners trying to save a former Wetherspoons with a hidden historic cinema from being turned into flats say they are renewing efforts to get the building listed as a community asset.
Save Redfield Cinema group members told a meeting on 13 January they are preparing a new bid to secure asset of community value (ACV) status for St George's Hall, which contains a 110-year-old auditorium, on Church Road.
Three days before Christmas, local developer Landrose, which bought the building for £800,000 after the pub shut in 2021, resubmitted a planning application to convert it into a 44-bed house of multiple occupation (HMO). Campaigners have described the proposed 13 'cluster unit' flats, which share amenities, as cramped bedsits that will do little to alleviate the local housing crisis, and are urging locals to object.
The group previously managed to get the pub building and its hidden early-20th century auditorium listed as an ACV in late 2021. The status must be taken into account by planners and gives community groups time – though not an automatic right – to try to buy the asset in the event of any resale.
But Landrose appealed the decision, which was overturned on a technicality without the developer's arguments being fully considered. Had they been, Landrose had a credible case based on the fact that the cinema itself – on which the ACV application centred – had not been used for 60 years, making its current community value debatable.
Save Redfield Cinema said the new ACV application would focus more broadly on the St George's Hall pub's recent history as a local meeting place, and that the group had been gathering testimonies from former regulars.
"We got some incredible responses – births, deaths, marriages, curry nights, kids' meals, knitting groups, there is no doubt the place was furthering the interests of the community right up until it closed," said campaigner Brendan Tate-Wistreich.
"[It's been doing so] since 1912," he added. "There's no doubt we want to save it, because that's an awful lot of community value that building has been providing, and I'd like to think we can get it listed [again] as an asset of community value."
Alternative proposals
At Friday's meeting, architecture MA students from the University of the West of England, who have been helping the cinema campaign, presented three options for the building.
Paul Burke, who started the petition that kicked off the campaign, said the group had hoped to engage Landrose in considering a compromise proposal, after the developer withdrew its original application last June. But requested meetings were "put off and off" over the back half of 2022, with Landrose eventually organising a community consultation event on its own plans at St George's Hall in late November.
Each of the alternative ideas by the UWE students is based around a 'community hub' and food hall, and contains a cinema and different quantities of housing on upper floors.
Campaign group members said they were alive to concerns that their proposals could further local gentrification, and would consult as widely as possible to ensure they do not only cater to wealthier incomers to the area. Campaigner Dave Taylor-Matthews added that the group had the backing of Curzon cinema group's recently retired head of development, who would help develop ideas into "realistic" plans for an affordable and inclusive space.
Of the three sketches presented by the UWE group, only two include the possibility of retaining parts of the original auditorium, which dates from 1912 with Art Deco features added in the following decades.
Landrose's heritage assessment claims that disturbed areas of asbestos-containing materials, which may have contaminated otherwise intact fittings, mean many original features will have to be removed in any redevelopment.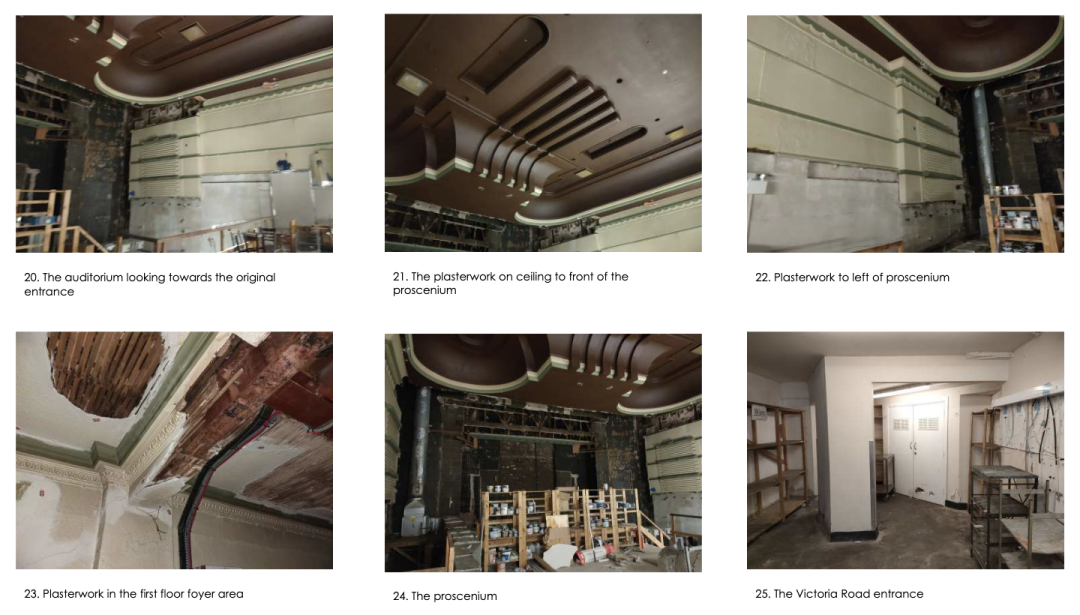 Surviving elements of the original cinema include the dress-circle seating, parts of the ceiling and other decorative plasterwork (the source of asbestos), staircases and the projection room, the assessment says. It adds that other features have been lost, with further damage caused by ducting installed in the building in recent decades.
'Kitchen sink' strategy
Despite question marks over what is salvageable, campaigners will be pursuing a "kitchen sink" strategy to block Landrose's plans, said David Netherwood, a town planner who lives in BS5 and has become involved.
One element will be the ACV listing process, which if successful does not prevent redevelopment but means a building owner must inform the local council of any plans to sell. This triggers a six-week period during which the community can express an interest, leading to a six-month moratorium on the asset being sold to anyone else.
Taylor-Matthews, who was involved in a successful 2013 campaign by Kingsdown's Cube cinema to buy the freehold on its building, said the Redfield group is exploring several options to raise cash for any future sale. The West of England Combined Authority (WECA) has agreed to introduce developers who may be sympathetic to saving the cinema to the group, which is also seeking direct backing from philanthropists, and looking at other options such as grants, he said.
Aside from the ACV process, Netherwood told the meeting he would try to get the building locally listed based on its historical and architectural value. He acknowledged this process – which is different from national listing – would carry limited weight on its own but said it was worth pursuing as part of a package of measures to put before Bristol's planning committee.
More immediately, Netherwood said he would be offering advice to residents around writing objections to Landrose's planning application that are as effective as possible.
The campaign group is running weekly Sunday Zoom sessions, explaining how to ensure objections explicitly address the 'material considerations' that planners – who are working under huge pressure after recent council cuts – must pay attention to.
While there are already more than 200 objections the application – Landrose's previous one attracted about 1,000 – the window in which to comment will close quickly. The application was not publicised until 6 January, with the consultation period running for 21 days from that date.