This week in Bristol: Channel 4 u-turn a 'victory' for Bristol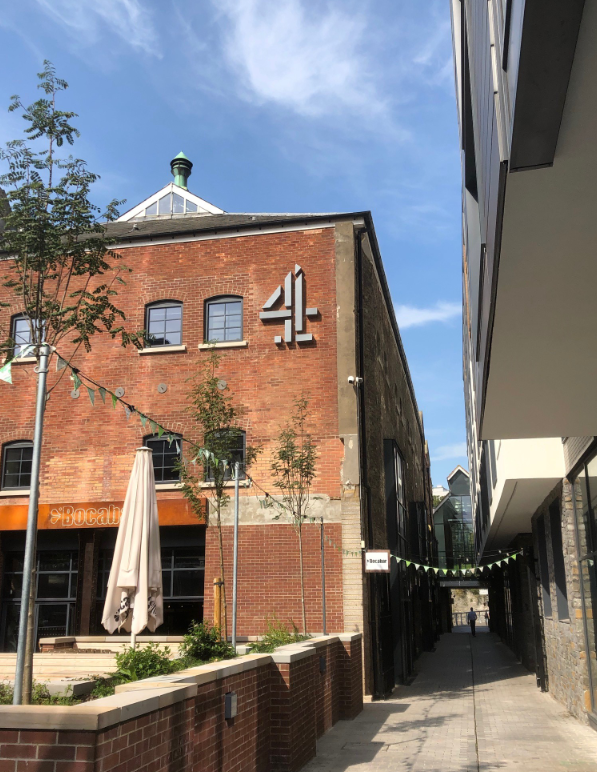 In the news this week, the government announced that it has abandoned plans to privatise Channel 4. The broadcaster is now free to continue its sustainable development plans, which include moving jobs out of London and to its regional hubs, including the Bristol hub at Finzels Reach.
The u-turn came after a lengthy public outcry. The government initially ignored a public consultation in which 96% of respondents said they were against privatisation of the broadcaster. But now they have failed to convince the public, Channel 4 staff, or the independent film and television industry of its mandate for a sell-off.
The absurdity of the situation was heightened by Nadine Dorries, the culture secretary who proposed the sell-off, when she appeared before a select committee and said the sale would save taxpayer money. She was called out by Conservative MP Damian Green who questioned her reasoning, given the broadcaster does not receive taxpayer money.
While Channel 4 does have a public service remit, it is funded entirely by advertising, meaning the broadcaster must deliver quality, informative and, crucially, challenging content of public benefit, but at no cost to the public purse. The broadcaster also commissions the majority of its content from independent British production teams, supporting the economic success of our film and TV industries.
The West of England Metro Mayor Dan Norris celebrated the u-turn in a statement saying: "Finally, we have some eleventh-hour common sense from the government who have listened to those of us who have long argued against these short-sighted and damaging privatisation plans.
"This is a huge victory for public service broadcasting, and for the West of England," he added.
Bristol Mayor Marvin Rees said the decision was "welcome", and that it's "Great to have Channel 4 continuing to work in our city to give more opportunities to local talent in the sector with skills and training programmes".
However, in place of a sell-off the government is proposing tweaks they say will lay a path for the channel's sustainability, including the ability to borrow more money and to produce programming in-house. This could pose a threat to independent production companies in the region, however, Channel 4 sources have been quoted as saying the broadcaster did not request this change and they are "unsure how it would work".
Channel 4 has committed to doubling jobs outside London from 300 to 600 by 2025, which would mean half its workforce will be based outside the capital.
Your Bristol news round-up ?️
? Bristol councillors will receive a 4% pay rise this financial year to their allowance, backdated to last April, at a cost of £60,000 to the council. Councillors are paid an allowance rather than a salary, which will now rise to £15,169 from £14,580 a year.
?️ The population of BS3, a postcode that covers several neighbourhoods such as Bedminster, Southville and Ashton Gate, is set to increase by almost 45% in the next three years due to several large-scale housing developments due for completion. A local community group is about to embark on a project allowing residents to have their say and explore how the areas will cope with such a huge and swift demographic change.
⚖️ A woman involved in fundraising campaigns linked to the Colston demonstrations denies 'fraud by abuse of position'. Xahra Saleem, 22, from London, pleaded not guilty at Bristol Magistrate Court, to accusations she spent money raised for the cause on herself.
? The NHS in Bristol, North Somerset and South Gloucestershire is using hotels as temporary 'care facilities'.Patients who no longer need urgent treatment but are waiting for social care have been transferred to the care facilities since November, and the practice is reported to continue until the end of March.
✊ ACORN has launched a campaign to stamp out bidding wars in Bristol's rental market. They have demanded letting agents end the practice of encouraging prospective tenants to offer above the advertised rent.
? Plans to develop the old baths building on Jacob's Wells Road have been abandoned. The Victorian building, which was a dance studio from 1980 to 2016, has transferred back to council ownership after being dropped by developers Fusion Lifestyle due to the pandemic and rising costs.
A Bristol teacher has been killed in an avalanche on Ben Nevis in Scotland. Mark Bessell was pronounced dead at the scene after he and a fellow climber were caught in the avalanche on the north face of Britain's highest mountain.
---
Solutions and Successes ?
? England's biggest wind turbine is due to begin construction in February at Avonmouth. The 150-metre tall turbine will be the tallest of all the turbines currently operating in the port town, and is hoped to be operational by spring, providing low-carbon electricity to 3,500 homes and reducing the city's carbon dioxide emissions by almost 2,000 tonnes a year.
? Talk Club, a Bristol-based men's mental health club, has gone global. After launching in Bedminster in 2019 the project has groups in the USA, Asia and Australia. Meetings are free, and all men are welcome – they can be found in the Cable's Community Events calendar.
? Bristol Mind is running a comedy night for 'Blue Monday', the third Monday in January known as the 'most depressing day of the year'. The line up includes award-winning comedians Stuart Goldsmith, Olga Koch, Pravanya Pillay and Firuz Osari, and will be hosted at Hamilton House. Tickets can be purchased here.
---
This Week in Bristol: Thousands of Bristol Cable readers get this essential digest of local news sent to them every week. Sign up to join them and receive in-depth reporting and analysis that cuts through the noise of daily news.