This week in Bristol:  Lawrence Hill gets a 'Lido'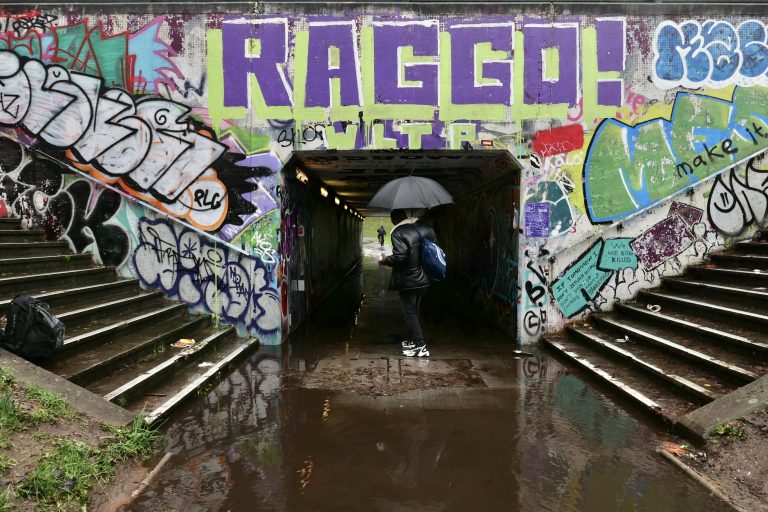 In the news this week, ongoing heavy rain has led to yet another bout of flooding in the Lawrence Hill roundabout underpass, leading one cheeky person to rename it on Google Maps as "Lawrence Hill Roundabout and Lido".
This latest flooding has been ongoing since October, but complaints have been reported to the council since at least 2012. More than a decade of problems have been caused by roots damaging the underground drainage pipes, according to a council spokesperson.
Even the slightest amount of rain is now causing weeks-long flooding, particularly at the roundabout's Newtown/Old Market tunnel, which is blocked by a large pool of standing water, in some areas higher than ankle-height.
Lawrence Hill's Green Councillor Yassin Mohamud tweeted: "It's insulting to people in Lawrence Hill that the Labour administration has ignored this for so long. People are getting fed up with the delays and excuses — the council should prioritise it for permanent repair as soon as possible."
The underpasses are particularly important to the area, given that they connect some of the poorest parts of Bristol directly with the main route into the city centre. As a busy pedestrian and cycling route, it's crucial: the latest census figures showed that half of the residents of Lawrence Hill, and nearby Barton Hill, have no access to a car or van.
The council have promised work to fix the issue is upcoming: A spokesperson said: "Work is due to take place on January 30 and 31, with a root cutter deployed to restore capacity to the pipework. We intend to sleeve the pipe to prevent further infiltration by tree roots, and in the longer term switch from underpasses to at-level crossings."
The Bristol round-up ?
? Flooding has caused major disruption on the train line between Bristol and Swindon. The line has been closed for two days, with replacement bus services deployed for Bath Spa, Chippenham and Swindon, after extended rainfall in the South West.
? Further delays to the repair of the Chocolate Path have been announced, with the reopening pushed back again, now estimated for May. Repairs to the path, which was closed five years ago and collapsed two years later, have been affected by 'underground obstructions' according to the council.
⚖️ A man has been jailed for three years after setting fire to 20 minibuses belonging to a community group that provides transport for vulnerable people. Daniel Cron, 26, of 11a Eleventh Avenue, Filton, pleaded guilty to 24 counts of arson after he targeted the vehicles parked across sites in Bradley Stoke and Stoke Gifford.
? Bristol is the second-most congested city in the UK after London, according to new data. Drivers spent an average of 91 hours sitting in traffic in 2022, according to the INRIX Global Traffic Scorecard, resulting around £800 worth of 'lost time' for each person.
? A student and lecturer at UWE have designed a smartphone app that can detect the presence of GHB, sometimes used as a date rape drug, in drinks. Forensic science student Anselmo Procida developed the test as his final-year project with the supervision of UWE's Dr Kevin Honeychurch. They say that they hope the police and hospitals can use it in future to determine the likelihood of whether a drink has been spiked.
?️ Controversial plans to develop the old Redfield cinema into flats are back on the table. Campaigners who are seeking community ownership to redevelop the space as a community arts centre have called a public meeting in the latest efforts to save the space. Developers Landrose have submitted a new planning application to turn the building into a House in Multiple Occupation (HMO), which would house 44 people in 'cluster units' of en-suite rooms with communal kitchen facilities.
? Broadmead's empty Marks & Spencers store is set to become an arts and sustainability centre called 'Sparks'. A collaboration between Artspace Lifespace, the Invisible Circus and the Global Goals centre, it will be launched initially as a six-month trial, hosting installations, art studio space, reuse shops and an education centre on climate and wellbeing.
? The council is set to expand its School Streets initiative which bans cars outside schools at the busiest times of day. Traffic will be restricted outside St Bernadette Catholic Primary School, Fair Furlong Primary School and Ashley Down Primary School, in addition to the schools already observing the scheme, for 45 minutes in the morning and one hour in the afternoon.
---
Solutions and Successes ?
✊ Bristol ACORN, the local community union, have announced a win this week, after 20 members showed up to support a disabled member facing eviction by bailiffs. Sanctuary Housing, a housing association with over 250,000 properties, were attempting to evict Adam, who lives in supported housing, for rent arrears.
?️ Bristol City Council has announced the community-led housing groups who will be taking forward plans to develop five council-owned sites for affordable housing. Knowle West Media Centre's community housing team We Can Make will work on three sites in collaboration with Black South West Network in Bishopsworth, Stockwood and Hengrove. The Bristol Somali Resource centre will be developing the old Tenants Hall in Barton Hill, and Home Time community-led housing group will be developing the Scout Hut site on Woodborough Street, Easton.
? A group from Bristol are trekking across Nepal to the Mount Everest Base Camp in March to raise money for PHASE Worldwide. The charity supports rural Nepalese communities through health, education and agricultural projects. You can support them at their JustGiving page.
---
This Week in Bristol: Thousands of Bristol Cable readers get this essential digest of local news sent to them every week. Sign up to join them and receive in-depth reporting and analysis that cuts through the noise of daily news.