'Waking watch' fire patrols stood down at two Bristol tower blocks as flammable cladding removed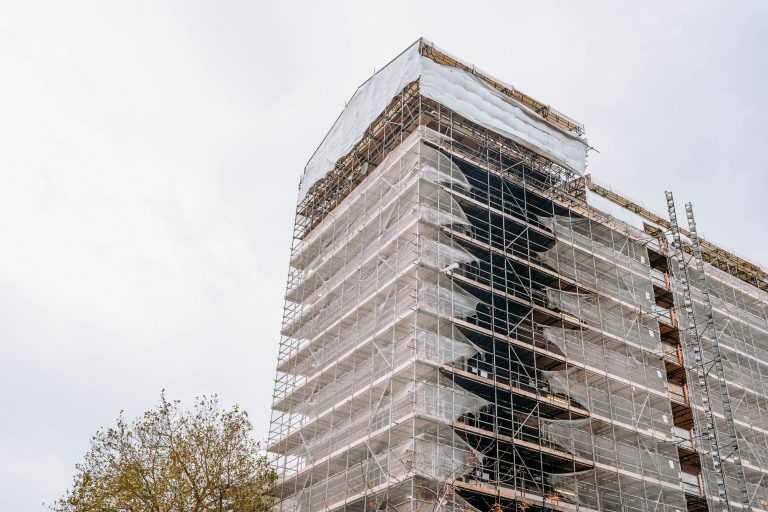 A round-the-clock 'waking watch' by fire marshals at two Bristol tower blocks has been stood down after dangerous cladding was made safe, it has been revealed.
Work at Eccleston House, where a serious cladding fire took place in October and Phoenix House in Barton Hill has now been completed, cabinet member for housing Tom Renhard told a council meeting. Gilton House in Brislington is next on the city council's list of priorities to make its high-rises safe, he added.
The announcement came ahead of an additional £75 million of fire safety measures – three times the amount already earmarked by the local authority – which will be outlined next week in papers to a cabinet meeting later this month, the Labour frontbench councillor told member forum on Tuesday 10 January.
But although Renhard confirmed in November that the council's sprinkler programme would be "accelerated" after it emerged the systems had been installed in just one block since a major investment was announced four years ago, he said this alone would not negate the need for a waking watch.
He told Tuesday's meeting that fire patrols remained in place at Butler House in St George – the solitary building with sprinklers – because waking watches could only be removed on fire service advice if either the cladding was made safe or communal fire alarms were put in.
Cabinet papers in December revealed that it will cost Bristol City Council £200,000 a week to pay for the 77 wardens patrolling 37 tower blocks with polystyrene cladding, called EPS, and one with similar material, until the authority installed permanent fire safety measures.
Waking watches 'not a solution'
In November, leading fire experts told the Cable that the highly flammable material, which is fixed to the walls of hundreds of tower blocks across the UK, should never have been allowed to be used on such buildings.
"I've seen tests on EPS where it simply melts away behind the [building's external] render, forming pools of molten polystyrene, which burn like spilled fuel oil, that can run off in different directions," said Richard Hull, a professor of fire science and chemistry at the University of Central Lancashire, at the time.
Geoff Gollop, Tory councillor for Westbury-on-Trym and Henleaze, told this week's member forum that the ongoing cost the council is facing for its EPS-clad blocks "pales into insignificance compared with the safety of our residents". But he added that the waking watch system was still prone to human error and could not be the solution for the next five years.
"Are we looking at accelerating the capital programme to remove the need for a waking watch and to improve the safety of residents?" Gollop asked.
Renhard confirmed this was the case and that installing communal fire alarms would negate the need for a waking watch, but added that some blocks would see their EPS cladding removed first.
"Obviously the priority is our residents and their safety but we are considering the finance in among what is an additional £75 million on top of the £25 million that was already earmarked for fire safety that we have had to find provision for, largely over the next five years," he said.
"Eccleston House and Phoenix House have already had EPS cladding removed, so the waking watch has been removed in consultation with the fire service, and the next block we expect that to be the case for is Gilton House."
He said papers for the cabinet meeting on 24 January, which are due to be published shortly, would "set out the detail of what we are doing around fire safety, sprinklers and communal fire alarms".
Sprinkler objections
Sprinklers were installed at Butler House, a block near Trooper's Hill reserved for older people, after tenants in the original block set for the pilot project, Castlegate House in Brislington, objected.
In a written reply to questions from other Conservative councillors, Labour mayor Marvin Rees, who did not attend because of illness, said: "When surveyed the residents had experienced two other fires within the block which were contained within a single property, resulting in them feeling safe in their homes."
Rees added that residents were also worried about potential disruption and disliked the aesthetics of the sprinkler system after it was trialled in a flat and laundry area. He said lessons learned resulted in a new design to make it look nicer by hiding the pipework.
"We should also consider the risks to people's property should sprinklers be triggered by an incident in another nearby property," Rees said.
The mayor said new powers were available to the council under the Building Safety Act, including powers of entry to support safety activity, so "any opposition to installations may be overcome considerately with residents, but legally if required".
He added: "This would need to form part of a wider policy and consultation process with residents that has not yet happened."
Renhard told the meeting that the council was considering whether to take a "split approach" by simply installing sprinklers in some blocks and holding a ballot of tenants in others to decide whether to have them.
"Either way, the funding for the sprinkler programme will be fully costed for within the five-year programme for all blocks, irrespective of what approach we take, so we are not going to make any attempt to try to get out of the sprinkler programme and funding it fully," he said.