Bristol City Council investigates notorious property boss for potential breach of legal order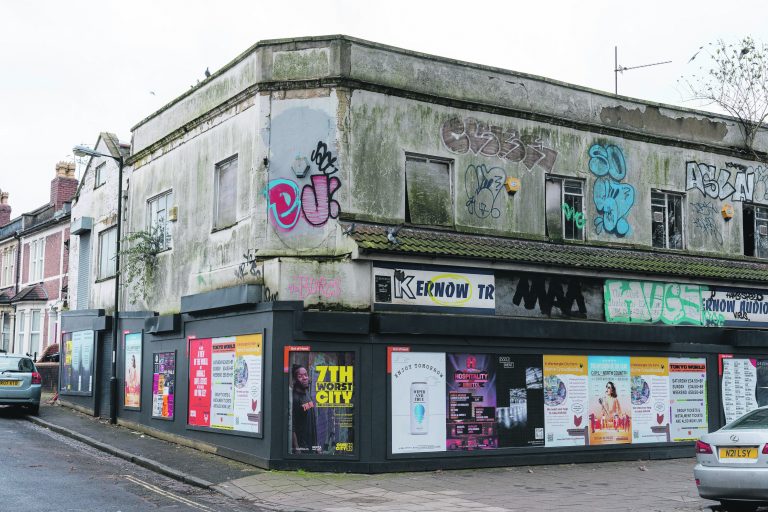 A notorious Bristol landlord who owns property worth millions is being investigated for a potential breach of a court order relating to three empty buildings that have been neglected for years.
Bristol City Council first issued Mushtaq Ahmed a community protection notice in March 2021, demanding he clean up three buildings in Bristol that had been defaced by graffiti and attracted fly-tipping.
When no action was taken, the council took Ahmed to court. He appeared at Bristol Magistrates' Court on 2 February last year.
Ahmed was fined £3,000 and given 150 days to put right the issues with the three properties. They are the Kernow Audio and Sound Building on Mina Road, St Werburgh's, the former Gainsborough Square pub site in Lockleaze and a site at Leinster Avenue in Knowle West.
The Cable asked the council if Ahmed had followed the court order. A spokesperson said it was investigating him "for breach of a previous legal order". The council can request to bring the case back to court if Ahmed fails to comply.
The Cable reported on Ahmed's dilapidated buildings blighting Bristol's high streets in 2021. Locals have complained about debris and graffiti and accused Ahmed of brazen property speculation, which he denies.
Land registry records show Gracewell Limited, of which Ahmed is the sole listed director, owns 15 properties in Bristol. But the landlord acknowledges he has more.
'The building's not been made safe'
Last November, St Werburgh's residents awoke to find one of Ahmed's buildings covered in big wooden boards.
Local Green councillor Jude English believes the boards may be a last-ditch attempt by Ahmed to follow the legal order.
"He was ordered to clean up, remove graffiti and make the building safe," she said.
"Instead Ahmed got a company to clean it and put up advertising boards, which is not what people wanted."
Ahmed maintains he has followed the legal order. "The boards were put up to reduce the chance of further graffiti and fly tipping," he said. There are also now advertising boards in front of this property on Church Road.
English says Ahmed doesn't have planning permission for the ad boards.
The council told the Cable it's investigating Ahmed for potential breaches of planning rules relating to the Kernow building. Ahmed said the company that installed the boards would put in a planning application soon.
'A dangerous eyesore'
Ahmed's empty buildings have drawn particularly harsh criticism, given Bristol's acute need for housing. "Ahmed has repeatedly shown complete disrespect for the law, the council and, most importantly, local residents," says English.
According to government data compiled by Action on Empty Homes, Bristol had 1,625 long-term empty homes in 2022, up from 1,108 in 2021. Action on Empty Homes puts the figure at 7,370 once you include things like short-term rentals. There are currently 19,000 Bristol households on the social housing waiting list.
Since 2020, owners of empty properties in Bristol have paid full council tax, double the standard rate if their properties are empty for two years or more, and triple rates if they are empty for five years.
Ahmed insists he wants to develop the Kernow building, but that squatters have thwarted him. "When I bought it most of the roof on number 54 [next to Sonni's] was missing. The first thing I did was to totally renew that roof," he said.
He said squatters first moved in while contractors who were repairing the building went on holiday.
"Since then squatters have been in at least three more times and each time made things worse," Ahmed said. "Now the building needs to be demolished – I want to put up a decent building here once I get planning." The council's planning portal doesn't appear to show any planning applications submitted by the landlord.
Local MP Thangam Debbonaire welcomes the council's investigation into Ahmed. "For many years, the abandoned Kernow building has been a dangerous eyesore," she said.
"This rat-infested wreck sits in the heart of an otherwise charming part of Bristol – and it's not just how it brings the neighbourhood down," the MP added. "This plot could house many families. The current state of it is an affront to anyone who needs a home.
"I have pushed efforts to get this sorted over the years. I hope the council is successful. I know local people have had enough," Debbonaire said.
Note: In March 2023, this article was updated to correct the fact Mushtaq Ahmed was fined in 2022 in related to the site he owns at Leinster Avenue in Knowle West, not the Hire Station on Church Road.