Delays with at-home sexual health tests leave Bristolians with a sense of frustration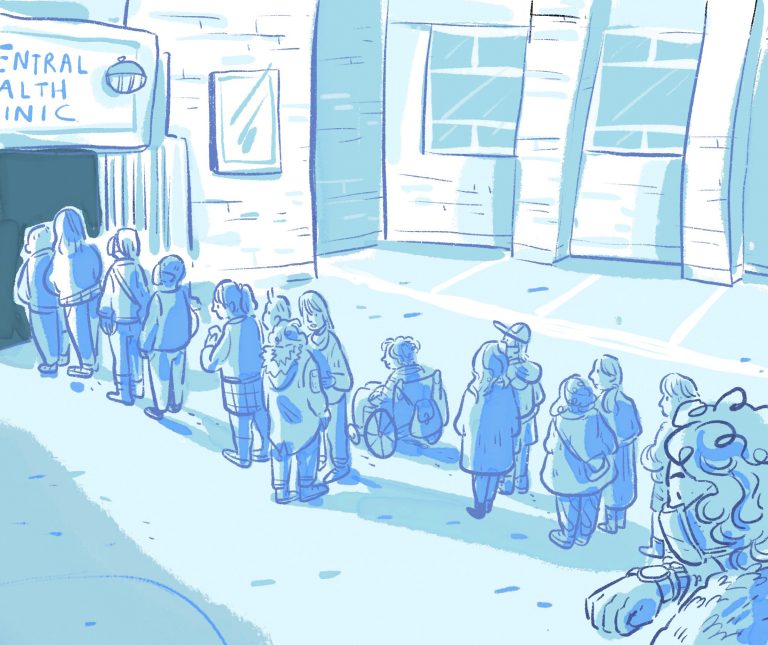 "I had to prick each finger and squeeze the life out of them to fill up the tube." Zara*, 28, from Horfield, is describing her experience last summer using an at-home sexual health testing kit.
Since the pandemic, Bristol's walk-in services, where you could get samples taken by a nurse without an appointment, have been replaced by these kits. You take your blood, swab and urine samples and post them off.
Zara sent hers back the same day and got the results back around two weeks later – inconclusive. "In total the process took around six weeks – and I still had no answers about my sexual health, which was incredibly frustrating," she says.
I was inspired to write this article after my own recent experience with Bristol's sexual health services. As a queer man I'm often told our community is the most vulnerable to sexually transmitted diseases, from Hep B to HIV to monkeypox.
Like Zara, my kit was slow to arrive, meaning the process from ordering it to getting my results was about seven weeks. Others have shared similar experiences with me. This is quite a wait when you're sexually active – potentially enough to stop some people getting tested.
Stress, stigma and delays
Since 2017, sexual health services in Bristol have been commissioned jointly by the council and its counterparts in South Gloucestershire and North Somerset.
University Hospitals Bristol and Weston NHS Foundation Trust (UHBW) delivers a service called Unity Sexual Health at a cost of about £8.4 million a year, in partnership with other specialist organisations. These include Brook, which delivers sexual health support for young people, and HIV charity the Terence Higgins Trust.
Recently there's been a national shift towards online and phone services, and home-testing kits. It has been driven both by the pandemic and by funding cuts at a time of rising demand, with a recent study warning that services are at "breaking point". Government funding for sexual health services was cut by over £1bn between 2015/16 and 2020/21, with councils struggling to make up the shortfall.
Walk-in services are not perfect. Having to queue in a public place can add stress to a visit many people already find uncomfortable. Even so, sexual health service workers, who asked to remain anonymous, tell me that some people – especially young people – prefer the ease of walk-ins.
But with the onset of Covid, Unity and its partners stopped offering walk- in testing. Concerns about monkeypox and an ongoing need to shield vulnerable people from Covid mean this has continued. The increase in at- home testing is creating new concerns around wait times.
Sexual health service workers say long waits for kits are partly down to supply issues, adding that vacancies among nurses have added to overall pressure on services. UHBW, which says it distributes 1,000 kits a week, blamed delays on supply chain problems that had "been resolved".
Regardless, issues like these present a further barrier to patients, says 'T', a Feature volunteer coordinator at a relationships education charity: "People are going to have sex, so we need to make it easy for them to be doing so safely." Bristol's rate of new sexually transmitted infections was already above the national average in 2020, before testing changes came in.
It's doubly important to make testing as easy as possible for people who are already reluctant. Sexual health workers say patients are predominantly white, with women more likely to book than men, who "only come in if they have symptoms".
Testing kits arrive in plain envelopes. Even so, fears around having to rely on a test being sent to a home address mean young people, ethnic minorities, sex workers and the queer community could benefit from a walk-in option.
Small but powerful gestures
Things are by no means all bad in Bristol's sexual health services. I had the benefit of the pastoral side of visiting Unity at an in-person appointment I booked after I'd struggled, like Zara, to draw enough blood at home.
During the test, I was asked if I felt safe and secure with my sexual partners. This small gesture took me aback: it's something I haven't been asked during a sexual health screening before. A question like this could be potentially lifesaving.
Unity is also trialling vending machines, so people can pick up tests instead of having them delivered. There are two in Bristol, at Hamilton House and the Watershed; one each in South Gloucestershire and North Somerset. More would be better.
With Bristol's sexual health services due to be recommissioned from April 2024, the council has been assessing the city's needs and inequalities, including gaps in accessibility.
While a cabinet report from last year warns the "affordability of meeting this need" could have an impact on the budget available, now is the time to ensure these vital services are as accessible as possible for all.
Access to services a 'key issue'
Responding to the issues raised by sexual health service users, Ellie King, Bristol City Council's cabinet member for public health and communities said: "Rapid and easy access to testing is a public health priority to reduce the spread of sexually transmitted infections (STIs).
"We have recently undertaken an assessment of the sexual health needs of the population of Bristol, which collected the views of 650 services users and members of the public," King added. "Access to services has been identified as a key issue and will be addressed through the recommissioning of sexual health services for Bristol, North Somerset, and South Gloucestershire.
King added that further public consultation will take place in November 2023 and January 2024, with a new service due to start in April 2025.
"Flatlined national public health funding combined with staff shortages across all health services, have contributed to increasing pressure on our services," King said. "In Bristol, we continue to lobby central government for more resources to address our prevention work around HIV and sexually transmitted infections."
In the meantime, the council's public health team are working closely with University Hospitals Bristol and Weston NHS Trust to resolve current pressures around testing and ensure access is available, King said.
Name changed to protect identity.
Independent. Investigative. Indispensable.
The Cable is Bristol's independent, investigative newsroom. Owned and led by 2,500 members, we produce award-winning journalism that digs deep into what's happening in Bristol. Investigative journalism strengthens democracy – it's a necessity, not a luxury.
As a democratic members co-op, democracy is built into everything we do. We're 100% owned by thousands of Bristol members.
If we can triple our membership, this funding from the people of Bristol would make the Cable completely sustainable.
Join the Cable today