Exclusive: Police paying out damages to protesters on hundreds of claims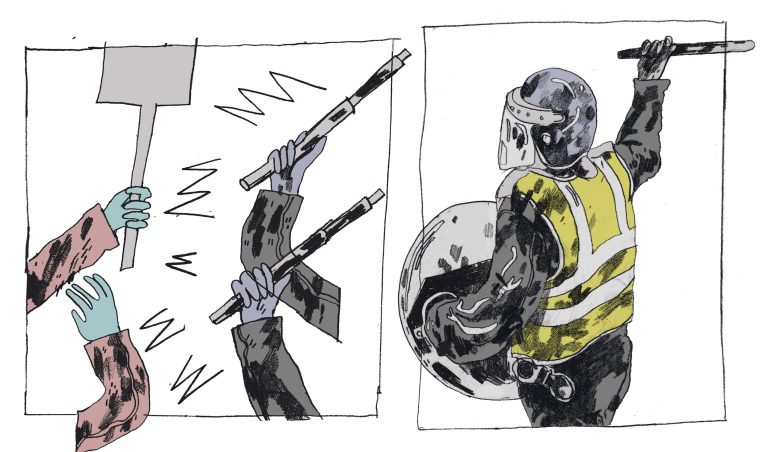 Over the past four years, Avon and Somerset Police (ASP) has paid out hundreds of claims for damages, as the force came under fire for its misuse of Covid legislation and approach to protest rights, the Bristol Cable can reveal.
According to records obtained under Freedom of Information laws, ASP paid damages on 77 claims in the calendar year to September 2022, paying out nearly £200,000 in the first nine months of that year alone.
The force paid out more than £827,000 over the nearly four year-period, with a spike in 2020, when it paid out over £360,000 in damages on 86 claims.
Activists and campaigners said the sharp rise in payouts tallies with their experience of police conduct during a period in which UK police were handed sweeping powers to enforce lockdown restrictions, and faced widespread protests. Campaigners said the figures show ASP has substantial work to do to rebuild community trust.
An incident outside a hearing in 2021 of the Colston Four – the activists who tore down a statue of slave trader Edward Colston in Bristol city centre during a Black Lives Matter protest – is illustrative of the failures of the past few years, according to community activists.
'They wanted to arrest us'
On 25 January 2021, during a pre-trial hearing of the Colston Four, Taus Larsen rode his bike toward Bristol Magistrates Court where the hearing was taking place, stopped to speak briefly to a friend, and was arrested by ASP.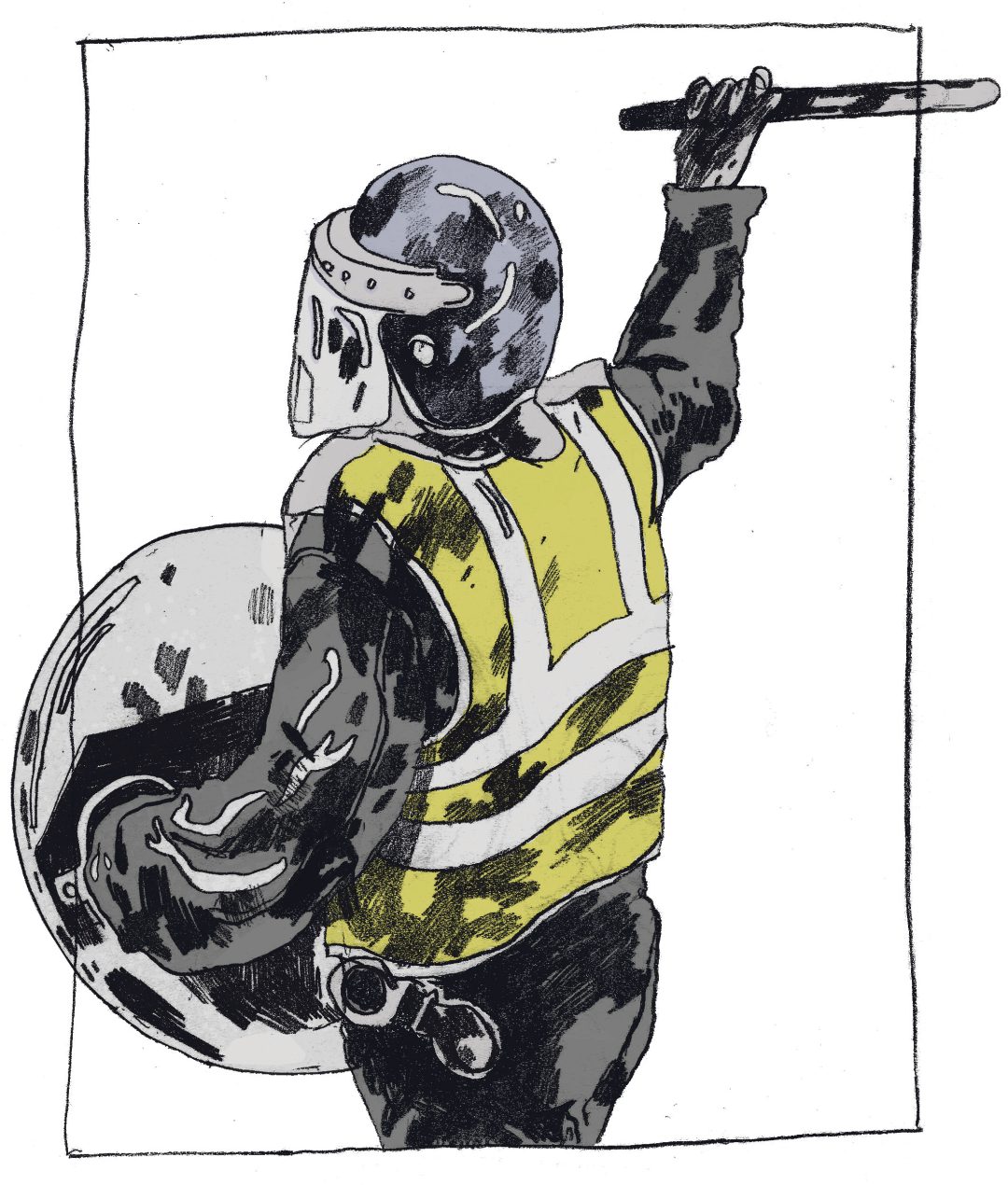 "They weren't up for any discussion," he told the Cable. "They wanted to arrest us. Like they wanted to make a point of it, almost as a warning to other people who were there – anyone we can justify arresting, arrest them."
Larsen said he spoke to two officers and agreed to leave the area, but before he had the chance to do so he was handcuffed and taken to a station where he went through several waiting rooms before spending hours in a cell.
"It felt like they were keeping us off the streets while any demo might be happening," he said, adding that as this was at the height of the third coronavirus lockdown, it was particularly stressful "being cooped up for hours in places where you had no control over the sterility."
As the four activists were inside the court for their part in tearing down the statue, four people, including Larsen, 43 at the time, Rowland Dye, 68, Paula Richardson, 60, and Rosalind Martin, 59, were arrested for showing solidarity with them.
Three months later, all would receive damages for wrongful arrest and Avon and Somerset Police admitted their action rested on a "misunderstanding of the legal effect" of coronavirus regulations.
The force refused to provide a year-by-year breakdown of the types of claim it paid out for, saying this risked breaching confidentiality of the claimants, but 26 of the claims it paid over nearly four years were for false or unlawful arrest or detention, which Larsen and the other demonstrators were compensated for.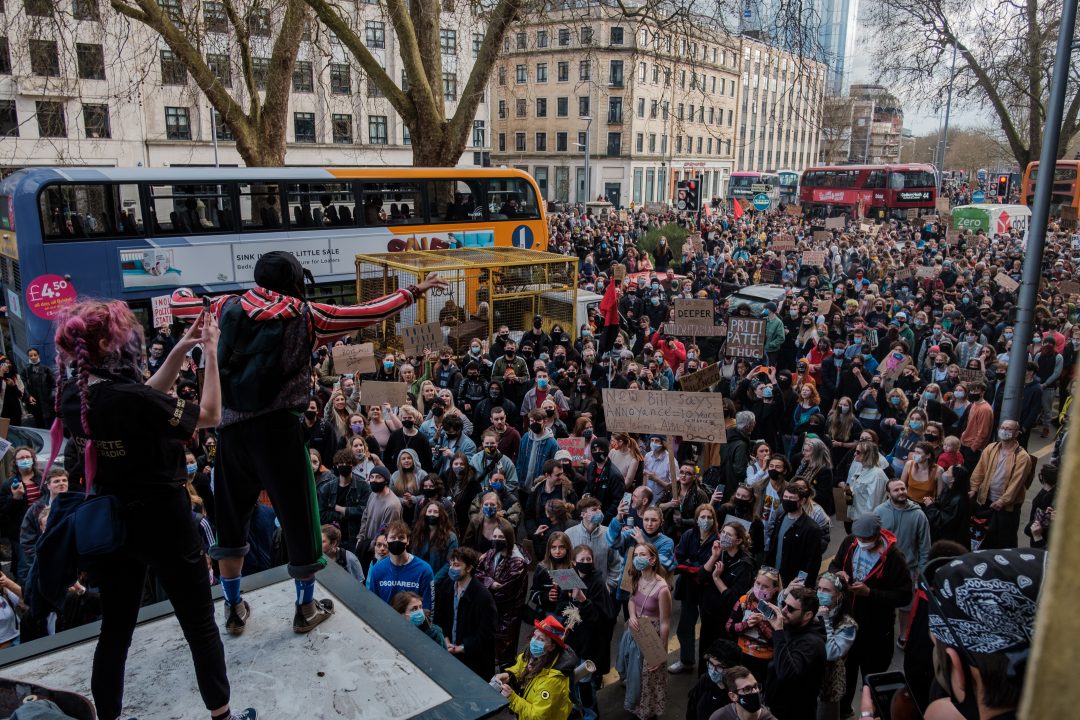 Protest crackdown
Across the UK during the lockdowns, the police's enforcement of covid regulations came under scrutiny from campaigners as well as the wider public, particularly when the regulations were used to restrict protest rights.
Most notably criticised was the Met Police for its heavy-handed crackdown on a vigil held for Sarah Everard, killed by an off-duty police officer. However, ASP was the first force to formally apologise for misusing Covid regulations following its settlement with the Colston Four solidarity demonstrators outside Bristol Magistrates Court.
The figures obtained by the Cable paint a wider picture about the force's apparent failures while its powers were extended.
During 2021, Bristol saw several "Kill the Bill" protests – demonstrations against the Government's Police, Crime, Sentencing and Courts (PCSC) act, which contained restrictions on protest rights as well as measures affecting the rights of Gypsy and Traveller communities, and new stop-and-search powers.
Bristol had not-long seen the toppling of the Colston statue, the climax of the UK's most high-profile Black Lives Matter demonstration, during a global wave of anti-racism protests that followed the murder of George Floyd in the US in the summer of 2020.
ASP's approach to demonstrations over this period was criticised on multiple fronts. In April 2021, at least 62 protestors were reportedly injured as ASP deployed heavy-handed anti-riot tactics against Bristolians who took to the streets to protest the draconian PCOS bill.
Then the force claimed that officers had sustained broken bones due to violence from the Kill the Bill demonstrators, which it later emerged was untrue. Around the same time it was accused of abuse of power for targeting young women it suspected of being activists, using undercover officers.
An All-Party Parliamentary Group concluded that while a small number of protesters were violent, ASP used force disproportionately – including using batons and dogs on peaceful protestors, and unnecessary force on journalists, legal observers and medics.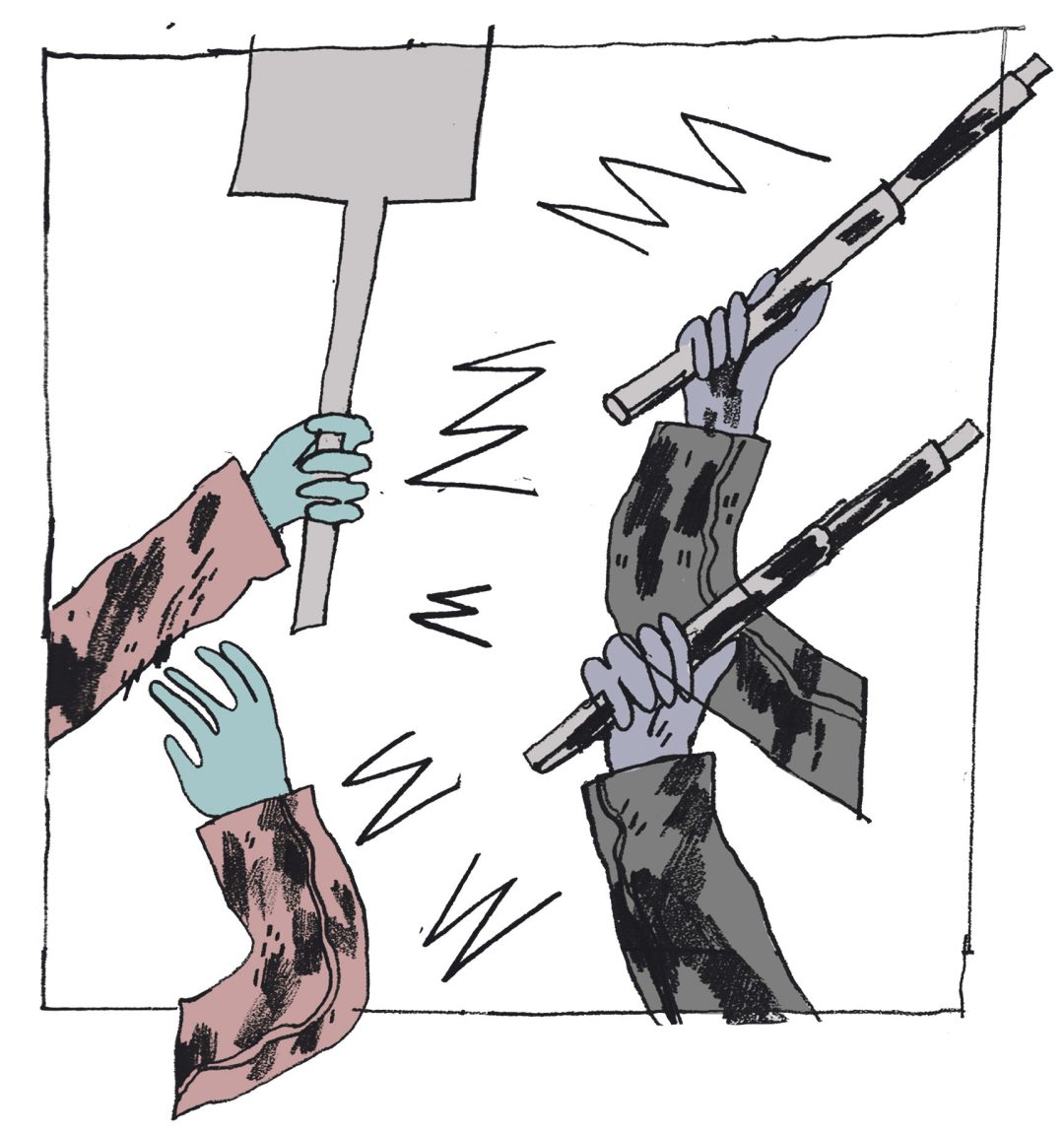 Emily Apple, from police monitoring group Netpol, which submitted evidence to the inquiry, told the Cable that throughout the Kill the Bill protests, ASP had "behaved in a violent and repressive way with no accountability".
"The behaviour of Avon and Somerset Police demonstrates exactly why the Kill the Bill movement was needed – the police don't need more powers as they frequently abuse the powers they already have," she said.
But the force also came under fire from politicians for supposedly being too lenient with protestors. The then Home Secretary, Priti Patel, appeared on Sky News to demand that those responsible for bringing down the Colston Statue were pursued, and reportedly demanded an explanation from ASP for why they had not done more to protect the statue.
Stark figures show need for police to 'get house in order'
The hearing for the Colston Four was scheduled during the height of the third national lockdown, and ASP acted by issuing a blanket ban on protests surrounding it, which they would later admit was unlawful.
The perception from the four people arrested outside the court that day was that they were targeted in response to political pressure and because they were those most obviously demonstrating. Larsen had played music on the back of his bike; Dye held up a placard; and Richardson and Martin had chalk to write solidarity messages on the courthouse steps.
Gus SIlverman, a lawyer who has acted for a number of activists wrongfully arrested by ASP in recent years, told the Cable that ASP has been "distinctly patchy" in its adherence to human rights principles whilst policing protests.
"The recent experience of our clients indicates Avon and Somerset regularly falls short of its obligation to facilitate the right to peaceful protest," he said, adding that ASP recently settled proposed damages with a further five of his clients for breaching their human rights and assault, after forcibly clearing them from College Green in March 2021.
John Pegram, founder of Bristol CopWatch, told the Cable: "Compensation payout increases are significant because this shows us that the police are not learning from their mistakes and instead are allowing officers to continually overstep the proverbial mark and infringe on our rights and civil liberties."
"It's down to the police to regain public trust and confidence, and it's down to Chief Constable Sarah Crew to put her house in order," said Pegham. "The us and them divide grows greater every single day."
An ASP spokesperson said: "To maintain public confidence, we believe it is important to acknowledge and understand where failures have occurred and the public rightly expect that process to be as open and transparent as possible."
"This includes some of the claims we received relating to our response to public protests during the time of the COVID-19 pandemic. Where appropriate we have privately and publicly apologised, accepting that in those specific cases our officers made an honest misinterpretation of the recently-introduced legislation around the important fundamental right of protest."