A fresh approach to regulating e-scooters would help both consumers and the industry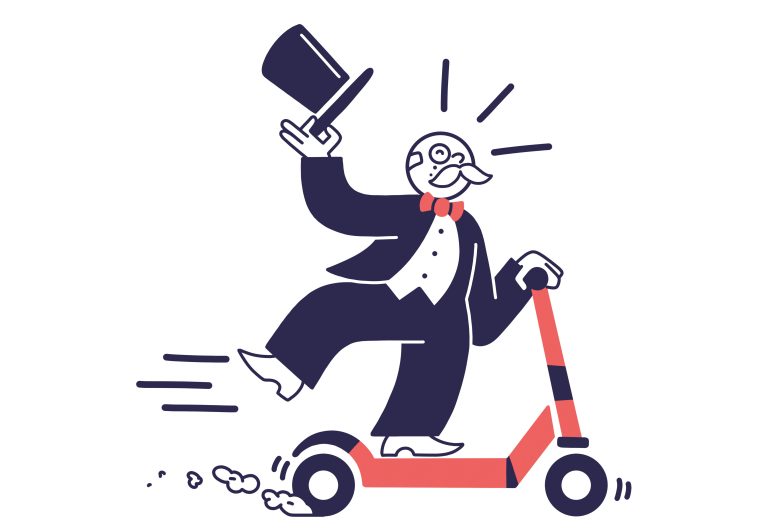 Since trials began in 2020, there have been more than six million journeys taken using Voi e-scooters in Bristol and the South West.
While many people view e-scooters as a sustainable and convenient transport solution, others point out dangerous riding and safety risks, especially for pedestrians. A pre-trial government report titled 'E-scooters: pavement nuisance or transport innovation?' reflects this debate.
With trials now extended to May 2024, continued indecision on e-scooter regulations has created an effective monopoly in favour of the companies running the trial schemes, restricting market competition in a rapidly growing sector. Even Voi has argued that this is bad for the industry, and in February called on the government to end uncertainty around e-scooters by introducing a new vehicle classification category that would allow them to be ridden legally with the same status as e-bikes.
Currently effective in 31 regions in the UK, e-scooter schemes are operated by 12 companies, which had to bid for the contracts. Of these 12 companies, Voi leads the UK market and, by December 2021, had claimed a 70% market share.
This market share is bolstered by a real lack of alternative options. While it is legal to purchase an e-scooter, they can only be legally used on private land with the landowner's permission. Riding a privately owned scooter in public can result in six penalty points and a £300 fine, even if it is operationally identical to the scooters allowed in trial schemes.
In practice, there have been issues with the enforcement of these rules. In 2022, the government refused a request from Metro Mayor Dan Norris to provide additional police funding to effectively enforce e-scooter regulations. "We have got a real challenge," Norris said at the time. "We already know there are many private e-scooters as well, out and about. They are completely illegal."
With a bid process ongoing in Bristol for a long-term 'micro-mobility' provider, the city could see the familiar Voi scooters replaced in the city later in 2023. In November 2022, Norris highlighted the scheme's scope and said over a quarter of a million local people are using the scooters, which is record-breaking nationwide.
Two-tier system risk
There are concerns though that a new sole provider will result in many of the same issues seen with Voi. Geofencing, a use of GPS technology to limit the areas dockless scooters can be ridden in, meant that many parts of Bristol were left for many months without scooter access – and without the option for private ownership this raises questions about equitable legal access to the technology.
As serious reliability issues with Bristol's public transport continue, discussions about alternatives are increasingly pressing. With e-scooters now a staple in major UK cities, regulatory questions cannot wait until trials end in 2024.
Policymakers' indecision has meant the UK's regulatory landscape on e-scooters is far more disjointed than many European countries. The majority of major European economies have allowed the use of private vehicles alongside trial schemes. In Germany, for example, privately owned e-scooters must be insured and meet the same regulatory standards as scooters offered by ride-sharing companies, but they can be used on public roads and bike paths.
The contrasting approach taken in the UK invites uncomfortable questions about what is effectively government-enabled monopolisation within a rapidly growing sector. Reducing competition within a market in this way restricts consumer options, leaving people reliant on sole local providers in order to use a technology that has become ubiquitous in many cities.
This is problematic in a global micro-mobility market that has attracted more than £4 billion in investments since 2018. Locally there has also been significant investment, with Bristol-based e-scooter startup Pure Electric recently securing £2.4 million through crowdfunding.
Questions over eco-credentials
Reducing emissions in urban areas is a key government goal, and electric micro-mobility vehicles have been heralded as a potential solution.
In 2019 though, the MIT Technology Review highlighted some of the shortcomings of e-scooters, with one of the key issues being the short lifespan of the vehicles. Viewing emissions on a per-mile basis – given that many e-scooters may only have a few years' lifespan – the emissions in manufacturing outweigh any environmental benefit.
Reliability improvements are required before the environmental benefits of this technology are fully realised. A more competitive market is much more likely to facilitate this much-needed sustainability innovation.
Following the blueprint of countries such as France and Germany, the UK can create a similarly clear regulatory framework for this technology. Consistent enforcement of clear legislation would provide a strong benchmark of expectations for the use and design of these technologies.
With e-bikes legalised in the UK without a trial period, similar options for e-scooters would offer consumers a significantly more affordable private transport option. The Clean Air Zone recently introduced in Bristol has brought the need for affordable, reliable transport alternatives into sharp focus.
From a sustainability standpoint, regulations opening up the market can also help drive innovation. Introducing the needed legislation on this will help ensure fair and consistent access to technology in this rapidly growing sector.