This week in Bristol: Swimming pilot for Bristol Harbour announced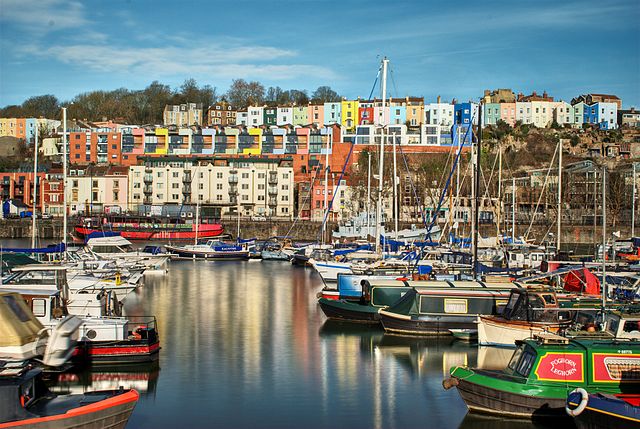 In the news this week, Mayor Marvin Rees has announced the launch of a pilot project for a safe swimming area in Bristol harbour.
For five weeks from 29th April, Saturday and Sunday morning public swimming sessions of one-hour will be available to pre-book online at a cost of £7 per person. An area of the harbour will be cordoned-off to create a course specifically for swimming, with lifeguards and safety boats present.
As many as 80 people will be able to swim the 200-metre course at any one time, which will be cordoned off in front of Baltic Wharf, accessible via a ramp in front of the Cottage Inn.
Public swimming in the area has become a matter of concern recently after revelations of how much sewage companies are dumping in local waterways. Conham River Park, a popular swimming spot on the River Avon near Bristol could be cleaned up, after thousands of people signed a petition at the end of last year.
At a full council meeting where the petition was presented, councillors from all parties voiced support for calls to scrap the existing bye law banning swimming in the river. Giving that part of the river designated bathing water status would require the Environment Agency to monitor pollution while giving local people their 'rights' to enjoy the water.
The pilot represents a partial, and potentially temporary, lifting of the ban. The council had previously said that swimming in the harbour was a health and safety issue due to it being a working area, but they say the £7 fee will pay for the water safety provisions.
Becca Blease from Conham Bathing Group, a campaign group who have worked to get bye laws changed and the River Avon cleaned up, tweeted:
"Now I see where our river pollution campaign went wrong when we asked the council to support an application for bathing water status in a different stretch of the same river (and were rejected). We clearly didn't present it as a business opportunity."
The Bristol round-up ?
???? £7 million has been promised to upgrade buses in Bristol, with 'London-style frequency' according to Metro Mayor Dan Norris. The metro mayor has promised the funds alongside First Bus, the private company who run Bristol's bus service, as part of The West of England Combined Authority's Bus Service Improvement Plan.
???? Metro Mayor Dan Norris told BBC Points West that Bristol will not get the underground system that Mayor Marvin Rees has pushed for. Though the outgoing mayor will not get a chance to see through the implementation of an underground system, he has overseen initial planning, and recently announced an ask of a further £15 million commitment to continue its development. Asked by a BBC presenter "in one word, are we going to get the underground in Bristol?", Norris replied "No." Rees has responded by accusing Norris of "a lack of ambition".
✊ Activists blocked another Bristol Airport bus at the weekend, as part of a campaign to highlight the double standards of bus provision in Bristol. It's the third time the climate activists have blockaded an airport bus in the past few months as part of the group's 'Free Buses, Fair Buses' campaign launched in June, with the slogan 'fair travel, not air travel'.
 ???? The 20th Century Society, a group which campaigns to preserve modern buildings, has launched a bid to save the 'iconic brutalist' NCP car park on Rupert Street. They've applied to have the structure listed with Historic England, and have suggested it could be turned into a charging hub for electric cars, in response to a plan by developers to demolish it and turn it into flats.
⚖️ A garage manager has been convicted on 12 counts of fraud after issuing MOT certificates for more than 800 cars he didn't check. David Carden, 53, of Kenmare Road, is the manager of Auto Scuderia in Ashton Gate. He claimed a "mystery man" pressured him into the fraud and he was "given a kicking" when he initially refused. He's been given eight months' prison suspended for 12 months, plus 150 hours' unpaid work, ten days' rehabilitation and £2,250 in prosecution costs.
✂️ The Avon and Wessex branch of the GMB union have called Bristol City Council's treatment of staff "shocking" in last year's closure of the South Bristol Rehab Centre. The council's HR committee was told that none of the centre's 33 staff members were asked for their views during a consultation on its cost-cutting closure, and those writing a report on the consequences of the closure have still not sought the opinions of former workers.
???? Flooding on the railway line near Sea Mills led to blanket cancellations of the service on Thursday. All services between Temple Meads and Severn Beach on the line that travels via Clifton Down and Avonmouth were "cancelled or revised", and passengers had to use a number of bus services in replacement.
---
Solutions and Successes ?
? A record number of volunteers have signed up to help plant Bristol's Great Avon Wood. Avon Needs Trees, the charity running the project in the Chew Valley, have said they're "astonished" to have received 200 applications within 10 days, meaning the first handful of planting days are now fully staffed. The new wood is set to be the region's largest.
? The Community Climate Action Project is expanding with a new learning and mentoring programme. The programme aims to support and encourage more Bristol community organisations to develop their own community climate action plans with a £3,000 bursary, a series of free workshops, peer mentoring and resources to support communities to take action on climate in their community. Six organisations have already taken part, including Ambition Lawrence Weston, Bristol Disability Equalities Forum, and Eastside Community Trust.
? Goats have been reintroduced to the scrubland at Bristol's Stoke Park. The herd naturally manages the scrub around the World War Two Purdown Gun Battery, and are "relaxed" around humans. As Purdown and Stoke Park are a popular dog-walking area, owners are advised to keep their pets on-lead.
---
This Week in Bristol: Thousands of Bristol Cable readers get this essential digest of local news sent to them every week. Sign up to join them and receive in-depth reporting and analysis that cuts through the noise of daily news.