It's a sunny Sunday morning in January and the smouldering remains of a Voi lie in the centre of Turbo Island – a valiant attempt at resurrecting the bonfire that once perennially blazed there. The centrepiece of Stokes Croft, Bristol's "cultural quarter."
Of course, Turbo Island lies at the intersection between Jamaica Street and Stokes Croft – and two camps with very opposing ideas about what it contributes to the culture of the area.
These clashes came to a head last year. The pyromania had become increasingly outlandish, and the local businesses more irate. Bristol City Council issued the landowners, London-based advertising firm Wildstone, a community protection order. In November last year, Turbo Island was cleared and tarmacked over.
An outpouring of posts eulogising the wonders of Turbo Island poured forth on social media, bemoaning the loss of a "cultural icon". But in the rapidly gentrifying Stokes Croft, what "cultural value" it actually has is a much contested concept.
Wildstone said once the works were complete, they wanted to discuss with the community how the site can be made more welcoming. But three months on, no such efforts have materialised.
Was this the best solution? The Cable speaks to Stoke Croft business and organisations to find out.
How a small triangle of land became an icon
I'm perched on a concrete ledge under the billboard – the only remaining place to sit now that the wall's gone. A chalked scribble on the floor reads, "Turbo Island 4ever." My heart pangs with nostalgia.
Why this unremarkable triangle of land has become such an institution is not, at first glance, immediately apparent! You'd have to really know it, and experience it, to get it.
I'll admit: for me, Turbo Island occupies a cherished space in my heart. Perfectly positioned between Stokes Croft's best clubs and en route to town, this island became an inevitable pitstop, and often the ultimate destination, of many a night out. A four pack of K-cider, the warmth of a burning mattress, the total stranger keen to tell you about their recent acid-induced epiphany – those were the days.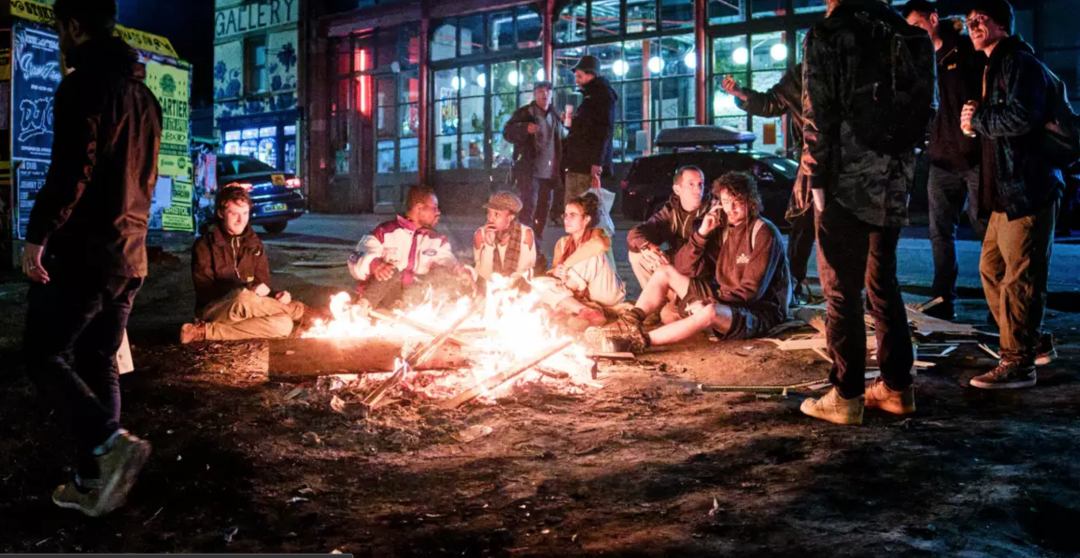 Its enigmatic charms lie in part due to its quango status. The privately-owned Island existed outside of council jurisdiction and therefore the street city's drinking ban. So long as the billboards were unobstructed, Wildstone seemed unbothered by the surrounding shenanigans.
And so "Turbo Island" – named after a cheap brand of cider from the 80's – became the unofficial locus of free parties, fires and impromptu raves. It felt anarchic, lawless, emblematic of the city's counter cultural spirit.
Connection vs. Commerce
"It's just a place where people can hang out and party together, have a fire, listen to music and bond! And it's absolutely core to us as individuals and as a functioning society that we have a chance to do that!" says Lisa Furness from the People's Republic of Stokes Croft (PRSC), the most vocal proponent of preserving Turbo Island.
For her, the cultural value was its social function: "I feel that one of the most urgent problems we face is the atomisation of our society, where we only mix with people from our own socio-economic background.
"Turbo for all its flaws was a place where a cross section of the community could be together, and the fear and barriers and division could be reduced a little bit."
Moreover, the Island was a safe haven for marginalised people excluded from other social spaces. "The street is the only place that does not have entry requirements!"
But last summer, the owner of restaurant Jamaica Street Stores said the recent deterioration of Turbo Island had contributed to their decision to close and warned others may follow, threatening "Bristol's world class food scene".
These irreconcilable ideas of the culture of Stokes Croft exist on the same street.
The middle ground
"Yes, Turbo Island was great – and we have really good relationships with lots of the die hard Turbo locals," says a nearby shopkeeper. "But in the last year, things just got way worse – something changed. It was a different crowd."
The tarmac has helped reduce these problems he adds, relieved: "Is it nice not to see someone being savagely beaten outside my window? Yes. Am I glad we can open a window without inhaling the fumes from burning plastic! Yes."
He says he's nervous to speak openly out of fear of being condemned as a gentrifier. "But that's all well and good from people who don't actually have to live and work here day in, day out."
The community buy out – A possible solution?
One solution that has been touted over the years was a community buyout. And the PRSC has made a number of unsuccessful bids in the past 10 years to buy Turbo Island. Adding insult to injury, Benoit Bennet, who works there, says they were often left out of stakeholder meetings: "We had suggestions for how Turbo could have been used to work with the community."
"It's difficult to know what to do with Turbo Island. The whole part of why it's valuable is because no one is in charge of it. If it was publicly owned, the council would be all over it."
We can't just keep hiding the problem
Wildstone have said social issues affecting Turbo Island are out of their control, but they hope to improve the appearance of the site.
But simply improving the appearance, Furness argues, doesn't address the problem. "It's a surface level clearing out of people from the city centre so we can carry on with our lives pretending that drugs, homelessness and poverty don't exist."
She adds: "Invisiblising vulnerable people, and pushing them out of spaces where they feel safe just ends up isolating them, and making them way more vulnerable."
Gentrification is not the sole contributor to the area's problem. Stretched local services and a cost of living crisis all have a knock on effect – and local businesses cannot be expected to bear the brunt of that.
And perhaps that's a bitter pill to swallow for me and the other misty eyed nostalgics clinging to a version of Turbo Island – and arguably Bristol as a whole – that no longer exists.
Ultimately, the "cultural value" to triumph is the more lucrative one. Free parties and social connection just don't generate the revenue that overpriced brunches do.
Some hold their breaths for a Turbo Island 'relaunch', but for others, the now tarmacked triangle joins Tesco, Telepathic Heights, the Bearpit as the latest victim in Bristol's fight against gentrification.