A bible, a penny-whistle, and a body on the bank of the Avon: what's the story that connects them?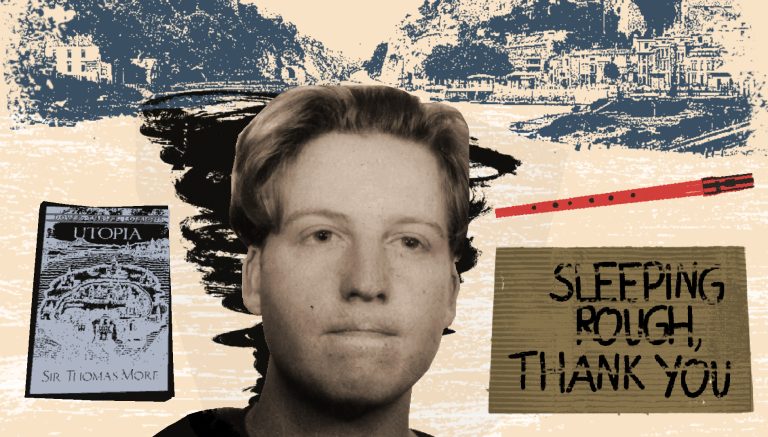 It's a bitter Sunday morning and a man's body has just been found on the bank of the river Avon. He's 6ft tall, has blue eyes and short brown hair.
A Eurohike Adventure guide map, a bible and a red penny-whistle are all found beside him. But how he died is a mystery.
Had he fallen from Clifton Suspension Bridge, as some have speculated? Or is there more to this story?
It was 19 May 1996 when the man was found, near the end of one of the coldest Mays on record. It had been four degrees all night, with heavy rain and winds of 50 kilometres per hour. The man, thought to be between 25 and 35, was found wearing a black jacket, blue Lee Rider jeans and brown boots, and carried with him a black sleeping bag.
The night before, the nation had been tucked up indoors, gripped by the Eurovision Song Contest, won by Irish contestant Eimear Quinn, and the Sunday papers were reporting on an imminent IRA ceasefire.
But nearly three decades later, the man, who conveniently carried with him a photo of his younger self, has still not been identified. At the time, the police circulated his photo – but it's unsure how widely. No productive lines of enquiry ever materialised.
New appeal for information
Now, Locate International, a UK charity dedicated to solving missing and unidentified person cases, is launching a new appeal, asking Bristolians to think back to May 1996 and see if they can remember anything that could be helpful for their investigation.
"I think we're in a good position," says lead investigator Jess Halsey, who is coordinating a team of six other volunteers from across the country. She is a chartered accountant by day, and alongside a lawyer, student and NHS worker, has been dedicating her spare time to solving this cold case.
"What stands out to me is that he had a photo of himself. You don't always get that with the unidentified cases," she says.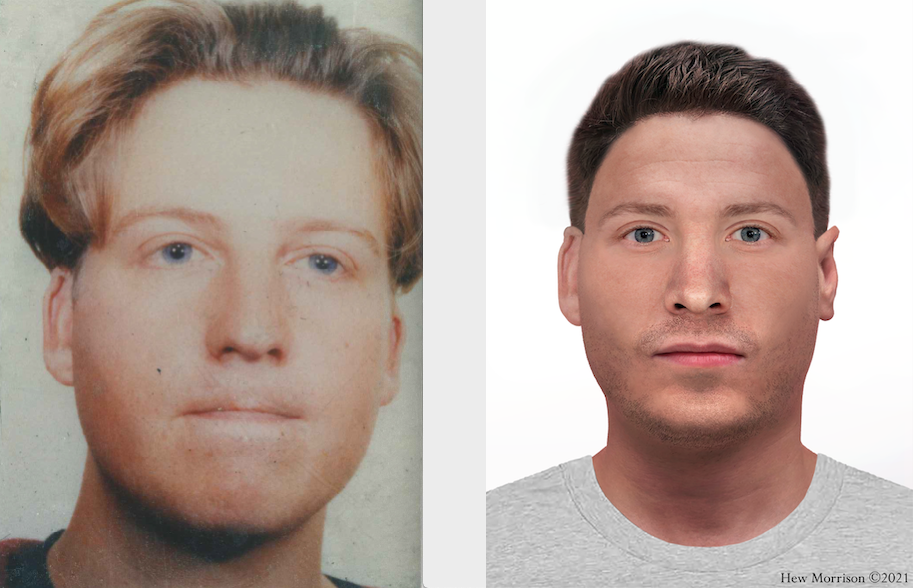 Using this photo, forensic artist Hew Morrison has been able to create a facial reconstruction of the man who died, depicting what he would have looked like at the time of his death. In this reconstruction, which has been released to the public today, the man's hair is shorter than in the image he was carrying, and his face is fuller, with more stubble.
But it's not just his appearance that might lead Halsey and her team to an answer. An eclectic mix of possessions were also found with the man's body. "Each item tells you something, or might tell you something, about him," Halsey says.
In his collection of books, there was an A-Z Great Britain map, a paperback version of The Greatest Batman Stories and a radical novel by 16th-century philosopher, Thomas More.
More's novel Utopia details a traveller's account of discovering a perfect island community where everything is public property and food and hospitals are free for all. "We're trying not to draw too many conclusions, but it was a very philosophical text," Halsey says. "Potentially he was unhappy with the world. Was he travelling to find out more about the world, or himself?"
Other pieces of information also hint at a nomadic lifestyle. The novel's outer cover was missing and the words 'West Glamorgan County Council' were on the front page, a county in southwest Wales which has since been divided into Swansea and Neath Port Talbot.
"Obviously he was in Bristol, but it doesn't mean he was from Bristol," Halsey says. Taking all this information in, she says her team have multiple hypotheses about why the unidentified man was in Bristol and who he might have been interacting with.
Links to 90s squatting community?
"There was quite a big squatting community in Bristol at the time," she says. "It appears like he was either sleeping rough or homeless, so potentially he could have been part of the squatting community."
A cardboard sign was found with the man's body, with a handwritten message reading 'sleeping rough, thank you'. Halsey says that it's important not to make too many assumptions about the man's story, but this sign could suggest which communities he engaged with.
The Cable has tracked down multiple individuals who either squatted in Bristol during the 1990s, or knew people that did. "There is a familiar look about him, I must say," says Dan Lloyd, who was once a key figure in Bristol's squatting scene. Another ex-squatter agrees; the man in the photo looks familiar.
Dave Grimstead, the founder and chief executive of Locate International, believes that there are people out there who knew the unidentified man. "How does someone who was probably moving around Bristol, and was in contact with different people, suddenly disappear from people's lives?" he says.
Grimstead grew up in Bedminster and joined Avon and Somerset Police in 1988. Over the past 30 years, he's worked on major crime investigations and high-risk missing person cases, including as a detective inspector in Bristol for five years. "It's always the cases that remain unsolved that stay with you," he says.
In the past year alone, Locate International's team of 125 volunteers have solved 26 missing person or unidentified person cases. Halsey hopes that her Bristol case will one day be added to that list. "All of my team are so keen to put a name to this person, and hopefully one day let his family know," she says.
If you recognise the man in the images, or think you might have useful information for our investigation, please contact Locate International by emailing appeals@locate.international or by calling 0300 102 1011.