'Crisis' extends housing misery for Lockleaze buyers, as L&G admits mould issues on sister scheme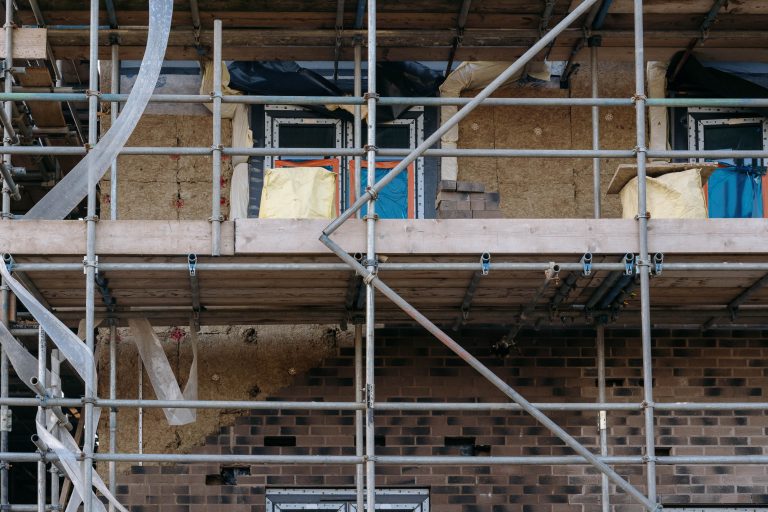 "There is a crisis report coming from the L&G group regarding further delays – no exchanges will be taking place on this site for the foreseeable future."
That's the alarming message that Jo*, a Bristol woman hoping to move into Legal & General's modular housing development off Bonnington Walk, Lockleaze got from her solicitor on 22 February.
In the last few days, buyers have been told they could be waiting another year before L&G's factory-built homes – which use less carbon than traditional construction and are supposed to go up quickly – are completed. The site was originally meant to be finished in late 2022.
"I cried my eyes out in the kitchen yesterday – you just feel so let down," said Zoe*. She's another of the people told that "a number of problems" at Bonnington must be fixed before their new home can be signed off by warranty provider NHBC.
Zoe added that she feels "so angry" at being given vague "last-minute" information about the ongoing delays, which have left her and her partner's lives on hold over the last six months. "It's always 'supply chain issues', 'construction issues' – they're never transparent about what has actually gone on," she said.
The Cable has not been able to get a full answer either as to what the evidently serious problems at the Bonnington site are.
We can though reveal that the foundations of dozens of houses need remediation work that will see modules removed and potentially sent away. "At this time we are exploring the root cause and cannot disclose any further information," an L&G spokesperson said, adding that buyers would get more details in six weeks.
But documents we have obtained, and interviews with people living at L&G's first modular housing scheme in Selby, North Yorkshire, point to a pattern of poor communication, unexplained delays and a lack of transparency about mistakes and defects affecting homes.
In Selby, L&G has now admitted, these have included serious issues with damp and mould in brand-new homes after modules were left exposed to the elements. Houses and flats have had to be completely stripped out to fix these, with some still unfinished.
David Wilcox, a Green councillor for Lockleaze, said he is "deeply concerned about the delays and reported quality issues" with L&G's homes. "I have been contacted by concerned local residents and people due to purchase homes [at Bonnington] who are disappointed by the lack of information from Legal and General," he added.
Mould in the modules
The Bonnington development of 185 homes for sale and social rent was granted planning permission in November 2020, four years after L&G opened a huge house-building factory at Sherburn-in-Elmet, near Leeds. The insurance giant has said the plant will eventually be capable of turning out more than 3,000 homes a year.
Timber-framed modules – like giant precision-engineered building blocks – are assembled complete with fittings and electrics at the Sherburn factory. They are then transported to building sites, installed on foundations, roofed and clad with bricks. While L&G has faced steep financial losses as modular building has struggled to go mainstream in the UK, hundreds of its homes are under construction or in the pipeline, including in the South East and West Midlands.
We first wrote in January about issues at Bonnington that led to homes being dismantled. Buyers approached us complaining of six-month delays – leaving some losing their mortgage offers – that L&G put down to issues getting the right kinds of materials.
At the time, Lockleaze locals told us they were worried the factory-built cores of L&G's homes had been left exposed to cold, wet autumn weather. But this mostly happened after bricks began to be removed at the development. One, Debra Stirling, wondered if there was already "a condensation issue".
Soon afterwards, the Cable received information suggesting we look into possible mould issues at Bonnington – including, allegedly, below the floors – and at other sites being developed by L&G's modular homes arm.
That material includes dozens of shocking pictures showing a brand-new home, matching floor plans on L&G's website, riddled with black mould in its timber and plasterboard.
Mould has been a huge concern for the housing sector in the wake of investigations revealing appalling conditions at some estates – including the death of two-year-old Iwaab Ishak in Rochdale – and in private rented homes. New builds are not immune as they can naturally contain a lot of moisture from construction, although the NHBC says most should dry out without causing problems within 18 months or so.
We cannot independently confirm whether any new homes at Lockleaze have been affected by mould. Nor could we get a comprehensive answer from L&G, although its spokesperson said this was not why homes in Bristol were being dismantled and that "no homes will be handed over without meeting rigorous safety checks (which includes mould)".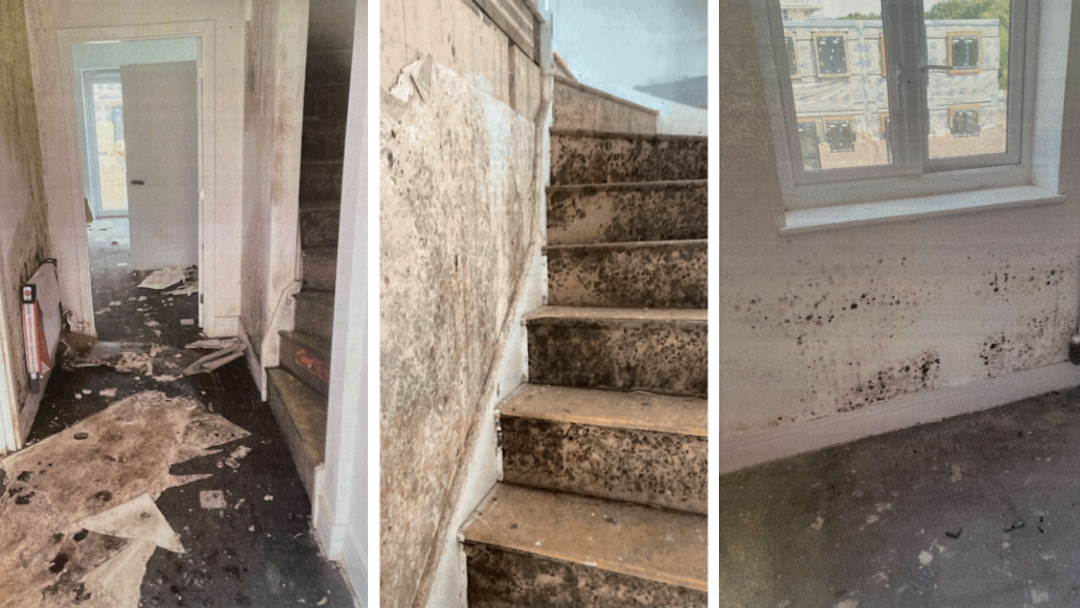 But L&G acknowledged the pictures showed a house on its Portholme development in Selby that had to be completely stripped back to a shell to deal with the infestation and to meet NHBC's standards.
Modules had been stored outside in the damp and cold too long, allowing water to condense inside and creating "some" instances of mould, L&G said.
The worst of those instances have affected an unfinished block of flats, which when the Cable visited Selby in February sat shrouded in plastic sheeting and surrounded by pallets of bricks.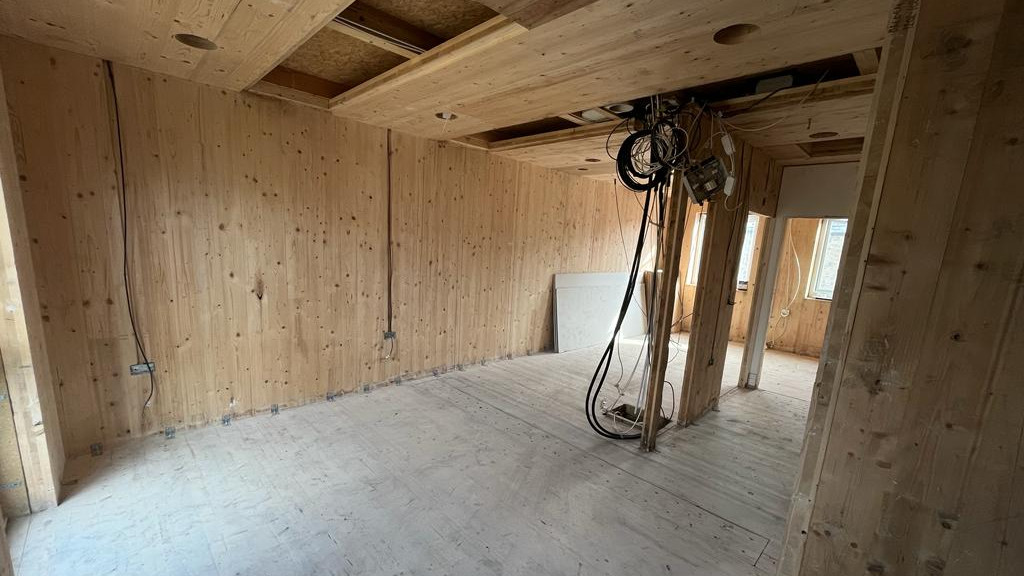 "The flats have been stripped back twice, which I was told was due to really bad mould issues," said a resident who asked to remain anonymous – one of several who had been told about the problems by contractors working on the site.
'Why was it taking so long?'
L&G has repeatedly told the Cable the Portholme site has experienced no major setbacks. Yet some residents said they – like people looking to move into the Bristol homes – faced months of delays before they could move in. Some said they were forced to sleep on sofas, move back in with families or rent locally at short notice as a result.
The delays were explained in part by a Land Registry problem at the site, which was, like Bonnington, previously owned by the local council. But several people we spoke to said they were not convinced this was the whole story, because they were still not able to move in after the issue was resolved. None had been told of any mould issues affecting houses at Portholme.
"We were told they were meant to be finished by November, December [2021]," said 30-year-old Cynthia Solis, who eventually moved into a shared-ownership house with her partner and two children in late autumn 2022. "We were not given any explanations. Why was it taking so long?"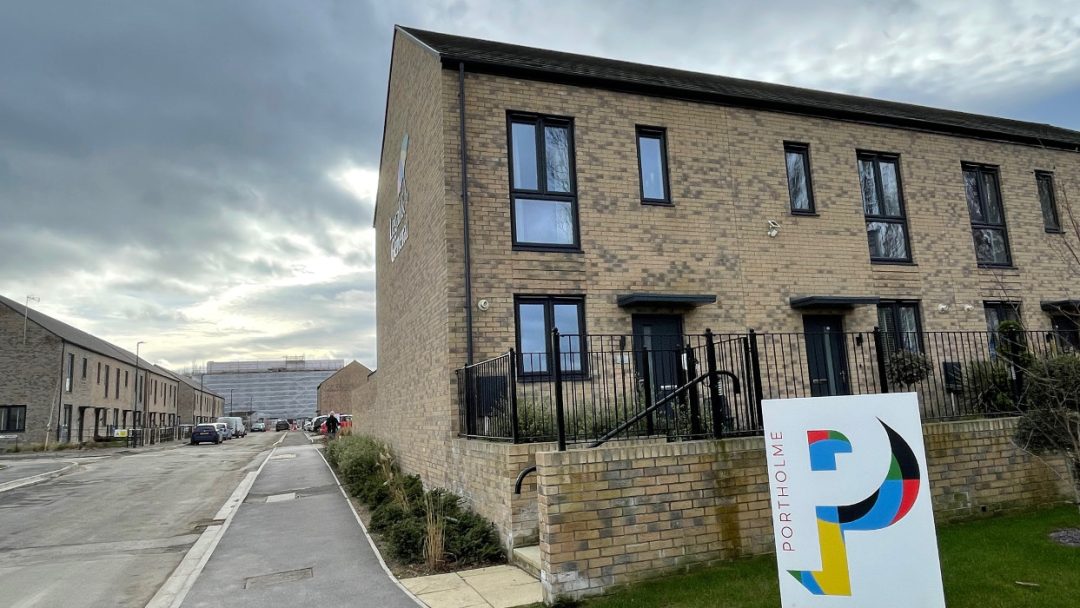 She added that because her private rental contract was due to end in October, she was worried her family could end up homeless if a move-in date was not finalised. "We were practically begging Space Homes [the shared ownership provider] to rush [L&G to] finish and give us somewhere to live."
When we visited her home, Cynthia opened a cupboard by her front door that smelled strongly of damp and had visible mould spotting on the carpet, although she and her partner said this had been caused by leaking pipework.
Another resident, Harri Summerscales, 25, showed us green growth on the outside of his home and some others, which he said he had noticed and reported just before completing on the property. "We were told they had done the work on it," he said. "Then not long after we moved in, when it rained you could visibly see water running down [the house] – so I'm not sure if it's a separate issue to what they said they'd fixed or not."
Harri said he was satisfied the leak was a snagging issue rather than anything more serious, and that he was otherwise happy in his new home. But he, like almost all residents we spoke to, told us he had found communications from L&G and its partners about the delays generally slow, frustrating and lacking in transparency. L&G said it was working closely with residents to resolve any outstanding issues.
Few good options
Some people at Portholme said they had considered pulling out – as a number of Bonnington buyers have done – but that they worried about not being able to find an alternative. People who were moving from poor-quality private rented accommodation, or from the social housing list, pointed out that they were desperate for security and the prospect of a new home.
Those factors are even more acute in Bristol, where house prices rose about 15% in 2022, with some Bonnington buyers saying they would have few options if they pull out. L&G has offered up to £4,000 compensation to customers, whether they choose to stick with the scheme or not, but it clearly has work to do if it is to win back trust.
"Our top priority is building modular homes which meet the highest possible standards and are delivered in a timely way," the company's spokesperson said, adding that L&G was "sorry" that customers felt they had not been kept updated.
"In addition [to offering compensation] we will work collaboratively with the local community to establish how best to help them during the extended works required to deliver the scheme," the spokesperson said. "Bristol, in common with most of our cities, needs more and better housing and despite this setback it remains a priority for us to help deliver this in ways that work best for the local community."
Zoe said she is as yet undecided about what decision she will make. "We're concerned about the quality of the homes after all of this," she said. "And also just concerned that after waiting for two years, will I enjoy moving into that house – or will it just be always dictated by how long, and how much stress, and how difficult it was to get into it?"
*Names changed