Do women really have equity in Bristol workplaces?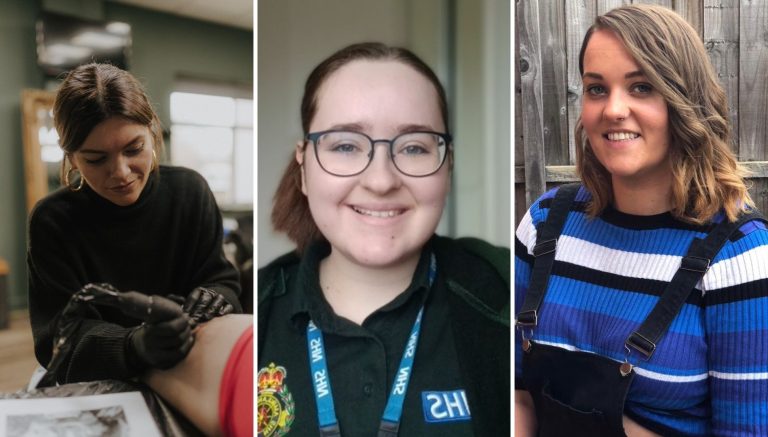 "Leaving education to train with the Ambulance Service was my dream. But it was difficult to get there with my health being so unpredictable at such a young age," says Martha Pugh Jones, a Bristol-based, Disabled, ambulance worker.
Martha is one of three women the Cable spoke to about her experience of equity in the workplace to mark International Women's Day (IWD).
This year's theme for IWD is 'Embracing Equity', which importantly is different to equality. While equality by definition is where everybody, regardless of race, gender, sexual orientation or disability status, must be treated equally, equity instead recognises individuals may need differing adjustments based on their specific circumstances.
Martha, 21, recalls her training two years previously as being surrounded by older men. "A male colleague did once reference my age. He 'couldn't believe' I worked there but I hadn't been old enough to have watched live footage of 9/11."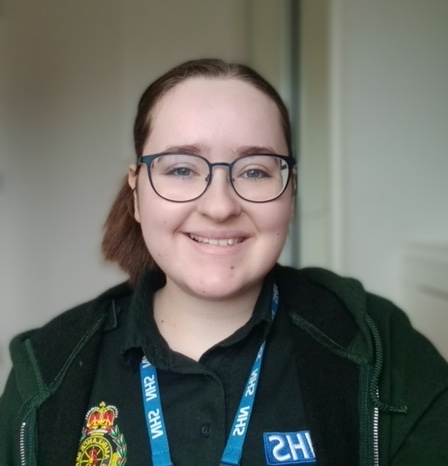 After just under a year in a previous role with the service, Martha suffered a bout of severe illness. She was absent from work for a long period, during which time she received letters from her employer saying if she had further absences she could face disciplinary action.
In a meeting with her employer she was reassured they would make reasonable adjustments to enable her to remain in work. Nonetheless, Martha says she still has concerns her illness could leave her vulnerable to disciplinary action in the future.
"My team has been really supportive, but it's still a worry knowing you could be reprimanded or potentially out of work because you're not well," she says. "Policies need to be more adaptable to change on an individual basis for Disabled employees, especially women, who often have to shout louder to be heard in the workplace."
Despite facing comments laced with casual ageism and misogyny, as well as a being threatened with disciplinary action for being off sick, Martha has continued to further her career and was recently promoted to a supervisory role.
"I describe myself as a fighter. Being a Disabled young woman often means having to work twice as hard or as long, to get to a place where your health is stable enough to allow you career success. It's why I'm speaking out on these topics whilst I have the energy to do so."
Martha went on to say, although there is room for improvement, she does feel changes are being made in small strides, and equity is something that the Ambulance Service is striving to achieve.
"Many young women around my age have joined in the last year," she says. "I even get to mentor some of them, which is amazing – I love my job."
A flexible approach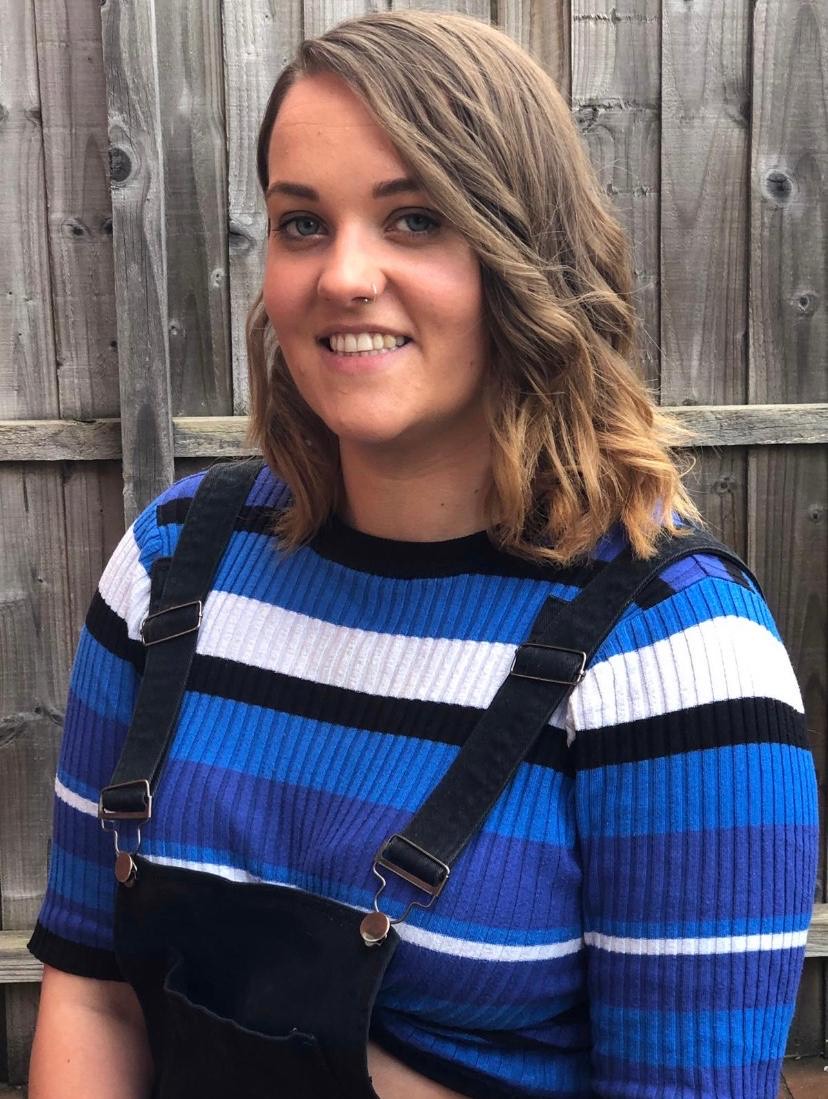 Kim Slater, a 31-year-old brand strategy manager at FD Works, an accountancy firm serving small businesses in Bristol and Bath, also feels that times are indeed changing for women.
"Finance is a traditionally male-dominated profession. I come from a background in hospitality, so I wasn't sure I'd be taken seriously, but FD Works were really excited to take me on."
"There isn't a traditional hierarchy of managers so there's no power dynamics or misogyny," she says. "Everyone is appraised on merit – whether they are parents, apprentices just out of education, or someone who has been at the company for years. We have a really flexible approach to working. I can work from home if I need to."
Kim, who lives in Bedminster, says she joined FD Works during lockdown after taking a career break because of her disability. A rare disease called Idiopathic Intracranial Hypertension, which includes symptoms of chronic migraine attacks, fatigue and nausea.
"I was the first woman without a finance background the company had ever hired," she says. "If I'd had to go into the office every day I wouldn't have been able to do it. I do feel very lucky.
"But I also wish this approach to working was the norm, and being a Disabled woman didn't, for the majority, prevent us from working in roles that align with our wants and needs."
Via her employer and charitable project Bristol Works, Kim now visits schools in the city to mentor and provide careers advice to girls. "It's something I feel really passionate about. I feel a lot of girls may not otherwise consider a career in finance. I talk to them about transferable skills from their day to day lives."
Kim is visibly passionate about how women tend to be undervalued for their typical roles in the workplace. "At FD Works you're paid for what you do, that includes if you're the person who is organising social events or remembering everybody's birthdays. It's written into your job role because these skills are recognised for their importance."
Thriving in male-dominated industries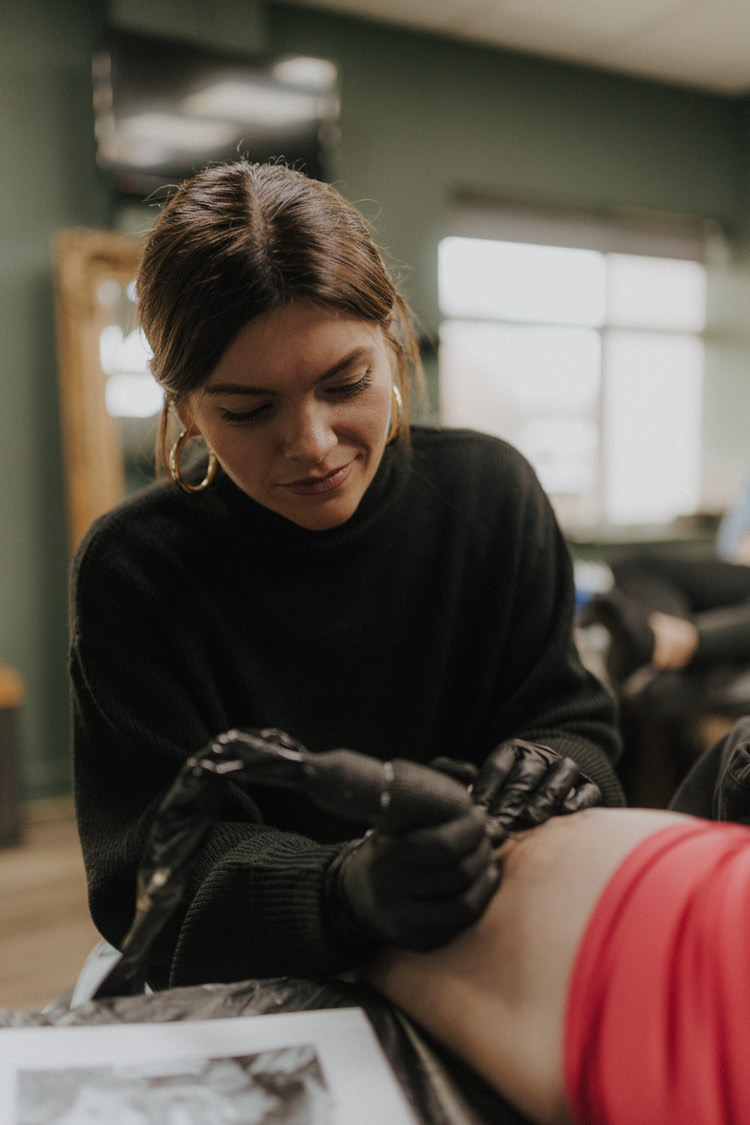 Although there are signs the profression is changing, the tattoo industry is traditionally male dominated. I chatted to Nasty Fox Tattoo studio owner Rose Folkard, 33, who began her tattoo artist journey as an apprentice, quickly working up to her current position as studio owner.
When asked if working in a traditionally male profession had hindered this process, Rose, who is also mum to a preschooler, said: "Not really, the industry has changed from what it was. I feel I've gotten a lot of respect as an artist and a female studio owner."
What can make being a business owner difficult, for mothers in particular, is the absence of reliable and affordable childcare. The Cable has reported on how the lack of affordable childcare provisions, which prompted a protest last year, is making it much harder for mums to work as they would like.
On this topic, Rose said: "I've had to limit the days I can work. Sometimes I have to rearrange those days because my daughter gets ill. If that happens I take a big financial hit because I'm self employed and not on a salary."
Rose went on to say that despite these challenges, being your own boss does offer flexibility: "I'm my own boss so I don't have to answer to anybody if I do want or need to take time off."
Building a career can be tough for women, who can often be the default parent. While it's great to see more mums following their dreams, the lack of adequate childcare support still prevents some women achieving their professional goals.
Having a job somewhere that offers flexibility and makes reasonable adjustments is great, but how far has Bristol really come when we consider equity across the city for women?
Last year, two of Bristol's businesses won categories in the Great Place to Work UK Awards. Larger firms with branches in the city, such as Softcat and Hilton ,were winners in the Best Workplaces for Women category. But it isn't enough to hear of corporate giants winning awards.
After the pandemic Bristol Women's Comission highlighted to become an equitable and sustainable city, women must be prioritised and investments into childcare and caring responsibilities must be made.
Flexible working is a step toward supporting women and Disabled workers, but it doesn't offer a solution to the ongoing childcare crisis, or the fact that 90% of women head single parent households and as a result are more often impacted by unpaid domestic responsibilities. These social and economic factors are known to have a greater impact on poor mental health, thus meaning women are still at a significant disadvantage.
After talking to these three women, each from differing roles, with varying needs and responsibilities, it seems that there are steps being made in the right direction. But, to make businesses really equitable, there's certainly still room for improvement.