This week in Bristol: Metro Mayor hasn't formally analysed bus franchising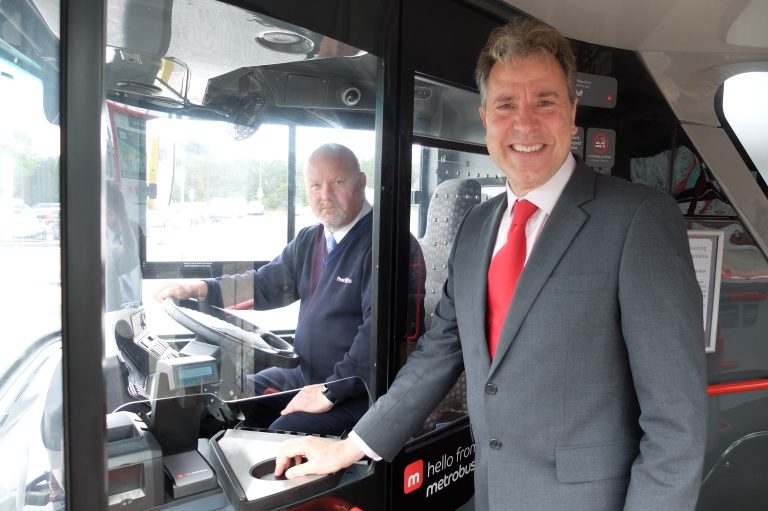 In the news this week, it was revealed that no formal analysis has been done on bringing buses in the greater Bristol region under public control.
This is despite Dan Norris, the West of England metro mayor, previously claiming that bus franchising was "under review".
Bus franchising would see the West of England Combined Authority (WECA) have much greater powers and oversight over the region's bus network. The model has been used in London for decades and is being introduced in Greater Manchester.
This comes in the context of growing frustration with Bristol's bus services. Hundreds of passengers recently told the Cable about services failing them. You can read our in-depth investigation into the benefits of franchising.
Responding to growing local calls for franchising, Norris previously claimed the model was "on the table". But a new freedom of information request appears to contradict that statement, revealing that WECA has not actually analysed the benefits franchising would bring.
The freedom of information request was sent by Matthew Topham, from the Reclaim Our Buses campaign coalition, who said: "Passengers have had enough. For the last fortnight, they've been sending videos to the metro mayor asking him to start a formal investigation into bus franchising at the next mayoral meeting on March 17.
"These videos have included heartbreaking stories of children pulled out of school because the linking bus has been cut, and workers left to pay several hours' wages on taxis as they can't rely on buses to get them home safely. Given the bravery of these passengers to share their stories, the mayor's dismissive response, saying that franchising was already on the table and 'remained under ongoing review,' was upsetting.
"To know now that this wasn't even true has left passengers furious. That's why we're renewing our calls for the region's leaders to deliver on the mayor's claim and start the franchising process at their meeting on March 17."
The response to the freedom of information request from the West of England said: "The authority has not carried out any formal analysis on the benefits and costs of bus franchising and enhanced partnership schemes."
Despite not actually carrying out any formal analysis of bus franchising, Norris said that the model "was and remains on the table". But he added that franchising was "not a magic bullet", and the region would still suffer from a shortage of bus drivers.
The West of England is now unique in being the country's only Labour-led combined authority which is not formally exploring bus franchising.
The Bristol Round-up

A fraud investigation has been opened by police at Bristol Waste's Avonmouth tip, the council has been told. The allegations of "fraud and other inappropriate activity" date back to 2020, though no further detail was given. This comes alongside serious concerns about the financial viability of Bristol Waste, which were delivered in a report to the council last week.
Bristol's youth services are being "dismantled" according to youth workers, as the council has cut funding and changed its approach from contracts to grants. This will mean scrapping vital 1-2-1 support for Bristol's most vulnerable young people, causing "irreversible damage", a council meeting was told, particularly in north, east and central Bristol as funds are redirected to the south of the city.

Bristol City Council will debate a Green Party motion on tackling knife crime and its causes on Tuesday. The motion proposes the council commits to work to increase the amount of emergency 'bleed kits' available at night time venues around Bristol and to seek more funding for grassroots community projects addressing youth violence.

The councillors of Bristol's Labour Group have backed a campaign for an above inflation pay rise for council and school workers. The group tabled a motion expressing support for the unions' campaign for a 12.7% rise, saying "13 years of Conservative Party pay restraint for the public sector pay has resulted in most council and school staffs' pay points decreasing by 25% in real terms since 2008/9". 

Bristol Council has claimed the lowest pay gap amongst local Public Sector employers, with its mean pay for men higher than that of women at 3.87% and median pay for men higher than that of women at 8.99%. In a blog for International Women's Day, Councillor Helen Holland, Cabinet Member for Adult Social Care, wrote a blog on the council's website including the claim, adding "we will of course keep working until [the pay gap] is closed completely."

Bristol Harbour will get a new marina at Capricorn Quay. Mooring space for 34 boats and the creation of wildlife habitats will see the installation of washrooms, reed beds, and a "haven for birds". The plan is budgeted at £480,000 which will be funded by a grant from the West of England Combined Authority.

Disruption has plagued passengers travelling from Bristol Airport this week. A total of 25 flights were cancelled, and others delayed, due to the snow, with striking air traffic control workers in France also contributing to the travel disruption.

The Gaza Bristol Friendship Group is holding a demo next week to protest violence in occupied Palestine. On Monday March 13 at 5.30pm at College Green, people will gather to recognise the escalation of violence in the West Bank and East Jerusalem since the formation of Israel's new coalition government of three ultra-right parties.

Ellis Genge of the Bristol Bears rugby team, who is from Knowle West, will lead England in his first game as captain on Saturday. He will become the sixth Bristol player to captain the England team.
---
Solutions and Successes

The Bristol Clinical Biotechnology Centre, a new state-of-the-art facility for research into incurable diseases, has opened. The centre, which will expand research and develop treatments for diseases such as cancer, sickle cell and cystic fibrosis, is based at the NHS Blood and Transplant HQ in Filton.

A new documentary exploring the nuances of homelessness is being shown at the Cube on March 15th. From the Cubby: The Travellers Tale tells an unusual story of homeless life via the life and death of the central subject, Martin. The film is produced by a group of friends who knew Martin, including his best friend Nick, an artist, and Joe, a visual anthropologist. Details and tickets can be found here.
---
This Week in Bristol: Thousands of Bristol Cable readers get this essential digest of local news sent to them every week. Sign up to join them and receive in-depth reporting and analysis that cuts through the noise of daily news.