Bristol's car parks take up land the size of 150 football pitches. What if they could be replaced by housing?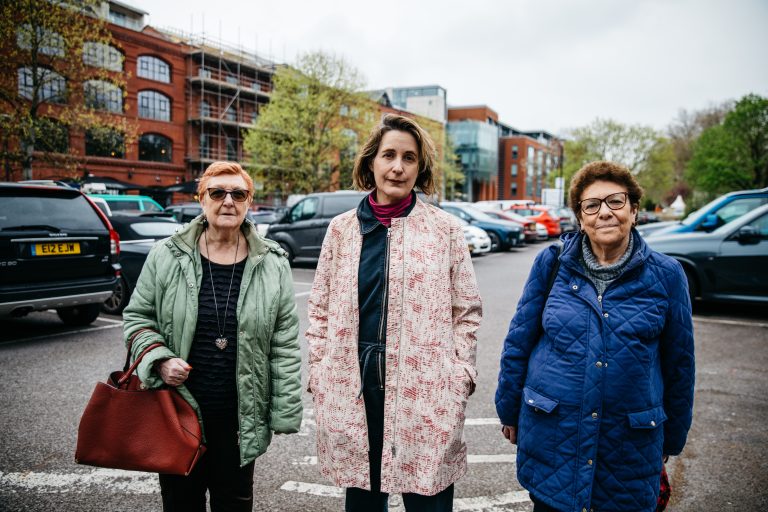 "Think about it," says Melissa Mean, who has lived in Redcliffe for 17 years. "The heart of our neighbourhood is a car park.
"That is rubbish," Mean, a longstanding member of local community organisation the Redcliffe Residents' Action Group, adds emphatically.
Mean is referring to the 170-space Portwall Lane car park, owned by Bristol City Council, which for half a century has sat opposite St Mary Redcliffe Church's huge Gothic spire. Between the two lies four-lane-wide Redcliffe Way, with the car park magnifying the sense of division the road creates between the northern and southern halves of the inner-city neighbourhood.
Few parts of Bristol have been more affected by postwar car infrastructure than Redcliffe, which is also surrounded on three sides by roads. But after years of resident campaigning, moves are being made to begin healing its centre with proposals for 122 homes – 30% of them for social rent – and green space to replace Portwall Lane car park.
It is one of a number of proposed developments in Bristol, many of them involving the council or its housing company Goram Homes, that could see several hundred new homes built on car parks.
In theory though, the potential is vastly greater. One major consultancy firm has claimed that well over 2,000 homes could be built just on publicly owned car parks in and around Bristol.
As Bristol aims to halve car use by 2030 to reach net zeo – while grappling with major public transport problems – could developing car parks help ease its acute housing shortages while taking pressure off greenfield sites? What would it mean for the city as a place to live and get around, and can it learn anything from London, where Tube station car parks have been earmarked for housing schemes?
Why build on car parks?
Over the past decade many cities have embraced initiatives to reduce the dominance of motor vehicles, as part of efforts to meet net-zero targets, improve air quality, and make urban areas more pleasant.
In Paris, for instance, mayor Anne Hidalgo pledged in 2020 to remove almost half of the city's 140,000 on-street parking spaces within four years, thousands of which have now been given over to alternative uses. Other cities such as Oslo have already gone even further in banishing cars.
Closer to home, low-traffic liveable neighbourhoods have been a recent – and sometimes controversial – addition to UK cities. In Bristol, a £6m scheme could see through-traffic banned in parts of Barton Hill, Redfield and St George, subject to further consultations with residents.
But with space at a premium in many cities, attention has also turned to how the vast areas designed specifically for storing cars – which one study found sit unused for 95% of the time – could be used differently. Retail giant John Lewis, for example, has announced plans to convert shop car parks into rental homes – in part to claw back lost revenue due to Covid's impact on high-street shopping.
Early in the pandemic, real estate consultancy Knight Frank, which is partnering with Goram Homes on the Portwall Lane scheme, published a study focusing on publicly owned car parks. It claimed more than 110,000 homes could be built nationally on just the top 15% car parks most suitable for housing.
The study, which has not been published in full, found 78 publicly owned car parks around Bristol could be redeveloped into about 2,300 homes. That's far from being a housing crisis solution, but could dent the city's massive social housing waiting list.
Knight Frank would not provide further details and the government, which commissioned the research, refused to release it under freedom of information laws on grounds of commercial confidentiality.
But rival firm JLL, which last year launched a team dedicated to car parking reuse, told the Cable it has identified 98 surface-level car parks within Bristol itself, covering 200 acres. That's roughly equivalent to 150 football pitches, or to the size of Clifton Down. Of these, 30 are in the inner city, with half of those owned by the council.
"The opportunity around the releasing of this sector [for] other uses, and serve other purposes is just huge," says Colin Chan, JLL's head of car park solutions. "You don't get many urban environments where you can say there's 200 acres of land potentially underutilised."
Chan will not speculate on exactly how many homes could be built on that land, not all of which may be suitable. But he says one car park site in Bristol city centre occupying just half an acre was recently assessed by an architect for JLL as being able to fit "50 affordable housing units" on it.
The council needs to figure out "what is their strategy for car parking in the city, and what does that mean, in terms of what [land] they could release", adds Chan's colleague Paul Baker, who is based in Bristol.
Homes on stilts
To date, the council has mostly been looking at small sites, used for experimental housing. At St George Park, a terrace of 11 factory-built modular homes called Hope Rise (see box) has been built on stilts over the car park. The scheme, which was a collaboration between the council, YMCA and the developer Zed Pods, has been let since 2020 at social rent levels, mostly to young people aged 18 to 25.
On another council car park in Fishponds, a jumble of tiny studio flats made to look like shipping containers sprang up in 2019. The development, in partnership with the housing association Brighter Places, is again housing people aged 18 to 25, including students and young people leaving care. Back in St George, a similar development that will accommodate 22 former rough sleepers on part of the car park behind the Fire Engine pub got planning approval in January 2023.
As the Hope Rise scheme shows, putting homes on a car park doesn't always mean getting rid of the cars. It's an approach that Goram Homes wants to pursue on a grander scale next to the SS Great Britain, where 153 flats, 61 of them affordable, are proposed to go above the existing parking spaces.
The site is leased to the trust that looks after the historic steamship, and illustrates one of the thorny issues around doing away with car parks, especially big ones: they raise millions for cash-strapped councils.
"There's an ideology, about modal shift [away from cars as a form of transport], which is obviously important," says Nicola Beech, Bristol City Council's cabinet member for strategic planning. "But it's also a fact that for the time someone has parked their car, they're renting that bit of space and that brings in a pretty big revenue stream into all local authorities."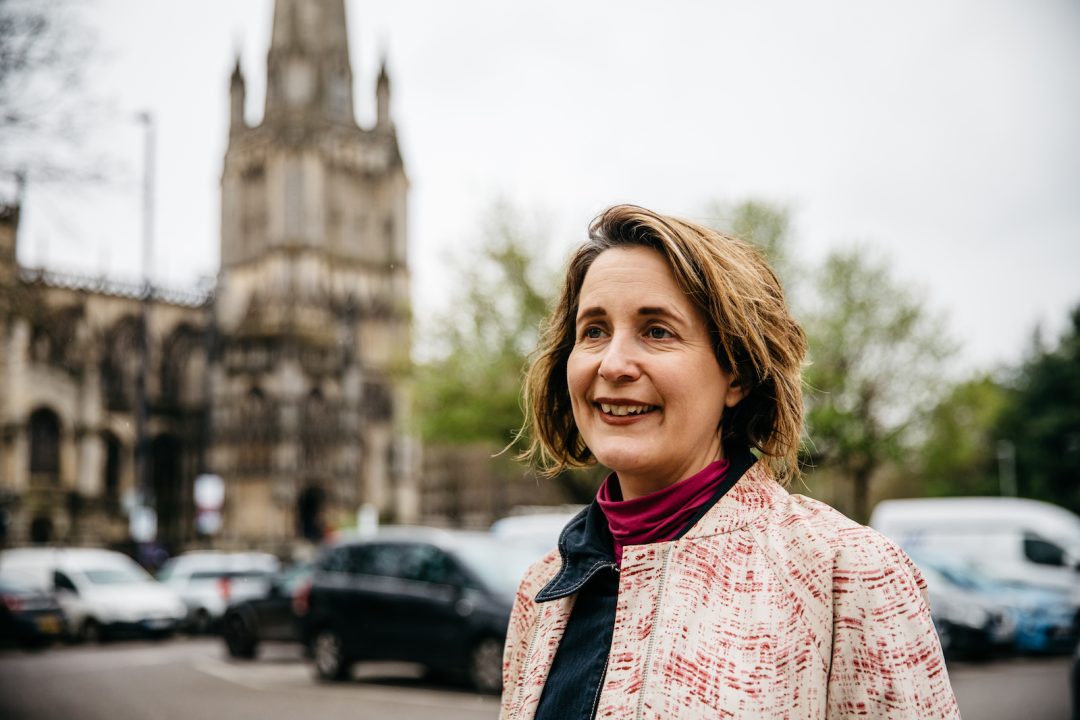 Beech points to the Portwall Lane scheme as proof that "we're committing to the idea these sites can be regenerated, because there's loads of other ways you can arrive at those places not in a vehicle".
Melissa Mean agrees the council's thinking has come a long way in the 20-plus years Redcliffe residents have been pushing to regenerate the car park and narrow the road. She praises its decision not to demand that lost revenue from Portwall Lane be reimbursed as part of the redevelopment agreement for the site.
"Back in the early 2000s, the attitude from officers – this isn't a direct quote – was 'over my dead body'," she says. "Since then, it's like the world seems to have caught up a bit with where the community has always been."
The local community's perspective has, in some ways, been unusual, Mean adds. "We've been pro-, not anti-development," she says. "We really want things to change here, we want new housing, we want new community infrastructure." Not all neighbourhoods feel the same.
Lessons from the London suburbs clinging onto their parking spaces
In Bristol, much recent opposition to development has focused on preserving the city's green spaces. But in London, a large-scale house building programme targeting brownfield land owned by Transport for London – mostly Tube station car parks – has faced significant pushback, despite containing lots of affordable homes.
"We've got this legacy of land being used really inefficiently and wastefully," says Anya Martin, director of housing campaign group PricedOut. "Any development can draw backlash but there's an expectation of, where am I going to park? I would like to underscore that not only does [building on urban car parks] meet housing need, it can make life easier for people who do need to drive by putting other people within walking distance of their jobs."
The opposition to TfL's proposals, which has been strongest in suburban northwest London, was by no means exclusively down to them redeveloping car parks. Many objected to the developments being out of scale with existing low-rise, low-density neighbourhoods.
Nonetheless, the loss of car parking has been a significant issue. At Cockfosters for example, where residents – backed by Theresa Villiers, Conservative MP for nearby Chipping Barnet – said the land proposed for 351 new homes performed an "important" park-and-ride function. Then-transport secretary Grant Shapps waded into the dispute in 2022, blocking the scheme after its approval by Enfield Council, in part because of the reduction in parking.
London's mayor Sadiq Khan, who has been exploring options to undo Shapps' "worrying" intervention, argued that more than 95% of people driving to the station actually lived nearby. TfL has also said that many people were driving past other available spaces to park next to the Tube because it was more convenient.
"When I looked at seven or eight of TfL's schemes I was coming up with the same thing [as Khan]," says Helen Jenkins, a director at consultancy Lime Transport who, along with Martin, took part in a public debate about TfL's struggles last year. "Over 90% of people lived within 1.5km of the station, or an alternative one."
Jenkins says that from her own analysis of TfL's consultations, one lesson that could be taken is that cities should prioritise plans for better pedestrian infrastructure when proposing to remove land used for parking.
"I wonder whether the people who worked on some of TfL's schemes did enough work to find out who used the car park, and why," she says. "The surveys I looked at came from a point of view of justifying what was needed, rather than, what can we offer you instead?"
Planners need to think more about pedestrians, who are too often left to navigate environments that for decades have prioritised drivers, by considering things like the width of footways, crossings and lighting, and the potential impact of pavement parking, she says.
"In the grand scheme of [how much it costs to redevelop] on a car park, offering those carrots to people who are losing the right to park should actually be quite inexpensive," Jenkins adds.
Want more solutions for Bristol?
Reporting on solutions to Bristol's biggest problems is expensive.
We won funding to explore how to make this important work viable for a local paper like the Cable! But to keep doing it, we need funding that won't run out: monthly-paying membership.
Becoming a member, and encouraging others to join, means we can continue investigating solutions for Bristol into the future.
Find out more
As of early 2023, approximately 1,500 homes – around half of them 'affordable' – are being built or have been approved on TfL's car parks. But some schemes have taken arduous routes through the planning system. Several others besides Cockfosters have hit the buffers after running into significant opposition.
Emma Hatch, a senior development manager at TfL, warns against taking a one-size-fits-all view to why schemes have faced backlash, arguing that London is a huge city with very different neighbourhoods.
But she admits TfL has still learned a lot from the scheme, including how to communicate the benefits and opportunities to existing residents. "The contribution you can bring [even aside from the actual housing] by not having a tarmacked place that delivers little in terms of public value, [in terms of] biodiversity, greening, soft landscaping is a net positive."
'Giant car parks are not sustainable'
At the time of writing, Bristol is in the middle of developing its new local plan, which sets out its strategy and potential sites for building on for the next 20 years. Nicola Beech says she expects car parks to play a "sizeable" role in this future development.
"Look at the [major] areas of growth and regeneration we've got – the likes of the Frome Gateway, St Philips, Whitehouse Street – and there's quite a lot of surface parking," Beech says. "Now is the time to get those areas and really look at how you plan for a low-car, car-free environment."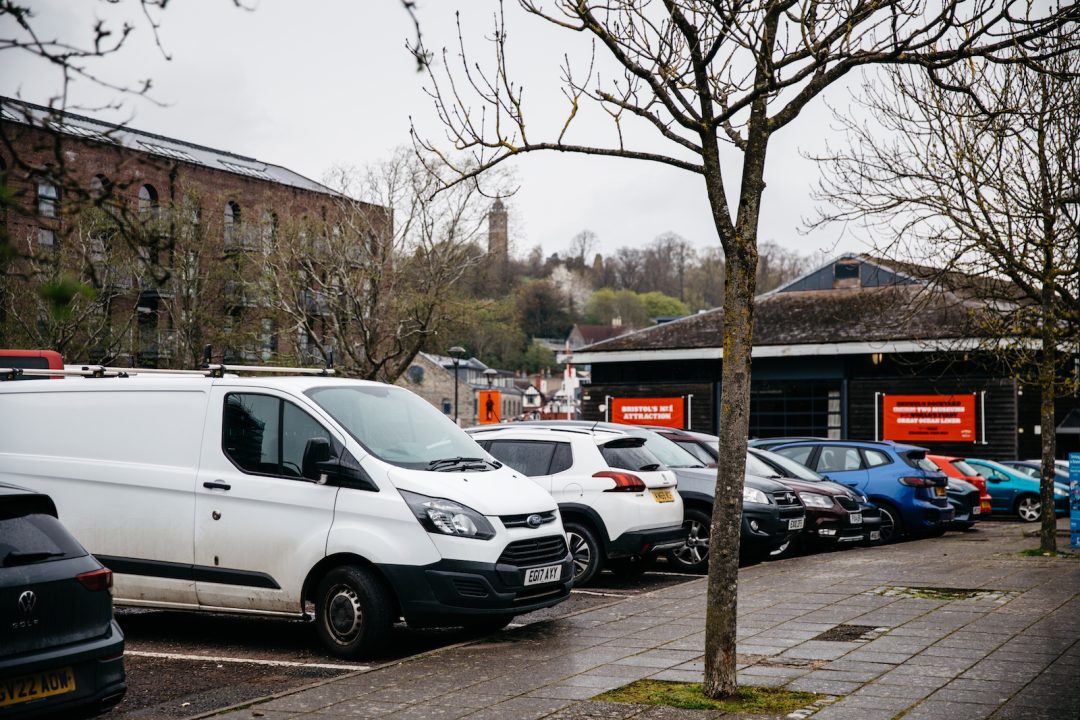 Beech adds that in a city with as much pressure on housing as Bristol, giant surface car parks such as those at the Eastgate Centre or Bedminster Asda are "not sustainable" uses of land in the long term. But she warns that unlocking such puzzles cannot be separated from addressing other challenges such as a reliable, publicly controlled bus network.
Bristol's appetite for redeveloping car parks will be tested over the coming months as schemes are put up for planning permission. One, due in spring, would see Rupert Street multi-storey car park make way for hundreds of shared-accommodation flats for students and young workers – as well as 450 new car parking spaces, only 100 less than currently. C20 (The Twentieth Century Society) is already opposing the plans, saying the 1950s building should be saved due to its architectural merit and instead repurposed as a "storage and charging hub" for electric vehicles.
According to Goram Homes, the Portwall Lane site will follow by autumn this year. Melissa Mean says she hopes it can help Redcliffe become a more pleasant place to live, both in terms of the new homes and in starting work to join up the neighbourhood – which narrowing Redcliffe Way would complete.
"It genuinely feels like [the plans have] kept the spirit of what the community has hoped for," she says. "The challenge is around [whether] that car park can be a first step to transforming that whole area."
The Future of Cities project is funded by the European Journalism Centre's Solutions Journalism Accelerator, supported by the Bill & Melinda Gates Foundation.