Temple Island: the latest creep of pseudo-public space across Bristol?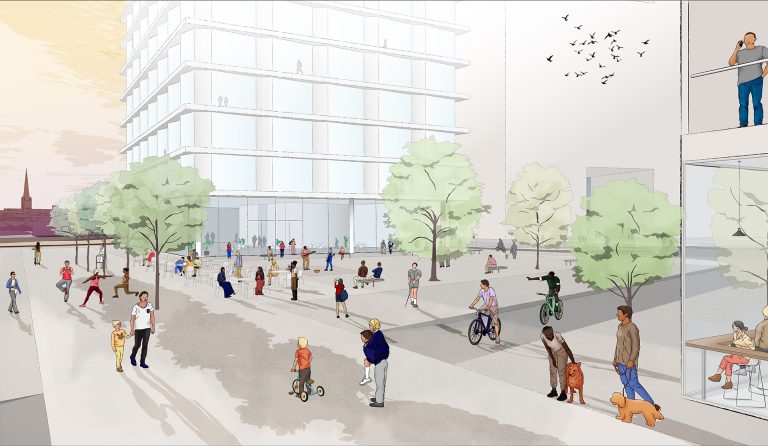 On a spring day last year, Heidi Sævareid was walking her dog with a friend through Temple Quay in central Bristol. Stopping by the river for coffee, the pair were enjoying a brief bask in the sun when a private security guard came out of the adjacent building and asked them to leave.
Confused as to what her crime could possibly be, Heidi, 39, asked the security guard why they weren't allowed to drink coffee in what seemed like a public area by the riverfront. The security guard told her the site was private and reiterated that they needed to move on.
"There's something very uncomfortable about being turned away like some sort of nuisance when you're just standing around completely unaware that you're breaking any law," she says.
She tracked down the company that owned the site for an explanation only to be told that the security firm was not owned by them and they couldn't offer her any more details. "It all became very murky," she says. "It was impossible to get anywhere with it so after a while, I just dropped it."
The "creeping privatisation of public space", as Heidi calls it, has become a central part of Bristol's landscape. Temple Quay is just one name in a growing list of sites across the city, including Cabot Circus, Wapping Wharf, Finzels Reach and Millenium Square, which are owned and managed by private organisations. 
The name commonly given to these areas is pseudo-public space, or privately-owned public space (PoPs) – areas that appear public but are in fact privately owned, often with a lack of transparency over who owns the site and if and how the public can use the area.
The conversation with Heidi turns to the Temple Island development and the deal that has been struck with asset management firm Legal & General (L&G) for the regeneration of the disused brownfield site. 
Part of the wider Temple Quarter regeneration, a deal was sealed with L&G in June 2021, setting out plans for a £350m investment on Temple Island. Next to this is a new £500m University of Bristol campus, which will welcome around 4,600 students and 650 university staff. Construction work on the new campus has just begun.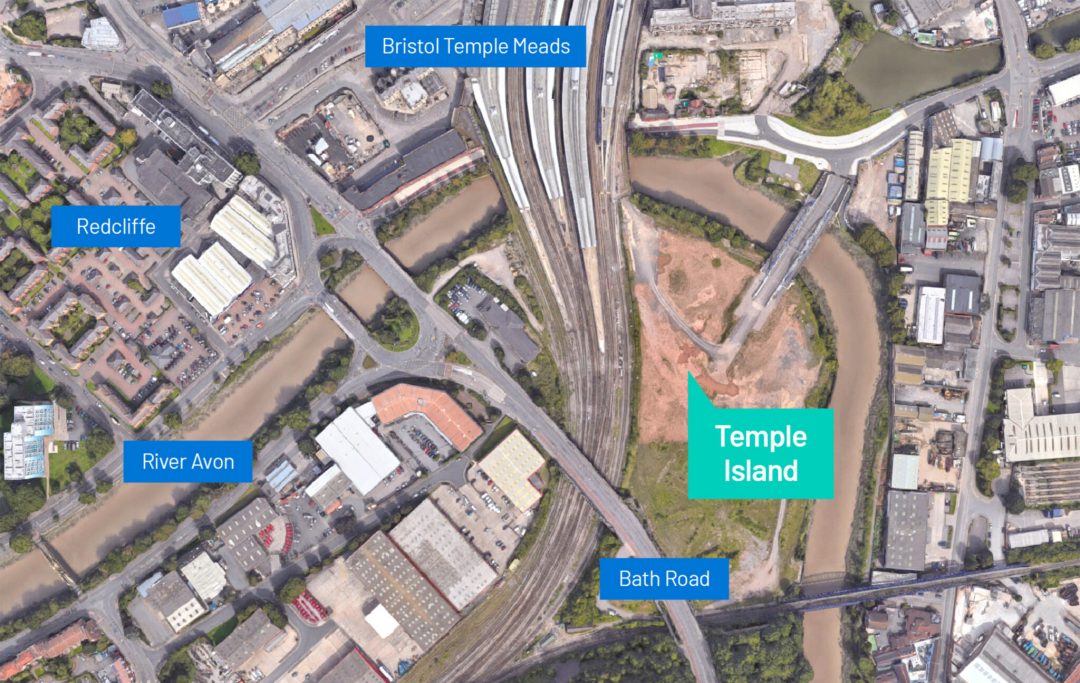 L&G plans to turn Temple Island into a 'vibrant new urban quarter' with a large conference centre, a 345-room hotel, 500 new homes and two new Grade A office buildings. The firm is currently coordinating a public consultation, which it claims will allow the public to have a say in the direction of the plans.
Handing over more public land to private developers does raise important questions, however. Who owns the city, and what rights are we giving up as the city is developed?
"To feel that you can no longer move around in Bristol as easily because you have some hidden ownership structure makes it feels like the city is becoming less and less for the people," says Heidi. "It feels like it's for a handful of people that happen to own property."
A deal behind closed doors
The Temple Island deal has been controversial from the outset. Originally the site was intended to house a new 12,000-capacity arena until Bristol's mayor, Marvin Rees, pulled the plug on the plan and opted to build the arena in Filton. Instead, a deal was reached in which the Temple Island site would be leased to L&G for the next 250 years.
Much of this was agreed behind closed doors. The deal failed to go through an open tender and so far details on the agreement are yet to be published – something that has left many councillors feeling uncomfortable.
"Finding a preferred partner is well established, but a deal signed behind closed doors is not the same transparent process as running it as an open tender," says Martin Fodor, Green councillor for Redland, who sits on a number of scrutiny committees.
Fellow Green Paula O'Rourke, who represents Clifton and was head of the growth and regeneration scrutiny commission at the time, highlighted these concerns in August last year but was widely ignored. Councillors were in fact able to review the documents in a closed meeting but were prohibited from speaking publicly about the details.
Pseudo-public space means trade-offs
For a council strapped for cash, the chance to lease land to private developers who will finance the regeneration of the disused site and then assume responsibility for its upkeep is no doubt attractive.
But there are trade-offs when publicly-owned land is handed over to private companies and becomes pseudo-public space.
"There could be a number of implications for normal rights within these areas," says Fodor. "The right to protest, for example, could be curtailed alongside a host of other democratic rights."
"Furthermore, any events that might be held on these sites are only going to be the events that the private landowner wants to host. We could therefore end up with a string of commercial events but anything controversial or subversive could be banned."
How L&G intends to manage the publicly accessible parts of Temple Island remains unclear. Nonetheless, this deal raises a host of questions as to what could happen to ordinary citizen activities now the rights of public access and use of this area sit in the hands of a private company.
Temple Island is, of course, just one part of the council's plan to redevelop the entire Temple Quarter region. The bigger picture here could see a large section of inner-city Bristol becoming commercially and economically vibrant, but sanitised of anything that might be considered socially or politically undesirable – whether that's holding a placard, sleeping rough or simply drinking a coffee.
An uncertain future
The implications of the deal could run even deeper than this, however. 
Antonia Layard is a professor of law at Oxford University. She argues that the possibility that pseudo-public space can be sold further down the line to other companies is a real cause for concern. 
"Selling off land as a freehold or a long term lease, as in the case of the 250-year lease of Cabot Circus, comes with significant implications for future use which we simply can't anticipate," she says.
"When open and public spaces are owned by a company, ownership may change without scrutiny. So even if an initial landowner takes a benign approach to public space, they could sell the land to a different company without public consultation.
"Selling off council owned land that is, or could be, publicly accessible, is akin to selling off the family silver," she adds. "I think we need to think more carefully about these deals… We need to find ways of owning, managing and protecting public space for the future."
A community taking back control
In Stokes Croft, local efforts to stop runaway corporate development have been ongoing for a number of years.
Keith Cowling is director of the Stokes Croft Land Trust, an organisation set up to acquire land in Stokes Croft and bring it into community ownership. The trust wants to take control of a range of properties throughout the area and turn them into spaces that serve the community.
"We're developing a vehicle that will allow local people to take back an element of control over their changing neighbourhood," Cowling says.
"We hope that we can buy enough of Stokes Croft over the next five or 10 years to ensure that local people that gave it most of its character don't get kicked out."
The trust recently acquired its first property, the People's Republic of Stokes Croft building on Jamaica Street, raising funds through a shareholder system that gives local residents a stake in any properties acquired by the trust.
Democratic projects such as these offer an important alternative to the wave of corporate ownership that is seeing multiple parts of Bristol's landscape coming into private hands. It's a work in progress but something Cowling hopes will have a bright future.
"Hopefully over time more of the community will become interested in what we're doing and will get involved," he says. "Setting up a system of local ownership takes time and it costs money, but we'll continue to work away at it.
"The Land Trust evolved out of a series of conversations about how to keep the market in check so that the people who turned a derelict neighbourhood into a large cultural centre don't see their efforts taken away from them and monetised by large financial interests."
After public consultation this year on plans for Temple Island, a planning application is expected in spring 2024, and construction could start in the summer of 2025.
The Cable has asked the council why the details of the deal with L&G haven't been published, how community concerns will genuinely form part of the regeneration plans, and whether there are any conditions around the future sale of Temple Island.