75 years since the Israeli occupation, three Palestinian women speak out about their struggle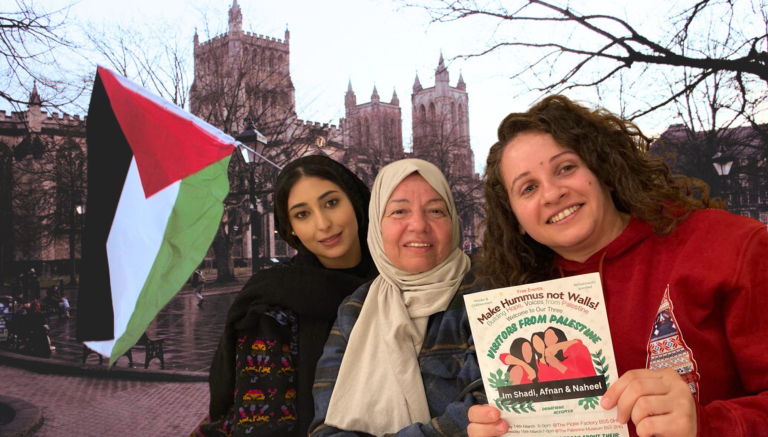 "My grandmother gave birth to my father in 1948 – the year of al-Nakba [the catastrophe]," says 35-year-old Naheel, video calling me from a playground in East Jerusalem.
"I remember her telling me how one day, she had to grab him, wrap him in a lot of clothes and run from the house because they start to hear the bombing," says Naheel, a computer science teacher and community organiser. 
Dusk has fallen as we speak. She is three hours ahead in time difference, but a world away in experience. Yesterday (15 May) was the 75th anniversary of the Nakba, the day when over 750,000 Palestinians were dispossessed and exiled from their land.
The event was marked in Bristol over the past weekend at a gathering on Castle Park by the Bristol Palestine Solidarity Campaign, a walking vigil and an event at the Bristol Palestine Museum and Cultural Centre.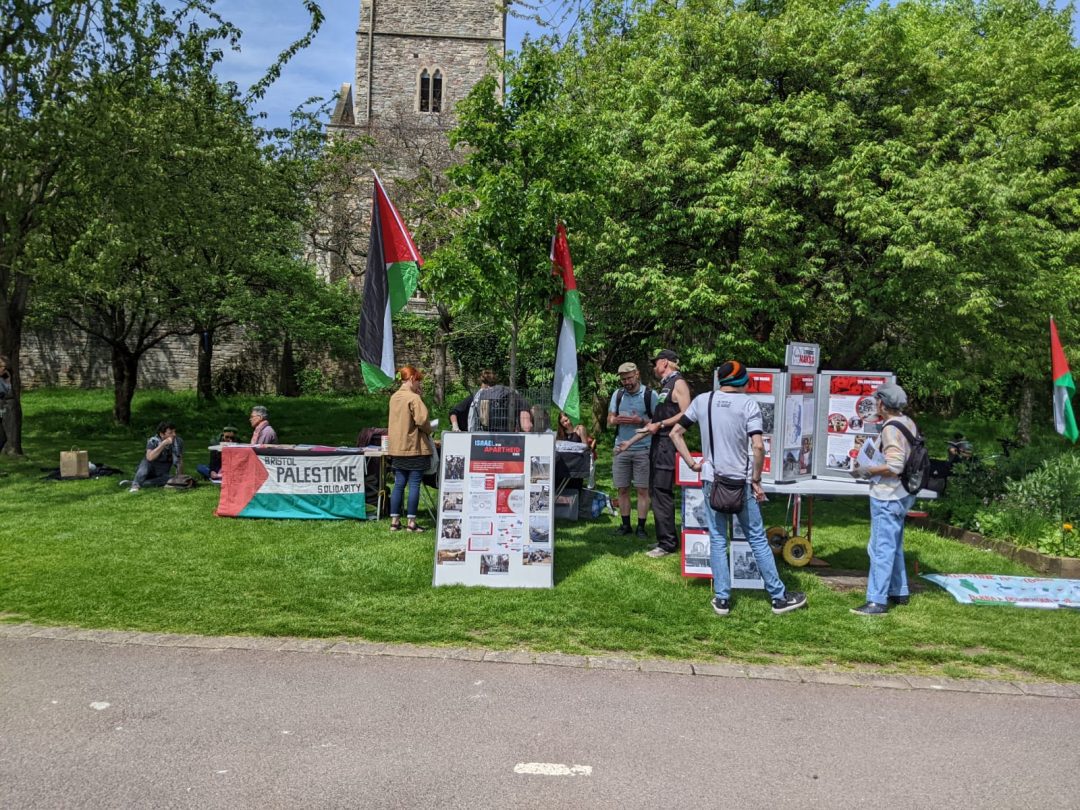 This year's anniversary of the Nakba feels particularly poignant. It comes weeks after a recent five-day onslaught against Gaza by Israel in which 33 Palestinian people were murdered and more than 400 seriously injured. Last year marked one of the bloodiest years on record, with 146 Palestinians killed in 2022. It's the one year anniversary of the assassination by Israel of journalist Shireen Abu Akleh. 
Meanwhile, Israel's government led by Benjamin Netanyahu is the most far-right in the country's history; partnering with an ultra-nationalist, ultra-Orthodox coalition. The promise of Palestinian liberation seems a more distant prospect than ever, with Netanyahu's cabinet instead promising to expand illegal settlements in the occupied West Bank.
Three women's stories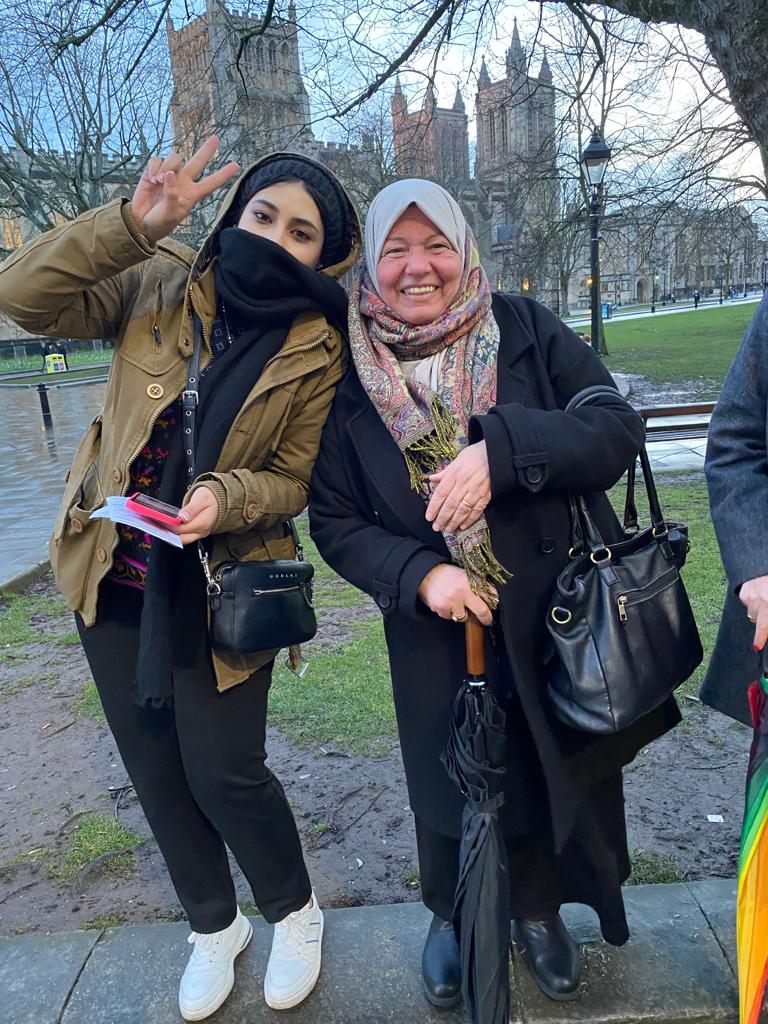 It was almost exactly two months earlier, back in March, when I met Naheel – along with three other women who had come to Bristol as part of an exchange trip – on a rainy Monday at a Palestine vigil held on College Green. With her was Afnan, a graphic designer in her early twenties from Doura, and Um Shadi, a retired teacher and proud grandmother.
Over three days, they gave talks at the Palestine Museum and The Pickle Factory about life in the occupied West Bank. Going to dinner with them after the vigil gave me a glimpse into the unfathomable experience of life under occupation and under Israeli military law.
Al-Nakba may be consigned to one date, but its effects are continuous. This is reflected in the experiences of the women from three successive generations, and the phrase, 'Al-Nakba Mustamirra' (ongoing nakba).
We've stayed in touch ever since and the significant 75th anniversary of the Nakba seemed an opportune moment for a call.
"In these days we remember, we want to keep the memories alive," says Naheel. "All the time, we are telling our kids about al-Nakba, about what's going on now, and what our grandparents told us."
'We live everyday in a silent war.'
"There have been protests all around Jerusalem," Naheel tells me on our call. "Marches, people light fires and tell their stories of Nakba, people holding Palestinian flags and keys." Keys are a powerful symbol for the Palestinians, signifying the homes they were forced out of, and their hope to return to them one day. 
But Israeli soldiers have been trying to quash protests, she tells me. "We are not allowed to have our Palestinian flags, if we paint it on the walls they wash it off."
But she fears the worst is yet to come. On Thursday there will be the annual March of the Flag where ultra-nationalist Israeli settlers will march through the streets. 
Naheel says: "Now people are very tense about this. Last year, the settlers had pepper spray and tried to spray a woman – the people came around and tried to protect her and it became a huge fight."
This year, because of the new right-wing government, there are plans for the march to enter the Al-Aqsa mosque – a particularly provocative move – given it's a holy site for Palestinian Muslims. "If that happens a lot of violence will happen," Naheel fears. "They are reminding us we are living under occupation."
For Israelis the march is to celebrate the 'reunification of Jerusalem', after the 1967 Six Day War. However, under international law East Jerusalem is under the Palestinian authority.
"It's not easy in Jerusalem," says Naheel. "But one day, I believe all the Jerusalemites will rise up and do something… I don't know when, but one day."
She's interrupted by her young son demanding water, clambering onto her lap. It's his bedtime, and our conversation draws to a close.
'It makes our cities like a prison'
"Taeal alaa hun! (Come here!)," Um Shadi shouts to her grandchildren as we are on the phone. Taking the phone they sing me the Palestinian liberation songs they've been singing in school.
Um Shadi is a mother of three sons and nine grandchildren – from nine months to 10 years old. Her grandchildren finished school at midday today, she tells me, where they learnt about the history of the Nakba.
In Ramallah, Um Shadi tells me, people wearing black in mourning went to Mukataʿa (administrative building) and heard speeches. I asked her how she was feeling today. "Very sad," she replies. "This life is miserable."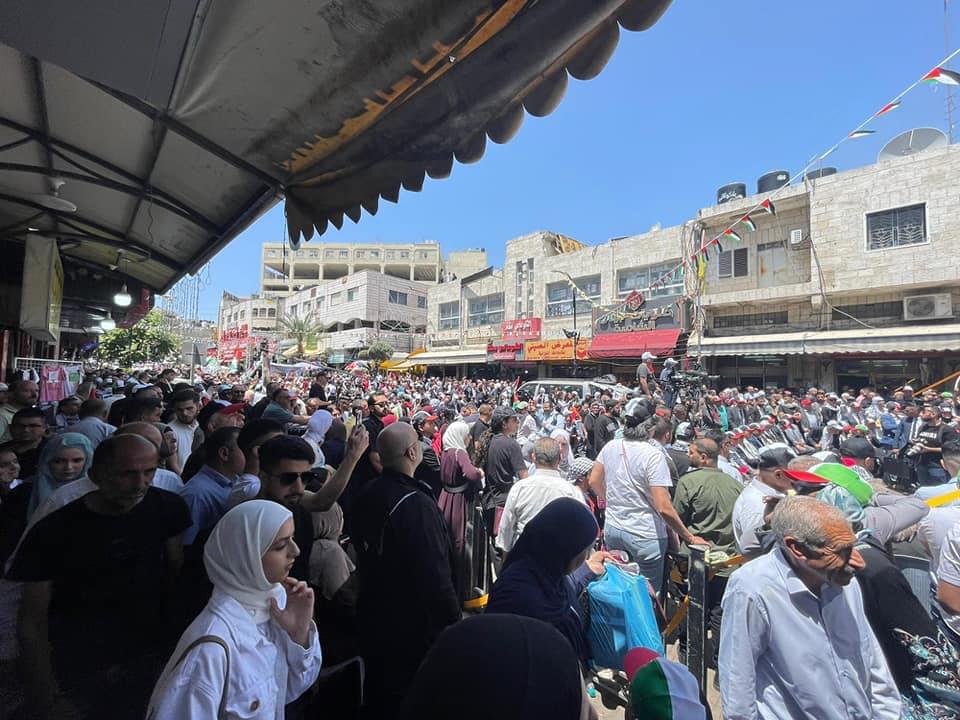 While Um Sadi lives in Abu Diss, her family village is Beit Iksa. However, she is often denied entry to the village at the checkpoint: "I can't go to my village even though it is under Palestinian Authority – why?!"
Back in March, Um Shadi showed me pictures of the checkpoints: "We are surrounded by walls, by checkpoints, by iron gates, we live under the occupation and it makes our cities like a prison."
These checkpoints are deadly. She tells me stories of people dying because ambulances were held up at checkpoints and women giving birth at them. Very often she has her ID confiscated and is made to wait for several hours or sent home. Others are strip searched or arrested.
During our first meeting, in the aftermath of a particularly violent attack on the Palestinian village of Hawara, she told me how someone was shot at a checkpoint, and how it had taken a month to return the body to his family.
Afnan, the graphic designer, whose story was translated to me by the others, told us about an incident with her sister. While at a checkpoint, a soldier was trying to take a picture of her and she refused. He pushed her, she pushed back, he hit her hard on the head and she fell to the floor. Her sister ended up in an Israeli prison for eight months. "But Palestinian women are brave – they have a lot of strength," she concluded.
My call with Um Shadi, who agrees with Afnan, ends on a bitter note: "We are brave because we don't fear dying. Every minute, whenever I see a soldier, I think maybe this time I will die."
She continues: "It's getting worse, all the conditions around us are getting worse. We still have hope to get rid of the occupation – we still work or fight until we get our freedom. We are still fighting."