End to no-fault evictions in sight as reforms to the private rented sector finally arrive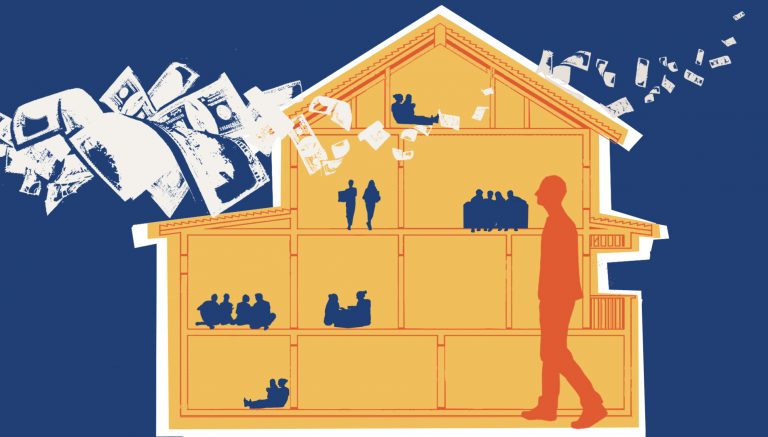 The law to ban section 21 'no fault' evictions has finally made it to Parliament today as part of major reforms to the broken private rented sector – four years after the government pledged to take action.
The headline move to scrap section 21 evictions was first announced by then prime minister Theresa May back in 2019.
But renters, who make up roughly a third of Bristol households, are still waiting for greater rights and protections. The long delays prompted housing campaigners to descend on Westminster in March to demand urgent action.
Since 2019 at least 600 Bristol renters have been served with section 21 notices. Many have spoken to the Cable, including a south Bristol woman facing eviction by the Catholic Diocese of Cliton, a group of tenants due to be turfed out just before Christmas to hand over their home to a local charity, and a single mum being forced to leave her home after her agency found out she'd broken up with her partner.
These are just some of the most recent stories from years of reporting the Cable has done on Bristol's broken rental market. Over that time we've heard from tenants struggling to cope with rising rents, families facing homelessness, hopeful renters having to enter bidding wars, people being forced to house share into their forties and fifties, and others having to leave the city altogether. 
'A new deal'
Housing secretary Michael Gove described the new Renters Reform Bill as "a New Deal to those living in the Private Rented Sector; one with quality, affordability, and fairness at its heart". 
The reforms will apply the Decent Homes Standard to the private rented sector to tackle poor conditions and it will become illegal to discriminate against renters on benefits or with children.
Landlords will now only be able to evict tenants under certain circumstances – for instance, if they sell the property or want to move in a family member – and only after six months into a tenancy. Fixed-term tenancies will also be replaced by rolling ones. 
There will also be a new ombudsman to resolve disputes that landlords will have to sign up to, a new digitised court process and a digital property portal to enable landlords to understand their obligations and help tenants make better decisions when signing a new tenancy agreement.
The Bill commits to strengthen councils' enforcement powers and introduce a new requirement for councils to report on enforcement activity – to help target criminal landlords. But experts were quick to point out that cash-strapped councils would need more funding to actually enforce these extra powers.
The reforms, which have so far been criticised by the landlord lobby, also give new powers to landlords to evict anti-social tenants and those repeatedly in rent arrears. Ben Beadle, chief executive of the National Residential Landlords' Association, wrote in the Telegraph that the reforms risk punishing good landlords and reducing the supply of rental housing.
The spiralling cost of renting
Under the reforms, tenants will be able to challenge above-market rent increases through the First-tier Tribunal (Property Chamber) in order to prevent landlords using rent increases to force tenants out.
But Gove today ruled out any action on rent controls despite the spiralling cost of renting. 
In 2022, we collected data on Bristol's broken rental market. The average rent for a two-bed property went up from £1,283 to £1,412 from January 2022 to January 2023 – a rise of 10.1%. This comes after year-on-year rises that are pushing people out of the city.
In recent months, as Bristol City Council investigates the feasibility of asking for the powers to cap rents, we revealed important lessons from the French city of Lille, where few landlords were respecting the new rent control laws because of a lack of enforcement and putting too much on responsibility to report foul play. Bristol's Living Rent Commission is due to publish its report soon. 
'Huge victory for the organised renters movement'
Anny Cullum, policy officer at Bristol-based community union ACORN, which has been campaigning for years for reform, said: "The Renters Reform Bill is finally being published today and is a huge victory for the organised renters movement. We will keep fighting to get the most out of this legislation for tenants as it passes through parliament."
A spokesperson for the Renters Reform Coalition (RRC) said: "We welcome reform. Everyone deserves to live in secure, decent, affordable homes, yet so many currently renting do not.
"Our present system leaves tenants at the mercy of arbitrary evictions and makes it commonplace for landlords to ignore decent home standards," they added. "As a coalition, we'll be fighting any attempts to water down the bill and scrutinising the legislation in the coming weeks – working hard to ensure it doesn't contain any loopholes that unscrupulous landlords could exploit.
Dan Wilson Craw, acting director of Generation Rent, said that abolishing section 21 evictions would "take away much of the stress of renting and improve communication and trust between tenants and landlords" and that the new property portal and ombudsman had "the potential to make it much harder for criminal landlords to operate".
The RRC added that they would campaign to amend the legislation where it doesn't go far enough – including by introducing a four-month notice period if renters are forced to move, two years protection from eviction in a new tenancy, and an index-linked cap on in-tenancy rent increases.
The Bill will first be debated by MPs at its second reading in Parliament, with a date yet to be announced.