Inside the Hartcliffe theatre and creative arts organisation giving a lifeline to south Bristol families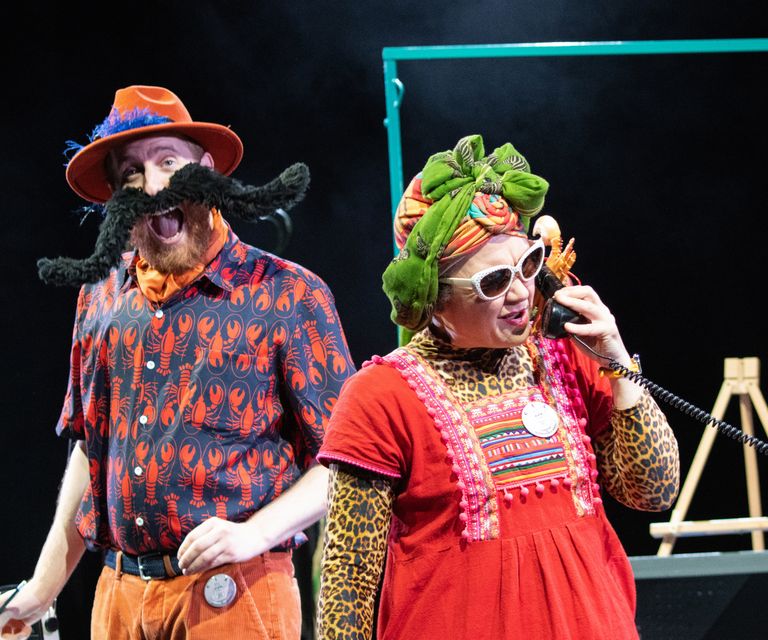 On the edge of her chair, Laura Jackson's youngest daughter shouts, 'You can't do that!' to the actors performing in front of her. As the first time watching a live theatre production, the then four-year-old marvels at the scene, having been so used to watching TV during lockdown.
The actors in question, Gill Simmons and Paul Lawless, smile and deliver their next lines with smooth confidence – knowing they've achieved their goal of creating an interactive, community-driven and accessible theatre and creative arts organisation, serving the BS13 area.
As a not-for-profit, Brave Bold Drama aims to dismantle the financial and geographical barriers that prevent residents of south Bristol, particularly Hartcliffe, one of the most deprived areas of Bristol, from engaging with arts and accessing creative opportunities.
Brave Bold Drama was founded in 2013 by artistic director Gill Simmons and creative producer Paul Lawless. It provides free or subsidised creative writing courses and workshops, theatre productions and character workshops, family arts events and audio-trails.
It is the only organisation within the BS13 area providing accredited creative qualifications that give young people UCAS points for university applications.
Future growth relies on community support
Brave Bold Drama is funded by grants from Arts Council England, Quartet and Bristol City Council, which rely on the organisation being based in BS13.
Artistic director Gill Simmons is calling for community support to keep Brave Bold Drama flourishing. In January, the mother-of-three received a Section 21 eviction from her landlord, Catholic Diocese of Clifton, to regain possession of her family home in Withywood, south Bristol, where she has lived since 2014. This is the second time in two years Gill has faced eviction proceedings.
The Cable previously reported Gill's most recent eviction notice in February. But with the lack of renters' protection against no-fault evictions – despite legislation to change that finally reaching Parliament this month – and skyrocketing rental prices, Gill has been unable to find a suitable alternative and is still fighting her eviction. 
Local MP Karin Smyth has intervened a second time and said the "deeply troubling" situation is evidence of the need for greater protections of renters. Gill, 46, has passed the date of her eviction and has now received a court possession order, a court instruction to leave her home.
Gill and her family will have only 14 days' notice to find alternative accommodation from when the possession order is granted, which can take a few weeks to several months, depending on how busy the courts are and if a hearing is needed. 
Gill has to now return a defence form to the court to argue why herself and her children shouldn't be made homeless by a Christian charity. The Diocese is also making Gill pay court costs of £481. 
While Brave Bold Drama will continue even if Gill is placed in temporary housing, the artistic director says community support can help ensure the theatre and creative arts organisation continues to thrive. Gill asks for those to come along to free events, follow their social media, and donate where possible.
Gill says she desires nothing more than to continue to serve the underrepresented BS13 community. Free monthly family arts events, hARTcliffe FUNdays, with musical performances, workshops and take-home pick-and-mix craft bags for children – to address the rising cost of stationery – are at the core of Brave Bold Drama and aim to normalise live performance.
From May, the FUNdays will be held at The Hideout, Hartcliffe's first outdoor adventure playground owned by youth organisation Learning Partnership West.
Gill, who grew up in Hartcliffe, says: "People just don't get to see what Bristol has to offer from this area because the buses are rubbish and are costly – and so you grow up not knowing anyone who has ever been to any theatres in Bristol."
Creative opportunities for both adults and children
Jacob Bouyer has attended weekly creative writing workshops since he moved to Withywood three years ago. The 29-year-old loves to spend time with like-minded people while developing his passion for writing.
Most recently, he and his fellow creative writers have been writing and performing free audio-trails for both Bristol Walk Fest and Stockwood Sounds, a free event part of the Bristol City Council High Streets Culture and Events programme. The creative prose and poetry transforms the experience of walking around Stockwood and Withywood.
"We're on the edge of Bristol and I think people forget we can't always get to the centre easily," Jacob says. "We still get forgotten by people that work in the centre."
Having been involved with Brave Bold Drama for over five years, teacher Laura Jackson loves how the performances and FUNdays provide a learning opportunity and offer a greater awareness of the world for her nine and six-year-old daughters.
"It's really important to me that my children get these experiences and engage with live theatre, but it isn't something I could afford to do, and that's the same for most people who attend," Laura explains. "My eldest has autistic spectrum disorder and finds crowds and noises quite hard, but this [size] is perfect for her."
Having witnessed firsthand the impact of having direct access to theatre on someone's ease of language, confidence and interaction with other people, Laura wants nothing more than for Brave Bold Drama to continue.