People power: how can community electricity grids help tackle the energy crisis?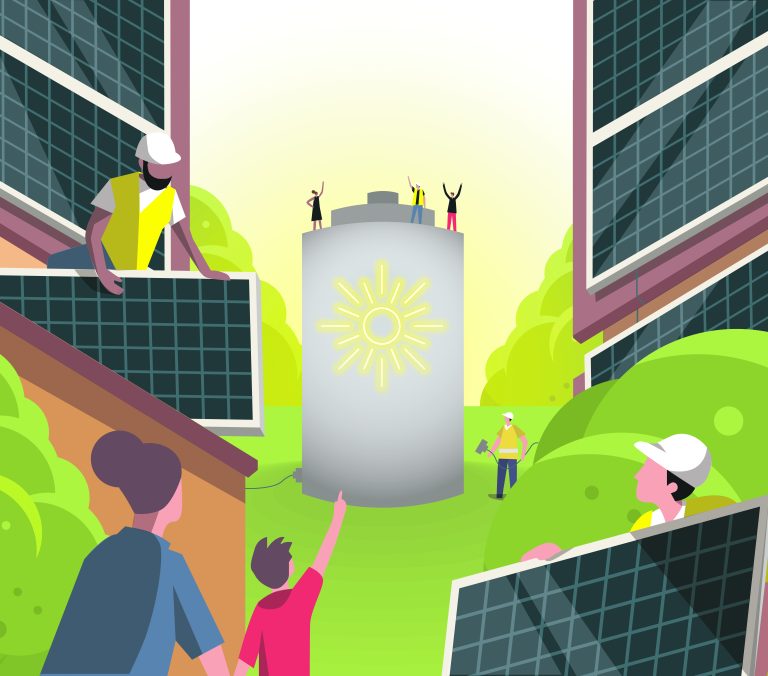 As April draws to a close, the Water Lilies housing development in Lawrence Weston is a maze of unfinished walkways and temporary metal fencing. Noise from ongoing work on the new estate, which has faced long delays, is pissing off residents in the neighbouring cul-de-sac.
The scheme's 33 eco-homes sit on an old reservoir near Blaise Castle, overlooking the Severn and the wind turbines that dominate the skyline above the industrial areas of Avonmouth. Their south-facing roofs are fitted with large solar panels.
"People here are really energy conscious," says Richard, who moved into his self-build home on the site with his wife and young daughter last May. "We have an opportunity to be part of this kind of experiment and I feel pretty positive."
This experiment he's referring to is an on-site 'microgrid' which will reduce the estate's reliance on the National Grid, at times making it completely energy self-sufficient, saving residents money on bills.
For Richard and his new neighbours, it's a chance to literally take power into their own hands.
Energy island
On a sunny day, it's expected that most of the energy consumed on the Water Lilies site will be drawn from solar panels on the houses' roofs. When there's not enough solar, a large Tesla battery will serve the local demand.
The homes and their solar panels will be connected to the battery system, which will be charged with any solar energy the residents don't use. Basically, if your neighbour is on holiday, the energy their house generates won't go to waste.
Only when the battery runs out will the site draw energy from the National Grid. And as all the houses are efficient – with Grade A energy performance rating — the need for this will be minimal.
"A lot of the time, [the estate] will be almost like an 'energy island'," says Andy O'Brien, co–director of Bristol Energy Cooperative (BEC), which is funding the site's microgrid project.
He says Water Lilies residents' energy bills will be less than average, and that while the microgrid will at first be owned and managed by BEC, residents will eventually have the chance to buy them out.
"Our commitment is that they'll be paying less for their energy," says O'Brien. "If, say, in two or three years time, this is really proved to be the case… then we are offering them the opportunity to buy us out and take on the running of the microgrid themselves."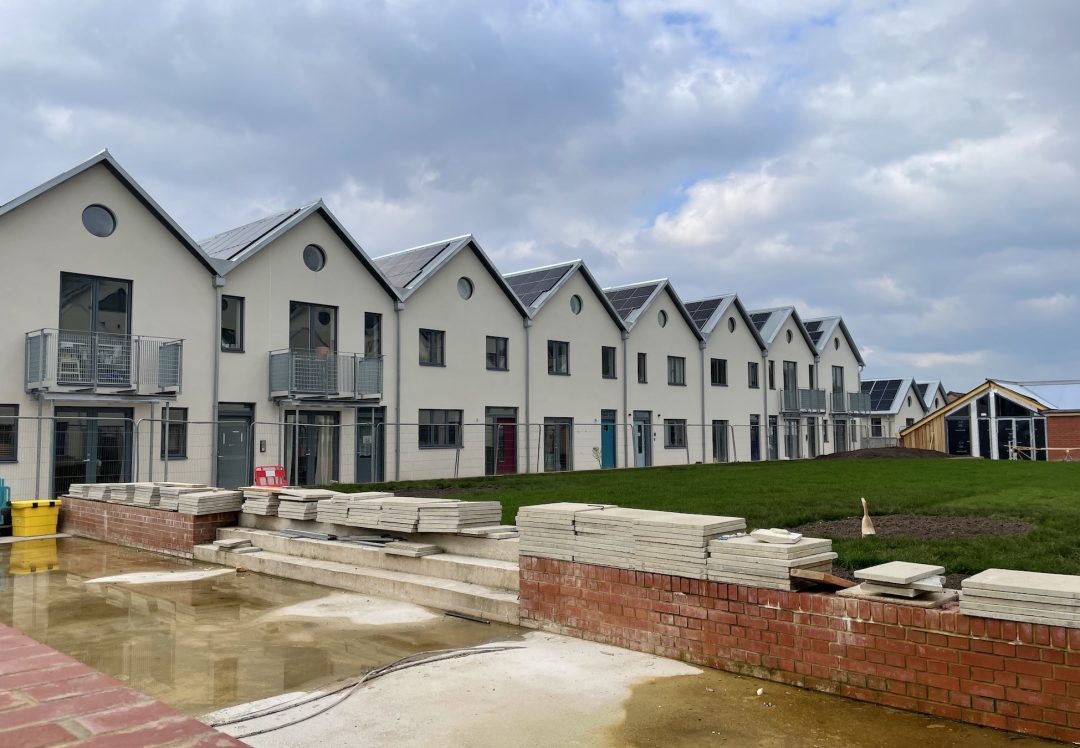 He says the community-led approach that developer Bright Green Future (BGF) has taken to the housing project means BEC is building a "long-term relationship" with the scheme's residents, who voted on whether to include a microgrid in the development.
"There's lots of communication and co-working to make all this happen," he says. But what do the site's residents know and think about the microgrid system they're set to inherit?
The technicalities
"I don't think anyone knows how much we're going to be paying, but we know it will be significantly less," says Sarah, who moved into one of the self-build homes with her husband in August last year.
"We didn't realise energy prices would increase so much, so it's been a massive benefit, but we've always wanted to reduce our carbon footprint, and energy costs were high generally, so we thought if there was something we could do, we wanted to do it."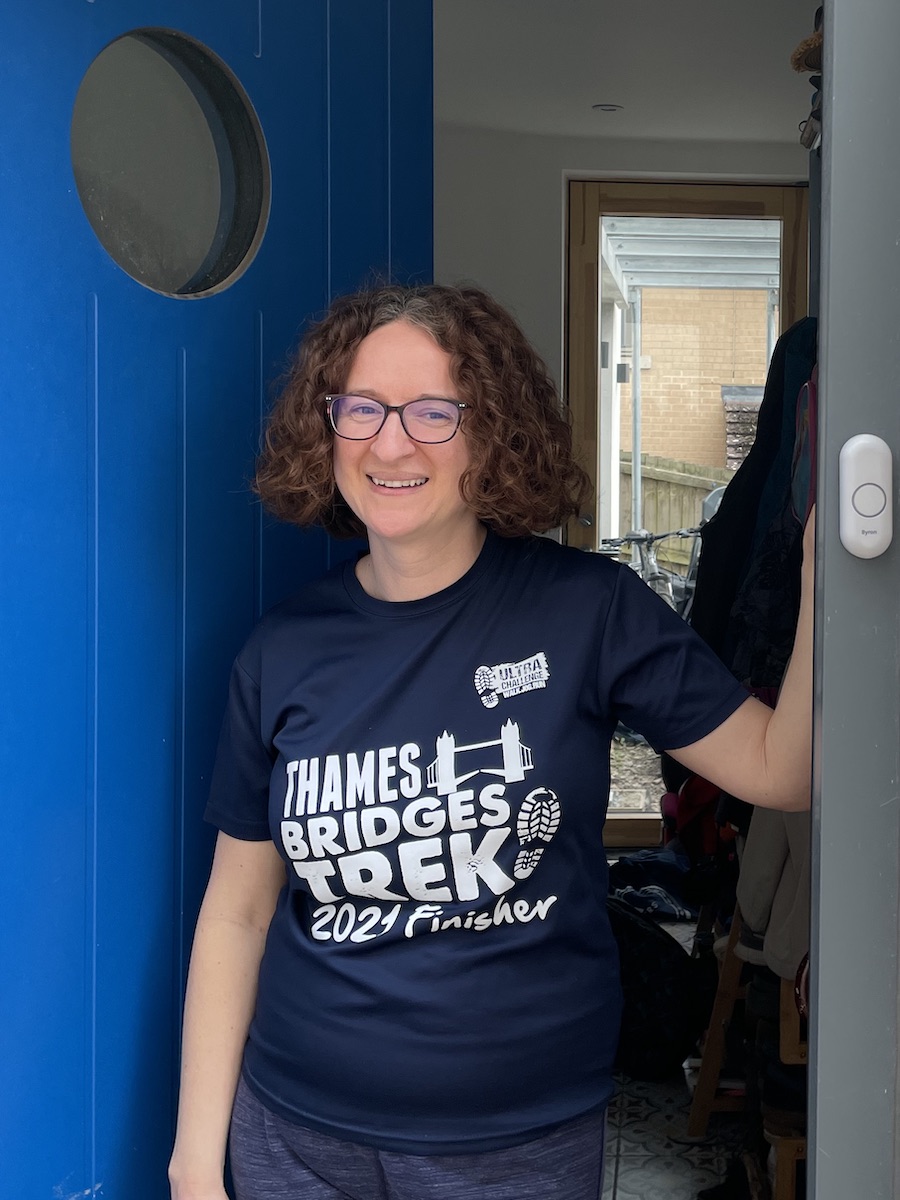 Sarah says that she's had the chance to learn about some of the technical aspects of how the microgrid works, thanks to workshops and information provided to residents by BGF, but admits she hasn't "read up as much as I should have".
Richard says he and his neighbours are all on board, adding: "It's been sold as this kind of experiment, and if we can make it work, it can be replicated."
He adds: "My background is in renewable energy, so I'm well aware of this stuff, and when I saw the prospect of having [microgrid technology], that's what really enticed us."
Richard is excited too about the prospect of buying out BEC and managing the site's energy along with his neighbours.
"Water Lilies would essentially be its own energy company," he says, "we could choose who supplies us – say someone who sources their energy locally and can guarantee that it will be green."
The microgrid was designed by Clean Energy Prospector (CEPRO), which in partnership with BEC created the Microgrid Foundry company to develop the Water Lilies project.
"The way the system has been designed by CEPRO, it makes that transition [from a regular setup to a community run on a microgrid] a bit easier for people," says Richard.
"You don't suddenly have to be super aware of all the technical stuff, which means this is more for a mass market."
"It's like buying power," he says. "The same as with wholesale food: you can't buy power at a wholesale price alone, but you can as a community. It's that kind of model."
The price of power
Using microgrid technology to power communities isn't a new idea. Use is increasing, particularly in developing countries, in remote areas where there's no access to a central grid, or where extreme weather events mean private grid systems are literally a lifeline.
And famously, in the UK in the late 1990s, the residents of a tiny Scottish island set out on a project that would create a model for sustainable, community energy – using a microgrid system – after bringing the island into community ownership.
Without access to the national grid, the Isle of Eigg relied largely on noisy and expensive diesel generators that ran for only a few hours a day. But following the community buyout, the residents were able to electrify the island, connecting everyone to an independent power grid that would provide them with clean, renewable energy around the clock.
The islanders formed their own energy company, Eigg Electric, and in 2008 they launched what was hailed as the world's first community 'microgrid' system powered by wind, water and solar. The project enabled them to halve their energy use and generate 90% of their electricity from renewable sources.
Financing these kinds of projects is no small feat. The Eigg project cost about £1.66 million, and was largely funded by the European Union's Regional Development Fund. Without this, the scheme might not have been possible, and community groups looking to replicate or build on the model have to get creative.
The Water Lilies microgrid was funded largely by share offers from BEC members, which enabled the coop to pay for the scheme's different elements, including the solar panels, networking and the Tesla battery.
System failure
"To have a serious impact, all this stuff only really works if you do it at scale," admits O'Brien, adding that the UK is on track to fail to meet its 2030 net-zero targets.
"In comparison to new-builds [like Water Lilies], retrofitting homes is much harder to do. But we need to do it, and that's why we and a number of partners across the city, we're looking at how to do that."
But there needs to be a major attitude change toward renewable projects at national level, he says. "It's frustrating when you hear politicians talking about 'the problem with renewables'.
"They wheel this out to say that we still need fossil fuels, when it's just not true," he says, pointing to new research showing that the government has given £20 billion more in support for fossil fuel producers than those of renewables since 2015.
"The sad thing is, it's not the technology that's the issue," O'Brien says. "There's so much we could do if we had a better system, where the money available was going to the right places – not fossil fuel companies."
O'Brien says, however, that at regional level there are opportunities in the pipeline.
Bristol City Council in December approved a two-decade project with City Leap – a partnership between the local authority and American renewable energy company Ameresco Ltd – paving the way for hundreds of millions of pounds to be invested into the city's heat networks, retrofit and other renewable projects.
At least £424 million will be invested into energy projects in the first five years of the deal, as the city moves to meet its goal of being net-zero by 2030. The final contracts on the deal were signed in January.
O'Brien says BEC is in early discussions with City Leap about possible future microgrid schemes. As for Water Lilies – the microgrid connectivity, he says, is about 95% complete, at which point its success will be more easily measured.
Inclusivity is key
BEC's microgrid project is impressive in that it could demonstrate how communities can consume greener, cleaner energy and save money while they're at it. But it's an exclusive scheme, open to a privileged few in one of Bristol's poorest areas.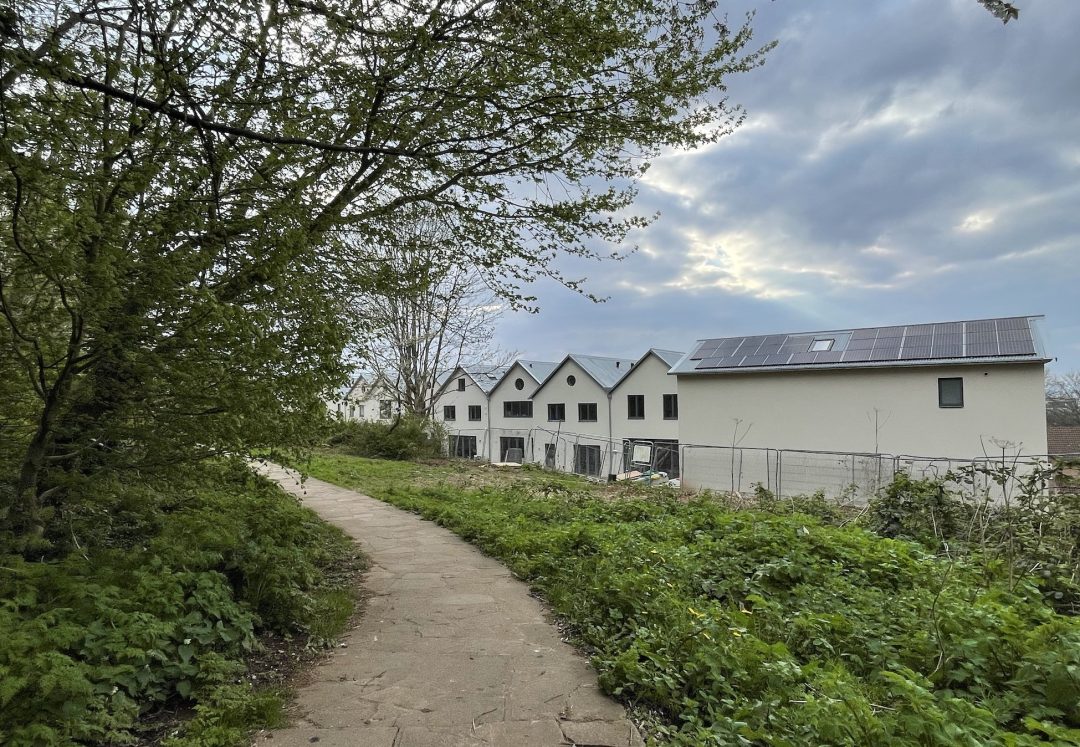 Nearby, what will be England's largest wind turbine is under construction in Avonmouth. Owned and managed by a community group, revenue its energy production makes will be used to support the local area. Water Lilies residents will see it from their windows.
For the community, the wind turbine will be a financial asset, selling the energy it generates to the national grid. The turbine is expected to raise upwards of £100,000 a year for Lawrence Weston – revenue that will be spent supporting the area's residents worst hit by the energy crisis, on things like draught-proofing homes and boosting emergency funds.
The project was financed largely by Thrive Renewables, a renewable energy investment company, which provided £4 million. Other funders included the city council, West of England Combined Authority, and BEC, which supported the scheme with income from a solar farm project.
To truly harness the power of community energy, it should benefit everyone. And that surely means finding ways to connect innovative microgrid systems to projects that help lower income communities in Bristol and beyond.
The technology to do that is there, so where is the funding?
Want more solutions for Bristol?
Reporting on solutions to Bristol's biggest problems is expensive.
We won funding to explore how to make this important work viable for a local paper like the Cable! But to keep doing it, we need funding that won't run out: monthly-paying membership.
Becoming a member, and encouraging others to join, means we can continue investigating solutions for Bristol into the future.
Find out more
The Future of Cities project is funded by the European Journalism Centre's Solutions Journalism Accelerator, supported by the Bill & Melinda Gates Foundation.