Julz Davis: checking in on Martin Luther King's dream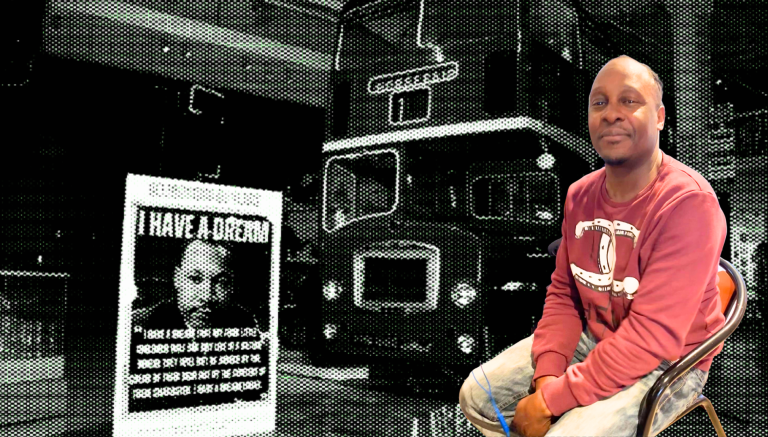 On April Fools Day, Julz Davis played a prank on Bristol, replacing street signs in an act of "cultural and creative mischief". Park Street became Rosa Parks Street, while Whiteladies Road was simply covered over with black tape.
"We need to see ourselves reflected – and we don't," says Davis, a self-described "Knowle West Indian", with a cheeky smile. 
We're meeting to talk about Race for Power, Davis's project aiming to get people discussing "the past, present, and future of protest, power, and the progress of racial equity in Bristol". But the man is a storyteller, and our conversation – like the project – hurtles through vast expanses of time. Answers interweave Davis's personal anecdotes with the civil rights movement, Bristol's history, reflections on the present and hopes for the future.
The motivation for Davis's street sign shenanigans has also fueled his career, which includes stints at Ujima Radio, St Paul's Carnival and Triodos Bank. In 2020, Davis joined BeOnBoard, a programme aimed at supporting businesses and organisations to improve the diversity of their governing bodies and boards.
Behind everything lies a unifying drive: "It's about creating platforms where we see ourselves and have a voice."
'Send down the lift for others'
Davis grew up in a Jamaican/Guyanese family in the 70s, one of few Black families in an area where "the National Front were our neighbours". Nevertheless, he remembers his childhood fondly, "A lot of talent came from that part of the city" he says, mentioning Fresh 4 and Tricky.  
At 24, when Davis was a "young whippersnapper" he was given his first big break – in local pirate radio. "When your opportunities come, do [the same] – send down the lift [for others]," Davis remembers being told at the time.
Improving things for people of colour in Bristol – the seventh most unequal UK city, according to the Runnymede Trust – is a key aim of Race for Power, which launched in January. Davis recalls being in Jamaica, on his family's land where his ancestors were buried, reflecting on his lineage – people who were brought there as slaves, and his father's decision to go to the UK.
"I stood there, feeling blessings in abundance, and asked myself, 'What is my contribution?' I heard a whisper say, 'The dream.'"
Davis says it was only when he landed in the UK that he understood the meaning of this portent. "I got a phone alert about Bristol Bus Boycott leaders being given Freedom of the City of Bristol. I found out [they had] won their aim of lifting the 'colour bar' on the same day Martin Luther King gave his famous 'I Have A Dream' speech.
"The hairs on the back of my neck sprang up – it all interconnected and locked in!"
The dream and the reality
Race for Power's promotional materials have followed this theme, claiming the "stars have aligned so 2023 has the potential to be a game-changing year for Equality, Diversity & Inclusion." This year is undoubtedly significant: it's also the 75th anniversary of the arrival of the HMT Empire Windrush, the ship that brought the first wave of aspiring West Indians.
At the project launch, members of the public gathered at the plinth where slave trader Edward Colston's statue was pulled down in 2020, to write messages about King's speech. There were three prompts: where are we on 'the dream' today; how should Bristol honour the Bus Boycott, which paved the way for the 1965 Race Relations Act; and how can the city be better for people of colour.
In 2024 the comments will be presented to city leaders as part of a series of local actions planned by Davis. He is working with FirstBus to create a bus wrap explaining the Boycott, which will also be celebrated in a mural at the People's Republic of Stokes Croft building on Jamaica Street.
Reflecting on Bristol, Davis is pleased with current representation in the city's leadership – in particular the mayor Marvin Rees, and cabinet member Asher Craig – and their initiatives such as the Equality Charter, Race Quality Forum and the One City Plan.
While these figureheads have their critics, Davis worries about people of colour losing their visibility at the top table once Bristol's mayoral system is replaced by committees in 2024, and race slipping down the city's priorities. "I want to make sure race remains a potent motivating force for decision makers," he says.
Davis dazzles with his talk of fate-ordained missions, and invocations of civil rights heroes. Beyond that, it remains to be seen what Race for Power will add to the plethora of grassroots campaigns working towards racial equality.
Davis makes no claims to be reinventing the wheel but hopes the campaign can play a part in pushing for "wider, faster, deeper" progress towards addressing inequity.
"I don't have a grand, strategic theory of change," he says. "Things have coalesced – this is going to be an organic process."
Independent. Investigative. Indispensable.
The Cable is Bristol's independent, investigative newsroom. Owned and steered by 2,500 members, we produce award-winning journalism that digs deep into what's happening in Bristol. Investigative journalism strengthens democracy – it's a necessity, not a luxury.
As a members co-op, democracy is built into everything we do. We're 100% owned by thousands of Bristol members.
If we can triple our membership, this funding from the people of Bristol would make the Cable completely sustainable.
Join the Cable today