'What the hell can people do?' Looming closure of St Pauls dentist shines light on a national crisis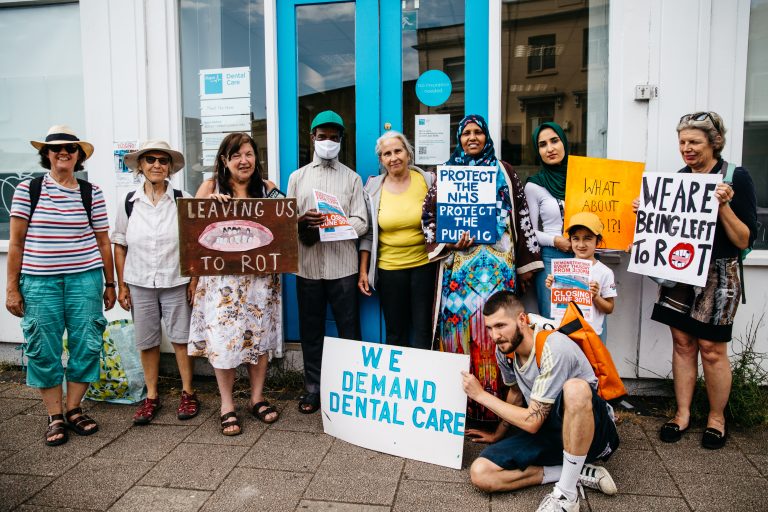 "Me and my partner have been patients here for more than 20 years," says 63-year-old Anne.
She's one of a small but determined group holding their weekly protest outside the BUPA dental surgery on Ashley Road in St Pauls on a boiling Thursday afternoon in June.
The inner-city practice is due to close at the end of the month, along with 84 others the firm operates nationally, leaving around 7,000 Bristol residents – and especially those reliant on NHS care – potentially without a dentist.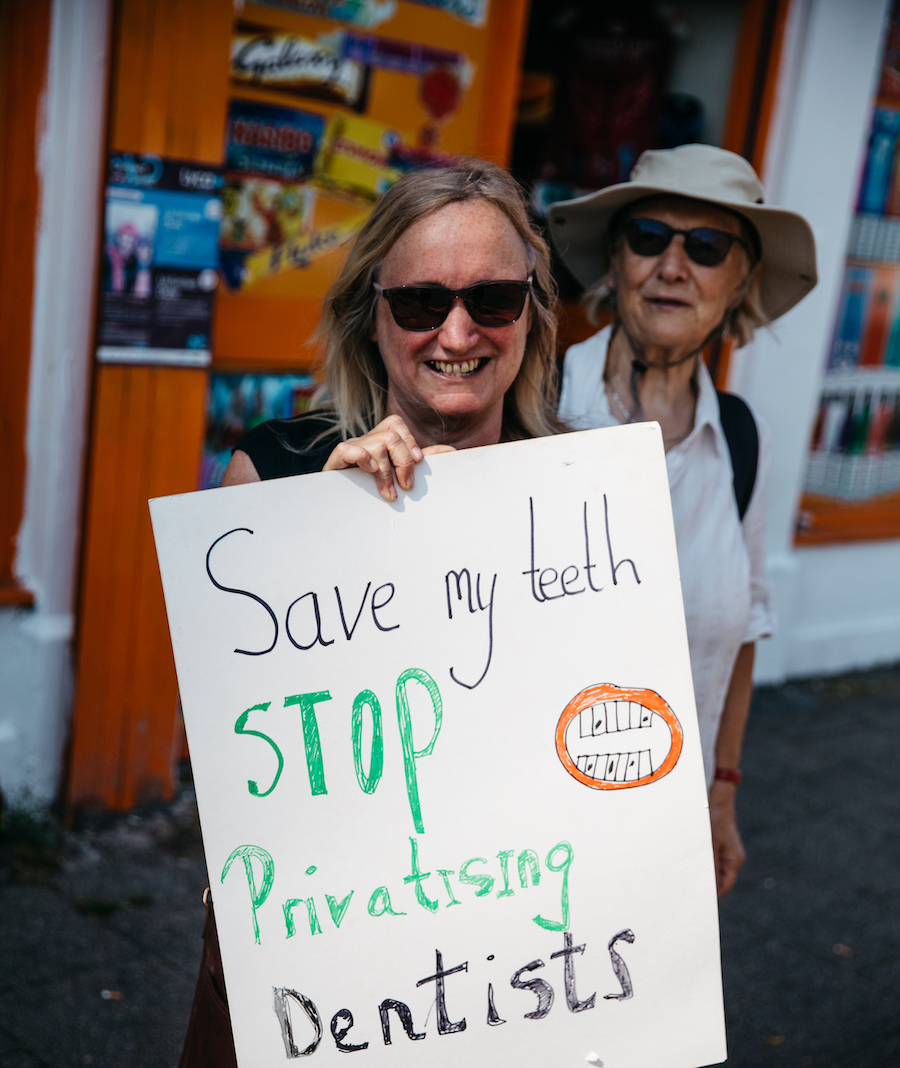 "It was already becoming more difficult to get an NHS appointment here [because of dentists leaving]," Anne continues. "One time I had to go to the dental hospital to get seen – I had serious root canal problems and was in terrible pain.
"Eventually I got an appointment [at St Pauls], but was then told it's closing down – we were given a list of 34 Bristol dentists, which we've systematically contacted, and not one would take a referral."
Anne is one of dozens of people who have recently spoken to the Cable, or responded to our recent callout, to share what the closure of the St Pauls practice means and their struggles to access affordable dental care.
From draining their savings on private care, to travelling across the country for NHS services, to taking tools to their own mouths, their stories capture a crisis that is deepening across the country – but is at its worst in Bristol and the South West.
'Rotten foundations' of dental care
Difficulties accessing an NHS dentist, while not a new problem, are now much worse than they were a few years ago.
I arrived in Bristol in 2011 with my teeth in bad shape, after losing my place at one surgery and putting off finding another for years as I got more worried about what damage might be found. After an emergency trip to the dental hospital because of an abscess that made my face swell painfully, I was referred to the St Pauls surgery – where an NHS dentist fixed my teeth, and where I have stayed until now.
These days I would not be so lucky. Research carried out last year by the BBC showed 98% of dental practices in Bristol were not accepting new adult NHS patients. Surrounding areas were similar, with some including North Somerset having zero dentists accepting new adult NHS patients, compared with the national average of 90%.
Problems date back to 2006, when the last Blair government changed the NHS funding formula for dentists. Since then they have been paid for whole courses of treatment rather than individual procedures, making the work less attractive. While the current government says it is making reforms, the British Dental Association dismissed these as "modest, marginal changes that will not fix the rotten foundations this service is built on".
During the pandemic, backlogs increased and people's teeth deteriorated, accelerating the rate at which NHS dentists left – including at St Pauls, which struggled to fulfil its NHS contract. The BBC's study found the numbers of practitioners doing NHS work had dropped nationally by 10% over a 12-month period. In March, MPs were told NHS dentistry was heading for a £400m underspend for the 2022-23 year, mostly because of a lack of staff to deliver services.
"We have worked extensively to recruit dentists for NHS care in the St Pauls practice, however due to the national shortage of dentists to provide NHS care, we've struggled to fill longstanding vacancies for some time," a BUPA spokesperson told the Cable.
Without local NHS services people face a stark set of options. Pay huge sums for private dentistry, travel to where NHS care can be found, or give up and hope nothing serious goes wrong. If it does, the last resort is trying the dental hospital – or for some, taking matters literally into their own hands.
'I've gone as far as clamping my teeth with pliers'
These are the choices described by people who the Cable has spoken to. Most but not all are Bristol residents registered with the BUPA St Pauls dentist. Others have been affected by practices shutting elsewhere in the city, or been unable to get NHS care after moving here.
Some have gone private – in some cases after waiting and allowing their dental health to get worse, because of concerns about the cost.
"I've been forced to pay almost £1,000 for check-ups and treatments that would have cost a fraction of the price with the NHS," says Luke, a Bristolian who returned here in 2020 and could not find an NHS service.
With many people hard-pressed to pay for private dentistry, others described long online searches for practices accepting NHS patients. Inevitably these were miles from Bristol, in places like Oxfordshire and the Malverns.
"I – and my housemate, neighbours and friends – travel out of Bristol, most to the Midlands, to get dental treatment because it is impossible to register here," says Cat. "I called and emailed every single NHS practice and only received refusals."
Others are considering taking matters into their own hands. "I have severe tooth pain in two teeth and bleeding gums – I believe I may have gum disease," says Joe. "I haven't removed the sore teeth yet, but I have gone as far as clamping one with pliers to see how painful it would be."
St Pauls dentist speaks out
Asked about what the practice at St Pauls has meant to them, people return again and again to the feeling of comfort and security of being seen by the same dentist.
"It is unquantifiable, what it means to have continuity of care, to have someone who knows us as a family, has known our teeth all the way through," says Mark, 45. "It's been hugely beneficial having a personal touch."
Amirah Cole, a Labour councillor for Ashley ward who has helped lead the protests, has been with the practice since 2000 and says closing it would be "very, very short-sighted".
"I used to be so scared of dentists – it wasn't till after I had my first son that I went there and met Gaye [Herford, the lead NHS dentist at St Pauls]," she says. "She was so supportive, careful and gentle that I started going more readily – my children have that dentist too."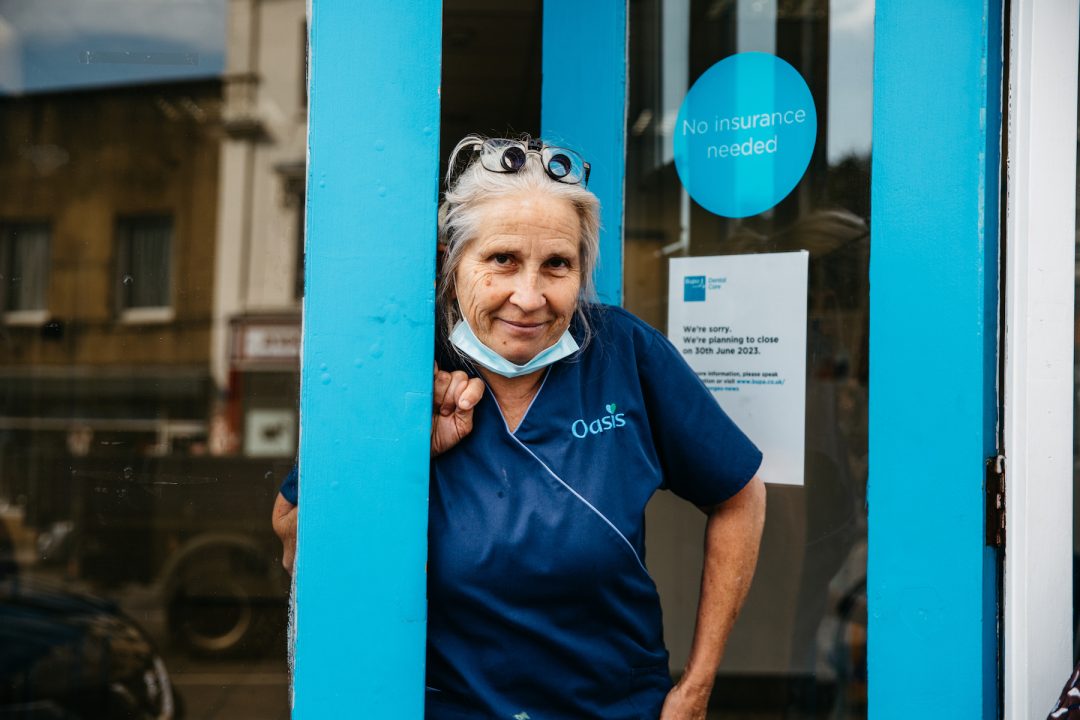 When we speak to Dr Herford as she finishes her day at the surgery, she also emphasises the importance of relationship-building in setting people up for better long-term dental health.
"Reinforcing messages to parents and carers makes a big difference – I have patients who I have nagged and cajoled, you'd have children coming in with a bottle of Lucozade and now it is usually water," she says. "I have seen children with 16 [cavities] and you fix them bit by bit, giving confidence – down the line there might be a chipped filling or something but the active decay is gone."
Modern dentistry should be about prevention, says Dr Herford, who has worked in St Pauls for almost 30 years. By contrast, she adds, emergency dental interventions – often after people have endured months or years of misery only to lose teeth – are "no care at all" and cost the NHS far more.
"I have heard terrible things about during lockdown, when there wasn't any general care, people who should never have had teeth out having them out," Dr Herford says. "It makes you cringe to think about it – that could have been your son, or mum, you have to treat people like your family."
'I want sustainable and equitable dental care'
Some of Dr Herford's patients will be able to follow her to Keynsham, where she is due to be transferred, but this is not an option for all.
"I have seen so many people literally crying – 'Gaye, what am I going to do?'," she says. "So many older people have gum disease, especially in Afro-Caribbean and different Asian communities, in areas of deprivation it's higher – it's a complex thing."
Highlighting health inequalities, which look set to worsen with the closure of the practice, is at the forefront of campaigners' minds.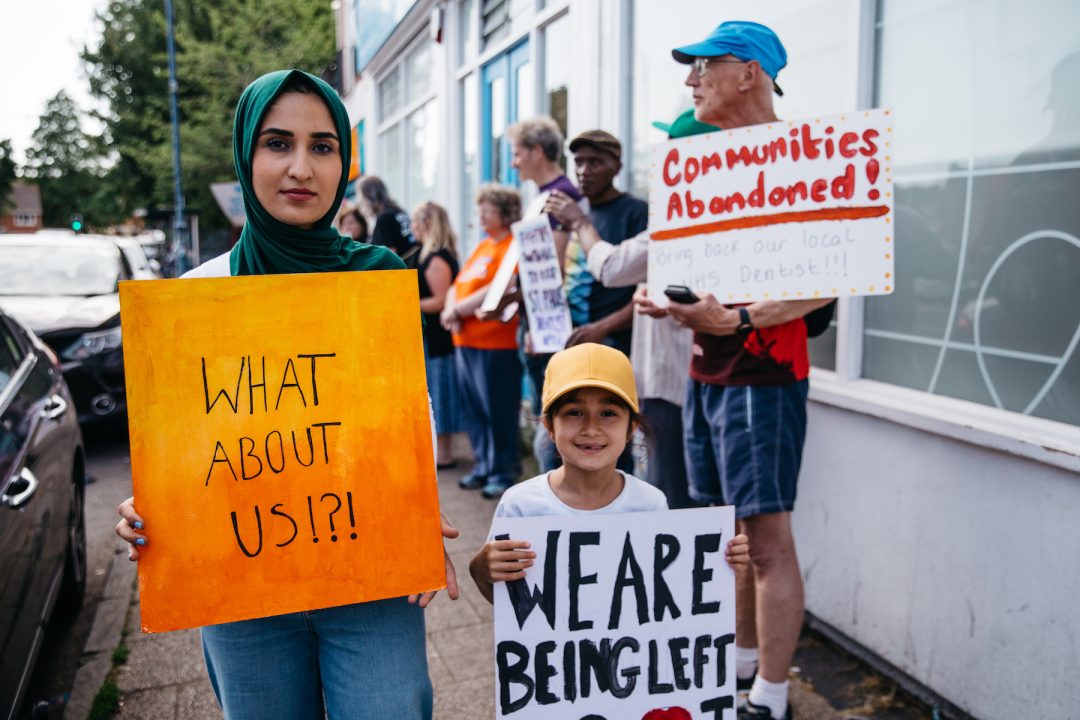 "I am seeking sustainable and equitable dental care," says Tara Miran, 35, whose work background is in public health. "It's about injecting things into certain communities to help bring standards back up – you can't ask a community [to travel] that's had everything stripped away."
During the pandemic, agencies banded together to deliver pop-up vaccination clinics to hard-to-reach communities, she goes on. "Where are those people now who were doing integrated, innovative work around health, reducing inequalities in minoritised communities?" she asks.
Even if BUPA withdraws, other solutions could be found, Tara suggests – such as willing dentists or students coming to St Pauls to deliver dental checks.
With the clock ticking down, campaigners say momentum to save the practice is building, with more than 1,200 people having signed a petition started by patient of 20 years Nicola Strange as of 22 June. "I went to see Gaye for a check-up, and it was her passion that made me think, I've got to do something to raise awareness," she says.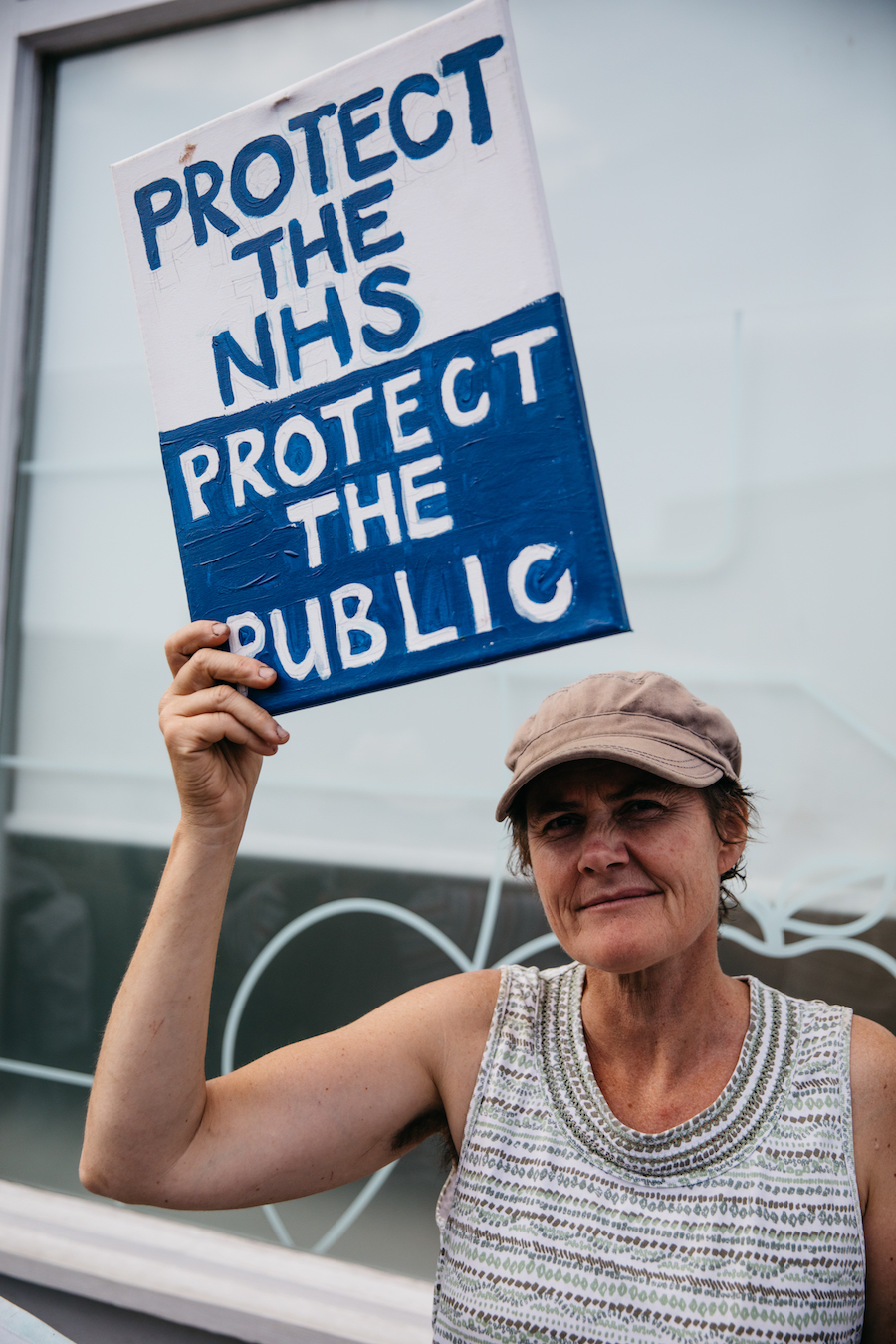 Amirah Cole has repeatedly written to the local NHS integrated care board (ICB), which is responsible for commissioning dental care, while Bristol West MP Thangam Debbonaire has raised the issue with central government departments and with BUPA.
But no assurances have so far been made that dental care will continue in St Pauls.
A spokesperson for Bristol, North Somerset and South Gloucestershire ICB said the body was working hard to try and improve the wider local situation, including by "working with dental clinicians, their representatives and partners to offer practical support to help dental practices take on more NHS dentistry".
"In our area, as across the country, the pressures on NHS primary care dental teams is severe, with workforce shortages, high demand and a backlog to address," the spokesperson said. "Unfortunately, due to these ongoing pressures, some practices have felt unable to continue as NHS dentists."
Back on Ashley Road, Anne says she's glad of the savings that will cover private care for her and her partner, who has dental infections and gum problems. She says she's acutely aware that without this "privilege", he would just "have to suffer".
"There will be thousands who can't get treatments, they will have chronic teeth problems that will cause them pain and illness, and put massive strain on the NHS," she says. "What the hell can people do?"
Independent. Investigative. Indispensable.
The Cable is Bristol's independent, investigative newsroom. Owned and steered by 2,500 members, we produce award-winning journalism that digs deep into what's happening in Bristol. Investigative journalism strengthens democracy – it's a necessity, not a luxury.
As a members co-op, democracy is built into everything we do. We're 100% owned by thousands of Bristol members.
If we can triple our membership, this funding from the people of Bristol would make the Cable completely sustainable.
Join the Cable today