Campaigners renew calls for metro mayor to bring struggling buses back into public hands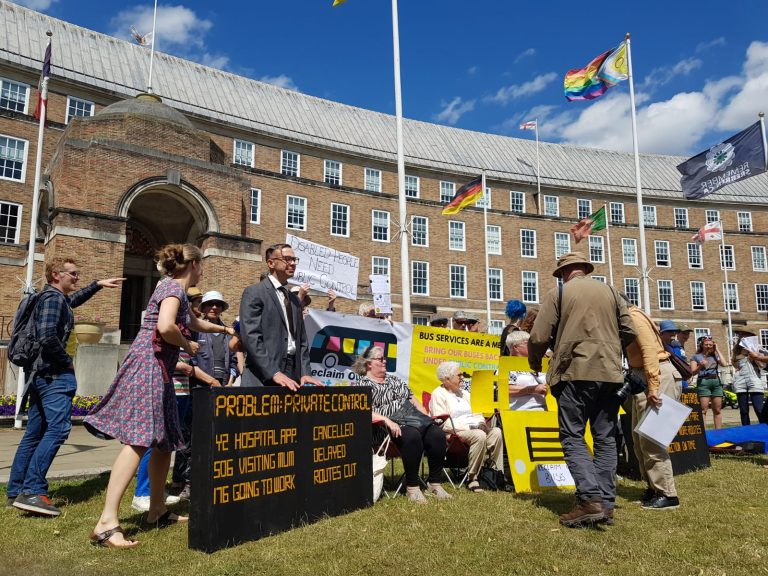 "I always thought buses were public service vehicles, not profit service vehicles."
Those were the words of Jane Caines, a retired resident of Ashton Vale, who was one of more than 50 people gathered on College Green on 7 July for the launch of a petition demanding buses in the West of England be taken into public control.
Jane spoke to the Cable earlier this year about her local bus, the 23, being cut. When we asked how residents of Ashton Vale have been doing since then, she did not mince her words.
"It's horrendous, we've got no social life at all," she said.
The new petition, which has the backing of an array of community organisations and trade unions and has been signed nearly 1,000 times already, was created by the Reclaim Our Buses campaign.
Campaigners are calling for buses across the West of England to be run on a franchising model. They point to the fact that Andy Burnham, the mayor of Greater Manchester, has successfully pursued a franchising scheme that starts in September.
Around three-quarters of bus services outside London are currently operated on a commercial basis by private operators. This means companies such as First Bus have the power to design timetables, set fare prices and concessions, and determine where to run services.
Recently, this has meant the axeing of bus services that are deemed not to be commercially viable.
With a franchised bus service, local authorities set routes, timetables and fares. Services are still operated by private companies, but there is a greater level of public control and ownership over how those services are provided.
Earlier this year, the Cable investigated what impact franchising is having elsewhere in the UK. While other regions are exploring the feasibility of franchising, Dan Norris the West of England 'metro mayor', has been dragging his feet.
What difference would bus franchising make?
Asked at Friday's event what bus franchising would mean for Bristol, Maria Carvalho from the Reclaim Our Buses campaign said: "It means we could introduce accessibility, employment and climate standards into a contract with the bus [companies], buses could be tied to longer term contracts so they couldn't change bus routes and cut routes year on year."
Better integration of services, she argued, would also mean more profitable services could subsidise less profitable ones across the region, ensuring better access to public transport for all residents.
Jay, a transport adviser to Bristol Disability Forum, said the Greater Manchester Coalition of Disabled People had told her bus franchising has massively improved the accessibility of buses.
"The overall structure of accountability is completely different, [meaning] better routes, better connected routes, more services," they explained: "It's really specific to [the needs of] disabled people."
Trish Mensah from Bristol Older People's Forum (BOPF) said: "The system at the moment seems to be working well in Manchester and Nottingham and I think we should have a go."
Meanwhile Emilia Melville, from transport campaign group WESTACT, also pointed out that good public transport is an essential part of creating a just transition in the context of the climate crisis.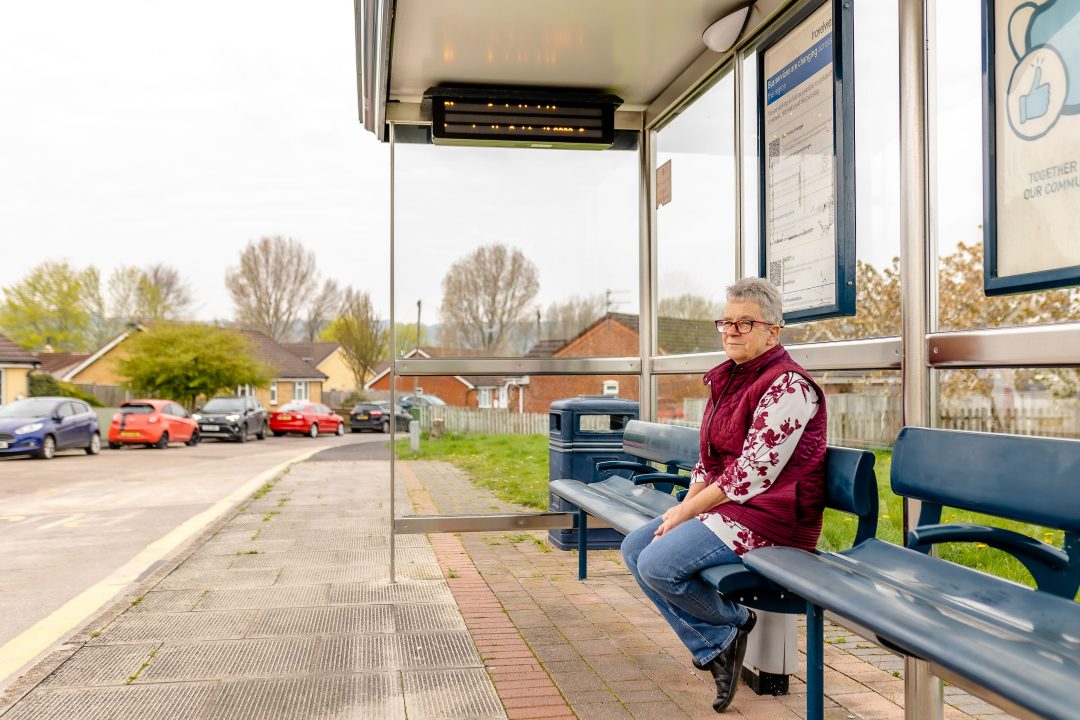 Many of the bus routes that were cut earlier this year were subsidised by local councils. Due to rapidly rising costs, councils in the West of England chose not to increase their subsidies to match inflation, so several subsidised routes were withdrawn.
Tessa Fitzjohn, a Green councillor who represents the residents of Ashton Vale where the 23 bus was cut, said FirstBus had told her the route wasn't commercially viable, but that another company was interested in taking it over.
"We've spoken to Transpora, they've said they'll run it as long as they get some subsidies," she told the Cable. "They were asking for about £70,000, which in the bigger scheme of things is not that much."
The West of England Combined Authority (WECA) has tried to plug the gap in services through new Demand Responsive Travel initiatives funded by a £105m central government grant.
One of these initiatives, WESTlink, is a flexible service that aims to connect communities to core transport routes across the region. It runs in three 'zones', and users can pre-book a trip online, via an app or over the phone, but the Cable has spoken to multiple people who have struggled to use it.
Bobby Oliver, who is an adviser for people who can no longer drive, rang up the WESTlink helpline to see if the service could be used by disabled people. "If you're in the north zone you can't use it to come into Bristol," she said, adding they were advised not to use the service. 
The funding that paid for WESTlink can only be spent on new innovations rather than maintaining current services, although in June the Department for Transport (DfT) announced it was relaxing the rules.
But last week, the boss of WECA said there were a "significant number of hurdles" to propping up loss-making routes by redirecting government cash away from "new and innovative" ideas, such as the controversial Birthday Bus Pass scheme and the dial-a-minibus WESTlink.
'People have been completely cut off'
It is little wonder then, that disabled and elderly people feel isolated. Ian Quaife, who is the development manager at BOPF, explained: "We've got 3,000 members across Bristol, and we've had horror stories about the buses over the past year," he said. "People that have been completely cut off… [they've] had enough."
Quaife added that franchising is the best available option. "We have to take the profit motive out of it," he said.
Several attendees also spoke about the need to discourage private car use, to shift more people onto the buses and make active transport more attractive. Tony Wilson, also from BOPF said: "[The] priority should be to get cars off the pavement then car owners would have to think about not having a car and getting the buses. That would improve the bus service no end."
Others pointed out the fact that even those bus services that continue to run are often cancelled, delayed, or occasionally too busy to allow new passengers on. Terry, who is disabled and suffers from epilepsy, told me that things had gone downhill since Covid.
"I have to rely on the buses to get around," he said. "Luckily enough I get a support worker, so I try to get my doctors appointments for when they're with me."
It's not only the elderly and disabled who are suffering because of cuts to services, as shown by three students from St Brendan's Sixth Form College in Brislington. One, Rhiannon Honeywill, said: "It's a 15-minute drive to my college, but it can take me well over an hour in the morning."
How did Dan Norris respond?
When asked to respond to the campaign launch, Metro Mayor Dan Norris told the Cable, "Creating a thriving, reliable bus network for passengers is a big priority for me.
He added that franchising is "on the table" but added that it was "not a magic bullet".
"The biggest issue we and other regions have been facing on the buses is the severe bus driver shortage – that includes Greater Manchester, which has franchising," Norris said. "Although we are gripping this – training dozens of drivers this year alone."
He added that he was "proud to have introduced new and innovative solutions to our bus challenges", such as the Birthday Bus scheme, which he said would would mean "more money to make further improvements to the bus network".
Andrew Brown, Lib Dem Councillor for Hengrove and Whitchurch Park, recently brought forward a motion for bus franchising in the West of England at full council meeting in Bristol. However, given that it is the combined authority that has decision-making power for transport, any movement towards franchising would require cooperation from all four councils within the West of England region.
Brown said: "There is now support certainly to explore new options in much greater detail than has previously been done, to have a look at the feasibility of it and to start moving down that route."