More drug arrests but more people in treatment two years into new diversion scheme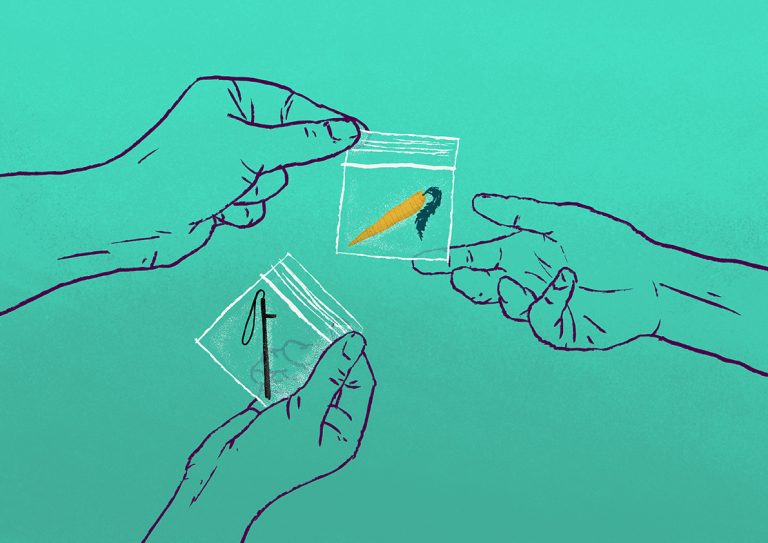 "You can't arrest your way out of record drug-related deaths," a then-senior officer said in 2019 as police-led de facto decriminalisation schemes for people found in possession of substances began to find wider support. The stark admission reflected drug war fatigue within UK policing: many officers had grown tired of a gruelling merry-go-round of arresting and jailing vulnerable people who use drugs, only to see them leave prison after a few weeks or months and be back in the same unfortunate position.
Little by little, it became understood that criminalisation largely didn't stop drug use, nor address dependency. And so a small number of police forces began to operate diversion initiatives during the mid 2010s in which people who use drugs – at least for first 'offences' – could choose instead of the crime and punishment route to undergo drugs awareness courses, or engage with treatment. The benefits, along with an independent report by Dame Carol Black in 2021 commissioned by the Home Office, piled pressure onto the government to support the pre-existing schemes.
It has done so through the 2021 launch of the Project Adder (Addiction, Diversion, Disruption, Enforcement and Recovery) scheme. Avon and Somerset Police, which operated a diversion scheme in some form in Bristol since 2016, has received a tenth of the £59m cash from the government's Adder pot to better fund its drug and alcohol services following deep cuts over the past decade, and therefore make its diversion scheme more viable.
The police recently celebrated Adder's second year anniversary by focusing the number of drug-related arrests since 2021. More than 1,000 people have been arrested for drug possession offences in the last two years, far more than between 2016 and 2021 when there were about 900 arrests.
There have been 861 out-of-court disposal orders for the offence which compel people to engage with drug treatment or education services since the force began a diversion scheme in 2016.
"From carrying out our Adder work, we've been able to work with various partners and charities to offer support and alternative pathways to prevent people from getting involved with drugs and drug-related crime," said inspector Tom Gent, who leads Project Adder. "Just from taking this more holistic approach, I hope that it demonstrates the caring side of policing as well as the side that seeks to disrupt perpetrators and criminals from acting in our area."
Across the 13 Project Adder trial sites in England, police say they have seized £10m in cash, made 25,000 arrests and pursued 7,500 criminal charges, with 9,000 out-of-court orders, which will have largely compelled people into treatment and education.
It appears conceivable that police, with more of a remit to pursue bigger players in the illegal drug trade and simply give a quick ticket to low-level transgressors, could be paying off.
But should people be punished at all for using drugs? "Adder schemes divert some people caught with drugs for their own use to support instead of prosecution," says Martin Powell, head of partnerships at Transform Drug Policy Foundation.
"We find near unanimous agreement, including from police, that its 'tough consequences' language and framing is counterproductive. By reinforcing the image of people who use drugs as criminals it drives them away from seeking help, and risks undermining public support for funding treatment."
Prime minister Rishi Sunak recently made headlines when he announced a "crackdown on drugs" that would include "strengthened police powers to stamp out illegal drugs in our communities by widening drug testing on criminals." Avon and Somerset confirmed it had already started mandatory testing of those who are arrested for crimes linked to drugs. "Last year 819 tests were carried out with 465 people offered support for drug and addiction treatment services," a spokesperson said.
To help avoid such a situation where someone who uses drugs is forced through a much-delayed revolving machine of proceedings that could end up in them being in an institution where access to drugs is easier than in public, the police is also providing art and creative writing opportunities, along with community work and training schemes, to provide a more stable and enriching life after drug dependency.
The idea is that if police can divert vulnerable people into treatment and help them recover from their addiction, rather than sending them to court, while using their free time to act on intelligence to disrupt the flow of drugs then the war on drugs can be won.
But campaigners say that despite the apparent progress, the measures are mostly futile in terms of stemming the rampant demand for drugs.
"The UK government's own evaluation of the drug strategy found that, despite spending £1.6 billion annually on the policing of drugs, it had little impact on availability," says Niamh Eastwood, executive director of Release, the UK's centre for drug information. "Whilst countries around the world move away from punitive drug policies, with some legalising and regulating cannabis, and others ending criminal sanctions for use and possession of all drugs, the UK seems determined to embrace the failed and damaging 'tough on drugs' approach."
Local criminal justice workers are also striving to help people who have a problematic relationship with drugs to get their lives back on track – including upon release from prison. A spokesperson for Developing Health and Independence (DHI), an organisation delivering part of the treatment plans, previously told the Cable: "We have a team of dedicated peers – someone who uses their own experience to help others going through similar situations – who offer a 'meet at the gate' service to support clients on release and accompany them to appointments."
But the government remains wedded to a bizarre mantra that invokes the UN's long-shelved plan to see a globe free of drugs. "Ridding streets of dangerous drugs is only one part of Project Adder," drugs minister Chris Philp said. If that was the aim, then surely evidence-based measures such as needle exchanges and drug consumption rooms would be championed — and not blocked for political reasons.
Philp added that Project Adder had helped 4,966 people in treatment for drug-use, while 7,672 opiate overdose reversal kits have been distributed to help keep people safer.
This year, new funds will have to be found to keep the schemes going as the central stream ends. Meanwhile people who use drugs across the country will continue to face a postcode lottery.