South Bristol shopping centre will be knocked down after planning councillors' shock U-turn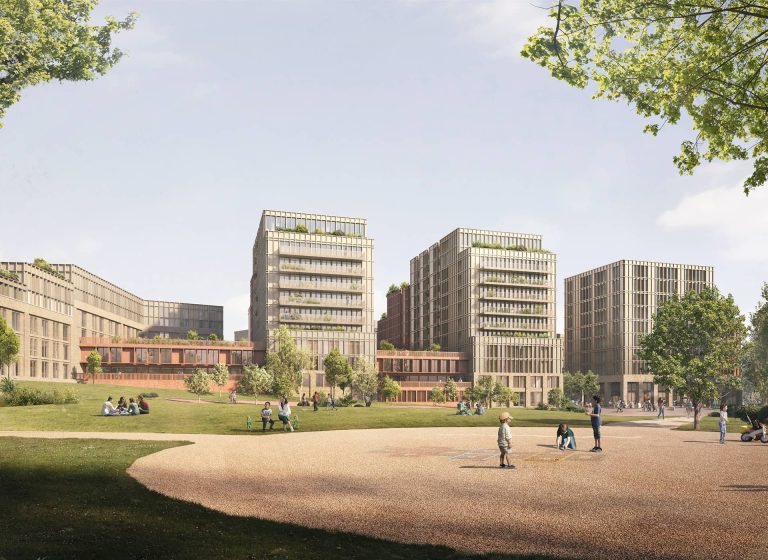 The Broadwalk Shopping Centre in Knowle will be knocked down and replaced with 850 homes after councillors made a shock U-turn.
Just a month ago, local politicians on a city planning committee voted to refuse permission to demolish the south Bristol shopping centre, which was built in the 1970s. But they have now changed their minds.
Developers want to demolish the centre and build a huge new mixed-use scheme on the Wells Road, known as Redcatch Quarter. Some buildings could reach 12 storeys tall, and the development would include a cinema and theatre, community space and a dentist.
The development control A committee at Bristol City Council voted to refuse permission in May after concerns about the lack of affordable housing and the high number of homes crammed into the dense site. But the same committee has now voted to grant permission.
The committee met on Wednesday 5 July, initially to ratify their previous refusal. But councillors heard developers pledges to increase the amount of affordable housing, with help from the government and housing associations.
Jonathan Lambert, from real estate consultancy Savills, said the developer had "committed to working with the council to secure a grant from Homes England [the government's housing and regeneration agency] to increase the [number] of affordable homes".
Extra affordable homes 'likely, not guaranteed'
The development control committee voted unanimously to refuse permission for the Redcatch Quarter on 31 May. This was because of concerns about how dense and tall the development replacing the Broadwalk Shopping Centre would be.
Another issue was that many homes would be 'single aspect', meaning they only have windows and daylight on one side. Such homes can also be harder to ventilate as draughts do not pass through as easily.
Additionally, only 80 homes – less than 10% of the scheme – were due to be classed as 'affordable housing'. Affordable homes can included those let at traditional social rents or pricier 'affordable' rents (up to 80% of market rates, although capped in Bristol to fall within housing benefit levels). The definition also includes shared ownership homes, where residents buy a share in their home from a housing association.
The Redcatch Quarter developers have now said that more of those affordable homes could be included. They would be paid for by a grant from Homes England as well as by housing associations, with Sovereign and Guinness being named as potential partners on the scheme.
These extra affordable homes would, however, be "likely, not guaranteed", according to council planning officers.
Richard Eddy, a Conservative councillor for Bishopsworth and chair of the committee, noted that another south Bristol shopping centre, St Catherine's Parade in Bedminster, had recently been called "the saddest shopping parade in Britain" by the Sun newspaper.
"My great fear was that actually Broadwalk would soon become the same," he added. "This mixed-use scheme is a clear opportunity to give certainty and provide the regeneration of the shopping centre with £200 million of investment."
Eddy said the scheme could generate more than 500 jobs. He added that if developers were to successfully appeal against a refusal to grant planning permission, this could mean Bristol City Council taking a big financial hit and the scheme still going ahead.
"The almost 10% [affordable housing] minimum offered by the applicant is lower than we would expect, but in view of the circumstances and the opportunities here, I think it's worthwhile," Eddy said. "And we've heard that three housing associations would work with the applicant to augment that further."
Quality of housing 'not particularly high'
Philippa Hulme, a Labour councillor for Horfield, added: "We think the planning balance has shifted more in favour, particularly taking into account the extant consent and that space standards are met.
She said living conditions at the proposed scheme would be "acceptable" despite the committee wishing that housing could be developed with less density and with fewer single-aspect homes.
"But the nature of this site would make that very difficult," Hulme added. "Many [local] businesses are desperate to have an improved site there to regenerate the area. Obviously the 9.8% [affordable housing] is not ideal and we really hope that the applicant would work very hard to increase the proportion greatly."
Not all councillors on the committee were in favour of approving the plans though.
Labour and the Conservatives appeared to change their mind, while Greens and the Liberal Democrat councillor on the committee said they would still prefer to refuse permission for the plans.
Fi Hance, a Green councillor for Redland, said she was "bewildered" and "astounded" by her colleagues' U-turn.
"This was a unanimous decision we all came to at the last meeting," she said. "Nothing has changed with this application that I'm aware of."
The said the original refusal had been based on the over-density of the site, and on council planning policy. "That hasn't changed," Hance said.
"My heart goes out not only to the people living around this site, but also those living within it," she added. "Because the quality of housing is not particularly high, it's very limited, it's a lot of single-aspect housing and it's also quite small."
'A stitch-up'
Commenting on Twitter, fellow Green committee member Tom Hathway (Clifton Down) denounced the decision as an "unbelievable stitch-up".
"If the chair wanted to reopen the debate that's fine," Hathway added. "But don't tell us and [the] public that it's a session looking at grounds for refusal and only group leads will speak on them, then seek to overturn a unanimous decision."
Local campaigners were also furious with the planning committee's actions.
Speaking to the BBC, Laura Chapman, from the Knowle Neighbourhood Planning Group, said: "We are furious at this total and utter subversion of democracy. The community has been sidelined, and a democratic decision has been trampled over, for reasons that are not yet clear – but which do appear deeply undemocratic."
Voting in favour of granting permission for the Redcatch Quarter were Eddy, Hulme and Labour councillors Farah Hussain (Central ward) and Chris Jackson (Filwood).
Voting against were Greens Hance, Hathway, Ed Plowden (Windmill Hill), and Liberal Democrat Andrew Varney (Brislington West).
Conservative John Geater (Avonmouth and Lawrence Weston) abstained. As the vote was tied, Eddy used his casting vote as chair in favour.