St Pauls campaigners continue battle to bring dental care back to closed practice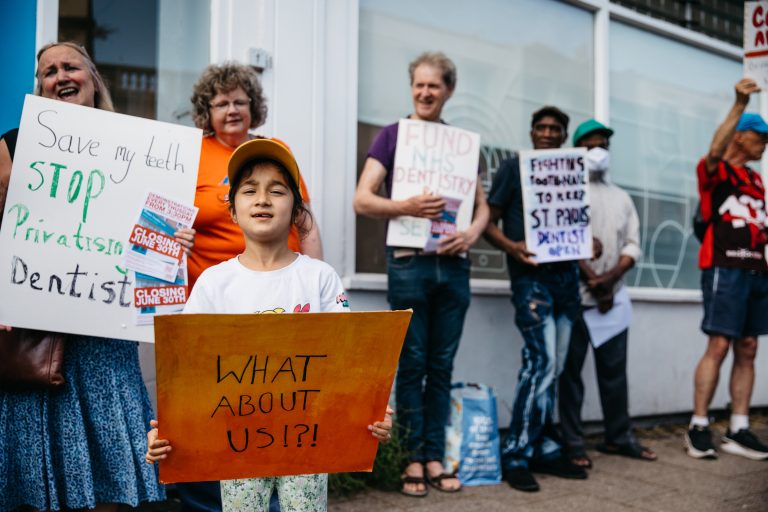 Campaigners who fought for months this spring to save NHS dental care in St Pauls are still hopeful services can return to the community, after BUPA closed its practice on Ashley Road.
The longstanding dentists' surgery shut its doors at 4pm on 30 June, with local residents gathering outside dressed in black to mourn the passing of local affordable care.
The St Pauls dentists' closure – which BUPA has blamed on recruitment problems making it unable to fulfil its contract with the NHS – is forcing around 7,000 people to look for an alternative service. That's no easy task, with NHS dental care in crisis nationally and the Bristol area facing one of the most acute shortages.
The campaign group – which now has a website setting out how people can get involved – says it will continue to put pressure on the local integrated care board (ICB), the NHS body responsible for ensuring dental health needs are met, to find a new taker for the contract BUPA gave up.
But members say the ICB – in particular Dave Jarrett, its director of integrated and primary care – has also expressed willingness to work in partnership to explore whether an alternative arrangement can be co-produced that would enable the surgery to reopen.
'We need to address health inequalities'
Potentially, this could mean something other than another contract with a private health company.
While it is very early days, campaigners are having conversations with organisations elsewhere in the UK that have developed new models of delivering healthcare – such as WellBN in Brighton, which provides GP services and complementary therapies under one roof.
"Dental care is often a firefighting exercise," said Khalil 'Avi' Betz-Heinemann, one of several members of the campaign group who has experience working in public health. "There is a moment here to try to expand on that – which seems to be the avenue that ICB are interested in – to try and address wider health inequalities at the same time.
"That could be a way to bring in extra partners and funding as well," he added.
Highlighting and tackling health inequalities, which look set to worsen with the closure of the practice, is at the forefront of campaigners' minds.
Gaye Herford, the last full-time NHS dentist at the St Pauls surgery, told the Cable in June that she had grave concerns about the impact of its closure, especially on children and older people.
"So many older people have gum disease, especially in Afro-Caribbean and different Asian communities, in areas of deprivation it's higher – it's a complex thing," she said.
People still finding out they don't have a dentist
The scale of Bristol's dental care crisis was made clear by the dozens of people, many of whom are affected by the BUPA St Pauls practice shutting down, who responded to a recent online callout by the Cable.
One person said they had gone as far as clamping pliers on their teeth to see how painful a DIY extraction might be. Many others recounted having to travel miles out of Bristol to see an NHS dentist, or to spend savings on expensive private care.
Amirah Cole, a Labour councillor for Ashley, who has been involved in the campaign to save the St Pauls dentist, told the Cable she had been speaking to local residents who had not even been aware they no longer had a dentist.
"My concern as always will be about the people who do not have dental care now those doors are closed," she said.
Cole has tabled a motion relating to the closure for the full council meeting this Tuesday, 11 July. It asks the council to call on the ICB to ensure affected patients are offered alternative provision and to take steps to procure more dentists in the area.
'Positive meeting'
Contacted by the Cable for an update, the ICB would not comment directly on its openness to exploring new models of care. It directed us to a statement published on 30 June acknowledging that it had had a "positive meeting with the St Pauls Dentist Action Group".
"We are working with a range of partners to try to identify an alternative provider for the local community," a spokesperson for the ICB said. "Discussions are ongoing and we will share further updates as soon as they are available."
The meeting, which also included representatives from BUPA and Sovereign Housing Association, the owner of the building where the St Pauls practice has been based, produced some progress.
Campaigners had feared that equipment from the surgery could be quickly removed, making it much less likely the premises could return to providing dental care.
But they were told BUPA's tenancy agreement on the premises will continue until 2024 and that the organisation will continue to service the equipment there. This means that if an alternative arrangement can be found, the surgery could in theory reopen quickly.
BUPA confirmed in a statement that it had "no immediate plans" to remove equipment from the practice.
"When a new provider is appointed by the ICB to deliver the NHS contract, we are willing to transfer ownership of fixed dental equipment so they can continue access to NHS dental services for the community," BUPA's spokesperson said.
Members of the campaign group also said Sovereign had made positive comments about providing direct support to any new dental care service in the building. They said they would be seeking clarity from the housing association about exactly what this might entail.
A Sovereign spokesperson said: "The health and wellbeing of our communities is hugely important, so we have offered our support to the NHS integrated care board as they seek a dentist to serve St Pauls."