How the Help to Buy scheme became a massive hindrance to my family moving house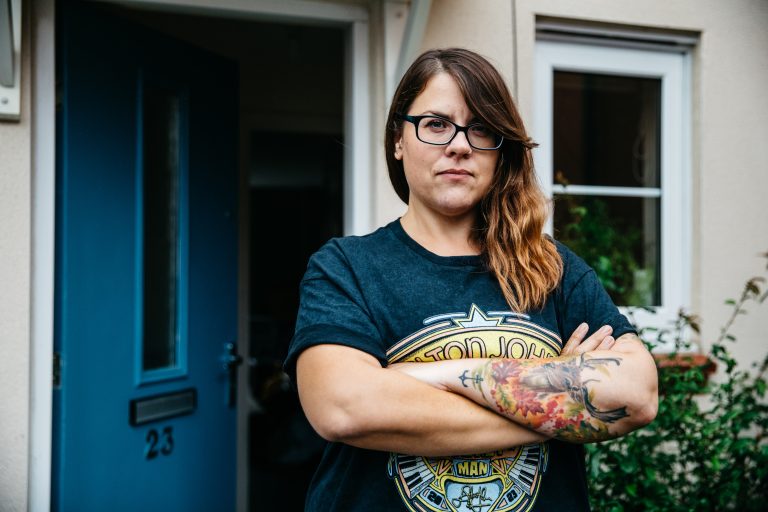 Growing up as one of three children in a working class single-parent family, the ups and downs of the housing market were on my radar from a young age.
Hit hard by the 80s recession, my mum found herself working all hours to pay an extortionate mortgage on a house in negative equity. We watched nervously as school friends had their homes repossessed and found themselves in temporary accommodation – and knew we were just a few pay cheques away from a similar fate.
We had no family money behind us and I never took for granted that I'd be able to one day afford my own home. But, thanks to my mum's determination to get her kids a good education, I became the first member of my family to go to university, becoming a journalist and opening up career options – or so I thought.
Entering journalism in the late 00s as newspapers started to fold meant that within five years, I was made redundant and became a freelancer with no guaranteed income and any aspirations of homeownership fading fast.
My partner, who'd retrained from journalist to teacher, and I moved into a cheap studio flat in Ashley Down and tried not to touch my modest redundancy pay. A few years later though, we'd managed to save enough for a 5% deposit and were enticed by the government's First Buy scheme, following a hard sell from the Bovis sales team when we went to look at some new builds in Horfield.
A foot on the housing ladder
Bristol is awash with new build developments. Companies like Bovis have been keen to shift this often overpriced stock through government-funded initiatives such as First Buy and its successor, Help to Buy.
The government and developer lend you 20% towards your deposit, which is interest free for five years, then you just pay the interest. You repay the loan in full at any point within the 25 year term.
It was pegged as an affordable way to get on the housing ladder, an answer to first-time buyers' woes. We went for it and moved into a new-build home in St George in 2012, where we started our family and settled down.
After five years, the equity loan interest kicked in, starting at around £55 a month, before the debt was sold to a Luxembourg-based equity company and our monthly payments rose to almost £75.
After five years we decided we'd best try and repay the loan in full. With valuations, solicitor fees and the Help to Buy admin fee, it cost us £1,500 to get the paperwork before repaying a penny of the loan.
We sourced the £55,000 (£15,000 more than we borrowed) by remortgaging, which almost doubled our monthly payments, pushing us to the edge of what we could afford. It became clear that Help to Buy merely shifted unaffordable debt further down the road and was not the golden egg it had been sold to us as.
Admin errors put house moves at risk
Unfortunately though, this was just the beginning of our problems.
Fast forward a year, and we needed to sell our Bristol home to relocate 100 miles away to Bournemouth to support my disabled mum. My neighbours had warned that Help to Buy added months onto their house sale timeline, so I was thankful we'd paid our loan off before putting our house on the market.
It made no difference. We put our house on the market at Easter to allow enough time to relocate before our children started their new school in September and my primary teacher husband began his new job. After selling our house and having an offer accepted on our dream home in May, all was looking good for a move in the summer holidays.
But then, our solicitor told us there was still a Help to Buy charge on our home's Land Registry title deed, meaning we could not sell. This was an error – it should have been removed when we repaid the loan. An easy fix, surely?
Sadly not. We found ourselves caught in a chaotic situation in which the government had changed administrators of the Help to Buy scheme, with its partner Target HCA handing over to another private firm, Lenvi, in early 2023.
We found ourselves unable to get through to the helpline – repeatedly put on hold for an hour then cut off. After a total of 13 hours, I spoke to someone who couldn't find me on the system because I was no longer a Help to Buy customer.
I emailed 20+ times with no response, so kept calling, and holding, and getting nowhere. I contacted my MP who wrote to the housing minister who said… keep calling and emailing Help to Buy.
A quick online search revealed that hundreds of others were being impacted by these delays – buyers and sellers were pulling out because of the delays, mortgage offers expiring suddenly rendering repaying the loan unaffordable as interest rates rose.
Helpless homeowners took to social media to try to get answers. Some commented that they were close to killing themselves as a result of this stress, with Help to Buy's tone-deaf social media team responding with the Samaritans helpline number.
My solicitor told me she was dealing with 20 clients in a similar position and was also getting nowhere, but diligently resent the forms she'd already submitted twice to try to get us moving. Still, no progress.
The power of social media
It was only when I penned a desperate post on LinkedIn about the situation on what was supposed to be our moving day that I got anywhere. Lenvi's chief executive spotted my post and I messaged him asking for help. He gave me his email address and the matter was escalated, the correct forms submitted to the Land Registry and the charge finally removed.
Unfortunately, it has taken so long that we have been unable to move during the school holidays. We have moved all of our stuff into storage and are now facing five of us living in my mum's one-bedroom house until the paperwork is sorted. All the while our new home, and our old one, sit empty.
Despite the Land Registry sending a letter last September, confirming the charges had been removed (when they hadn't) and then eventually resending the same letter again this month after our solicitor resent paperwork for the third time, a spokesperson told the Cable they were not aware of any Help to Buy errors and processed requests immediately.
A spokesperson for the government's housing agency, Homes England said: "We apologise to customers who have experienced long response times during a period of very high demand. We are in constant contact with our supplier and seeing considerable progress, with extra staff and extended working hours taking effect and wait times now considerably reduced."
I'm very grateful my situation has now been resolved and hopeful that our sale and purchase won't fall through. But it really shouldn't have taken me posting on social media to get the help I needed.
The stress of the whole process has taken a toll on my family – and I'm very conscious that others are still in the midst of this Help to Buy hell, without the ability to jump the queue with a tactical tweet.