Urban growers are quietly laying the ground for a food revolution. Can it become a reality?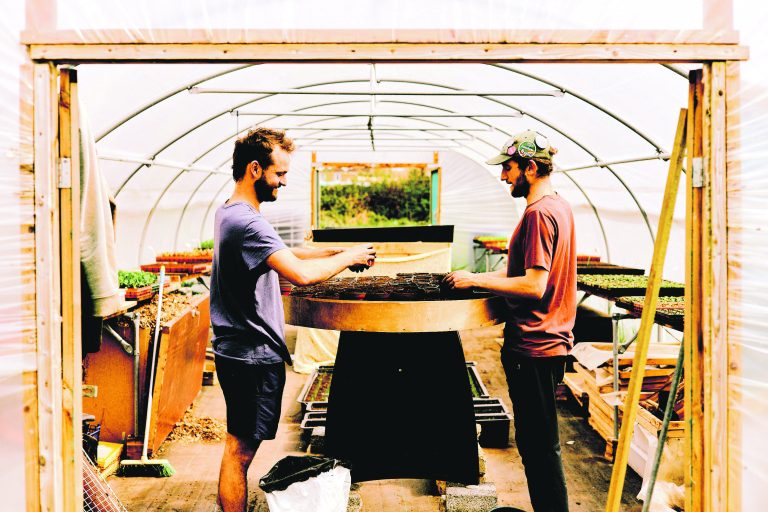 On Bristol's southern fringes, home to some of the city's poorest communities, a rough track leads into what appears to be an abandoned wasteland, covered with mounds of tangled brambles and a giant pile of rubbish.
This is perhaps the last place you'd expect to find clues about how to make the city's food system more resilient to climate breakdown. But in fact it is home to a model-breaking urban growing project: Lush Greens.
"This is an indication of what can be done on a relatively small piece of unloved land," says one of the main growers, Jimmy Thompson, 30, taking shelter in the shade after an exhausting morning picking and packing in the early summer heat. "Once upon a time Bristol would have been served by market gardens and it can be again. I'm not claiming this type of growing will feed everyone, but it is definitely part of the answer."
The non-profit market garden, which has rented the land from the council since 2020, has for the first time started providing affordable boxes of vegetables to local people in Whitchurch on a pay-what-you-can basis (with guidelines prices ranging from £6.50 for those on a lower income to £9.75 for middle incomes – which is how much it costs to produce – and £19.50 for those on a higher income). It also supplies four food banks catering for hundreds of people across the city unable to afford surging food costs.
These results are based on the harvest from a single site. So could expanding urban growing provide a more secure, affordable, and sustainable way of producing some of the food Bristol needs? And what would need to happen to make that process a reality?
Long supply chains
Beetroots, cabbages, and sugar snap peas line the hand-weeded soil at the Lush Greens site, which is never ploughed to enable it to hold more carbon and water. The other main grower, Olly Jamieson, 28, explains the garden is run on agroecological principles, which means trying to minimise the impact of farming on nature, wildlife, and the climate.
"We are not using synthetically produced fertilisers, pesticides, and herbicides on these peas," he says, picking a handful of waxy pods. "We are not driving them in a fossil fuel-burning van to a depot and then flying them around the world. We are not refrigerating them for ages. There is a dramatic difference between the fossil fuel intensity of our peas and most peas sold in supermarkets [which tend to be grown in Kenya]."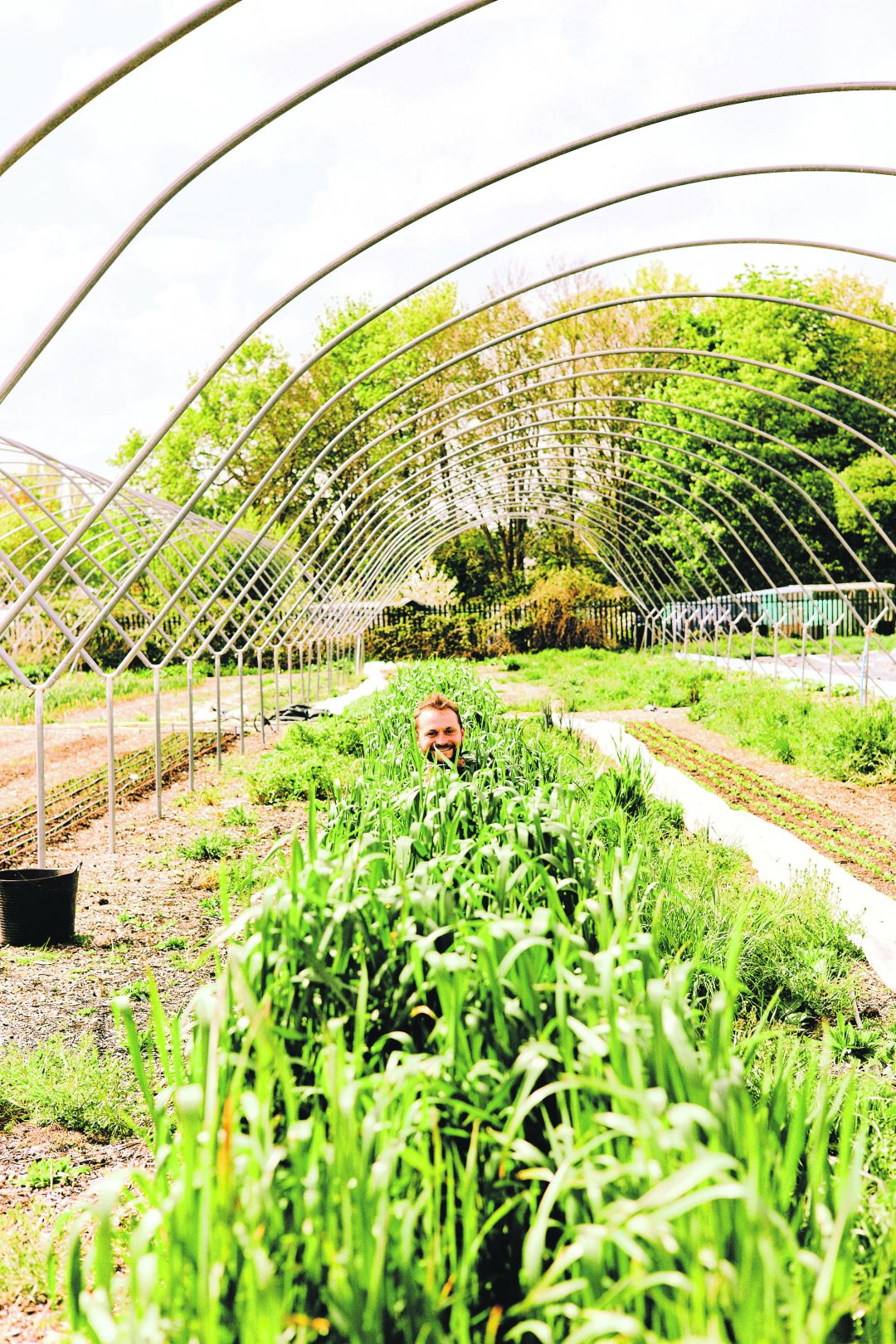 The kinds of long supply chains he's referring to, sometimes spanning multiple continents, are not only fossil fuel guzzling. They also leave food systems vulnerable to sudden, external shocks. Over the last few years, droughts, heatwaves, Covid-driven shortages, and wars have led to gaps on supermarket shelves and price hikes in the UK.
In April, tomatoes, cucumbers, and peppers ran out in lots of stores when harvesting was disrupted by soaring temperatures in the southern Spanish regions, which provide so much of our salad veg. Such extreme weather events are becoming more common as the planet heats – and models indicate they will eventually become the new normal, with some economists suggesting climate change-driven food inflation is here to stay.
In Bristol, there were 96 active growing sites as of 2021. These include 11 market gardens, where fruit and vegetables are grown on a small scale, eight city farms, which grow crops and keep animals, and 75 community projects, where grassroots groups create growing spaces in places like parks and streets. There are also around 4,500 council allotments.
While these urban growers' overall contribution is relatively small, new research suggests the potential is considerable. One major study by Lancaster and Liverpool Universities last year found that 26 towns and cities across the UK, including Bristol, could produce enough fruit and vegetables from their urban green spaces to meet the dietary needs of their local populations.
'The barrier is the lack of land'
Steph Wetherell, the coordinator of Bristol Food Producers, which represents lots of small agroecological farms in and around Bristol, says local producers gave a glimpse of this potential when supermarkets struggled to fill their shelves during the pandemic.
"The Community Farm on the edges of the city was able to double the number of veg boxes they supplied really quickly because they have a much smaller, shorter supply chain, where they source what they grow from," she says. "There is certain resilience when you're not relying on massive, cross-continental supply chains."
Yet there are few opportunities for budding market gardeners keen to develop sustainable ways of producing food. "The barrier is the lack of land," says Wetherell. "Bristol City Council is probably the biggest landowner but [in the past] it has not put enough resources into managing that land well."
Nearly 100 groups have contacted Bristol Food Producers in search of farming plots in the last six years but only seven have actually gone on to secure land in the city. "It's really pathetic," Wetherell says. "It shouldn't be so hard to become a farmer."
Some of the city's finest growing land, which used to be the centre of its old market gardening quarter, can be found alongside the M32. Much of it is council owned.
"That land used to feed Bristol," says Wetherall. "It is grade-one agricultural land. It should be used to grow fruit and vegetables for the city, but there are tenants sitting on parcels of land… hoping to get a payout if it gets developed or just not utilising it."
'Edible gardens'
Other urban growers are taking matters into their own hands and transforming neglected parts of the city into community gardens and orchards, where everyone is welcome to grow and pick fruit and veg. Edible Bristol, a charity that supports growers in marginalised and poor areas, has helped around 60 groups create edible gardens, including in Hartcliffe, Avonmouth, and Lawrence Weston, since it was founded in 2014. 
"There are some [gardens] that were just corners of roads full of rubbish: old boots and used nappies," says horticulturist Sara Venn, one of the charity's founders. "There are a few bits of parks, some railway station platforms – and a huge garden in the middle of Millennium Square."
Land ownership is an issue for community groups too. Sometimes they have to take direct action because the owner cannot be identified: at least seven gardens in the city have been created without permission. "The easiest way to find out [who owns land] is to do something," adds Venn. "They'll get in touch if they're not happy."
These neighbourhood growing spaces could prove vital in a hotter world. "Climate breakdown is upon us," says Venn. "We are reaching a point where all sorts of systems are going to start failing.
"We know from Covid, that the food distribution system will be one of the first," she continues. "We need to create shorter food systems with minimum links in them."
'We need positive discrimination on allotments'
Allotments, where individuals grow their own food on small plots, are another source of seasonal fruit and veg, with almost no distance between farm and fork. But there are nowhere near enough to go around – and people who could benefit most from fresh produce have the least access.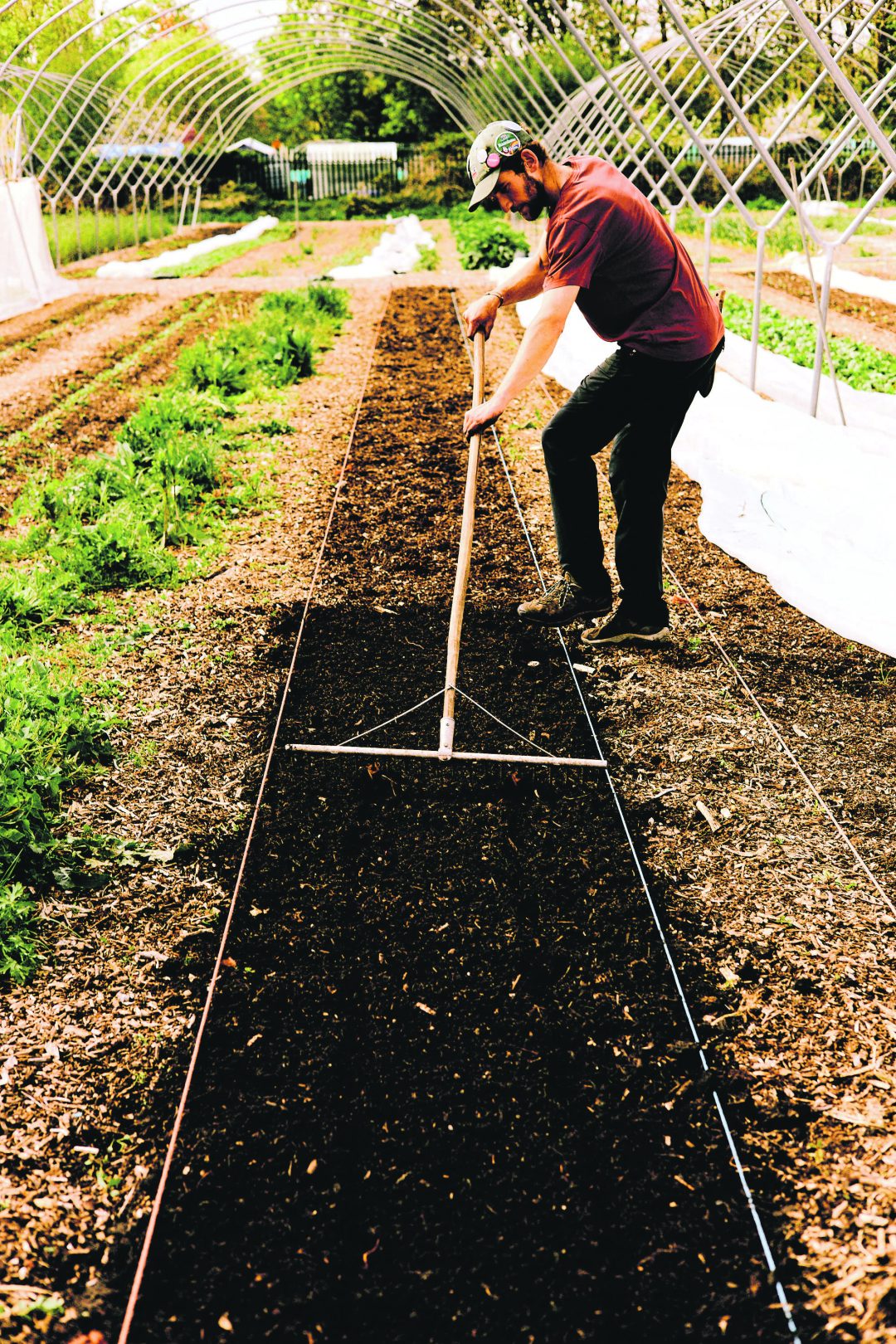 One recent study found 10 urban areas, including Bristol, had lost 65% of their allotment space between 1960 and 2016, with the most deprived areas seeing eight times more allotment closures than the wealthiest areas. There are currently around 6,000 people waiting for allotments in Bristol.
A dearth of growing land can have knock-on consequences for people's health. Surveys show people living in poorer parts of the city are far less likely to get enough fruit and veg to meet their nutritional needs. Black Bristolians are half as likely to visit green spaces – something an allotment obviously offers – as white Bristolians.
Some are pushing the council to take urgent action to right these wrongs. Ped Asgarian, the director of Feeding Bristol, who used to run the Community Farm in the Chew Valley, believes the council's allotment waiting list rules should be rewritten.
"When it comes to allocating allotment spaces, we need positive discrimination – it shouldn't be first come, first served," he says. "We need to ensure those who are most impacted by food insecurity and poverty are given access to land first."
There will also need to be more land made available – otherwise, it will be impossible to scale up urban food production. Both Venn and Wetherell understand there are many competing demands on precious city space, especially the need to build genuinely affordable homes. "We need more housing," says Venn, who had to move to Chepstow because she couldn't afford to rent in Bristol. "But we also need to make sure people don't end up hungry."
'Tough decisions lie ahead'
The council appears to be alive to the threats to the city's food system. It has taken on a new smallholding and allotment manager after the job was cut in the post-2010 austerity drive. The city's new food framework, Bristol Good Food 2030, which was published in June, commits the council to using more of its own land for food production by 2030.
Officials will this year start identifying and allocating available land to growers. The council also says it is committed to protecting the best agricultural land through the planning system by 2027.
Growers are pleased with the plan, but know the real test will come when a new generation of enthusiastic, regenerative farmers and community groups request land. "In the last year, there has been a radical shift," notes Weatherall. "They are now moving in the right direction."
Ellie King, the cabinet member responsible for developing the Good Food framework, along with a new plan to tackle food inequality, wants Bristol to provide more food-growing sites, with the council aiming for substantially more of its land to be used for growing by 2030.
"We have lots of overgrown plots not being used… for food growing," she says, adding that other land is tenanted out for horse grazing, which is "not the best use" for it. "So there are lots of opportunities to better utilise the land we already have… and also for community growing."
But King stresses the council is grappling with a range of demands. "We want to manage land for nature. We have our tree canopy aspirations. We have our food-growing aspirations. Our green space is also used for recreation and playgrounds – so there are competing priorities we have to balance."
Officials are now mapping land in the city, to identify new growing sites. King says difficult decisions lay ahead about how, say, football fields or wildflower meadows are used. "It is about finding identifiable bits of land, proposing what they could be used for, hearing back from local people, and then taking decisions. Not all will be easy – some will upset people."
The council's new food equality action plan, meanwhile, promises that communities at risk of food inequality and people that don't have access to garden space will be prioritised for allotments.
There will also be a pilot of low-cost, locally-grown fruit and vegetable boxes for low-income households in the city. Initially, the produce will come from the Community Farm in the Chew Valley but the pilot will be expanded if successful.
'This is a nurturing place'
Back in Whitchurch, more volunteers have arrived to help Jamieson and Thompson pack the salad bags destined for food banks and veg boxes. In the welcome cool of a packing shed, three types of green and purple leaves are mixed in a bath, before being bagged up.
Ewa Woronowicz, 63, a Whitchurch resident of 15 years who lives nearby with her husband, says the community is behind the scheme. "In my experience, people are delighted," she says, taking a break. "We are glad something good is coming out of this patch of land.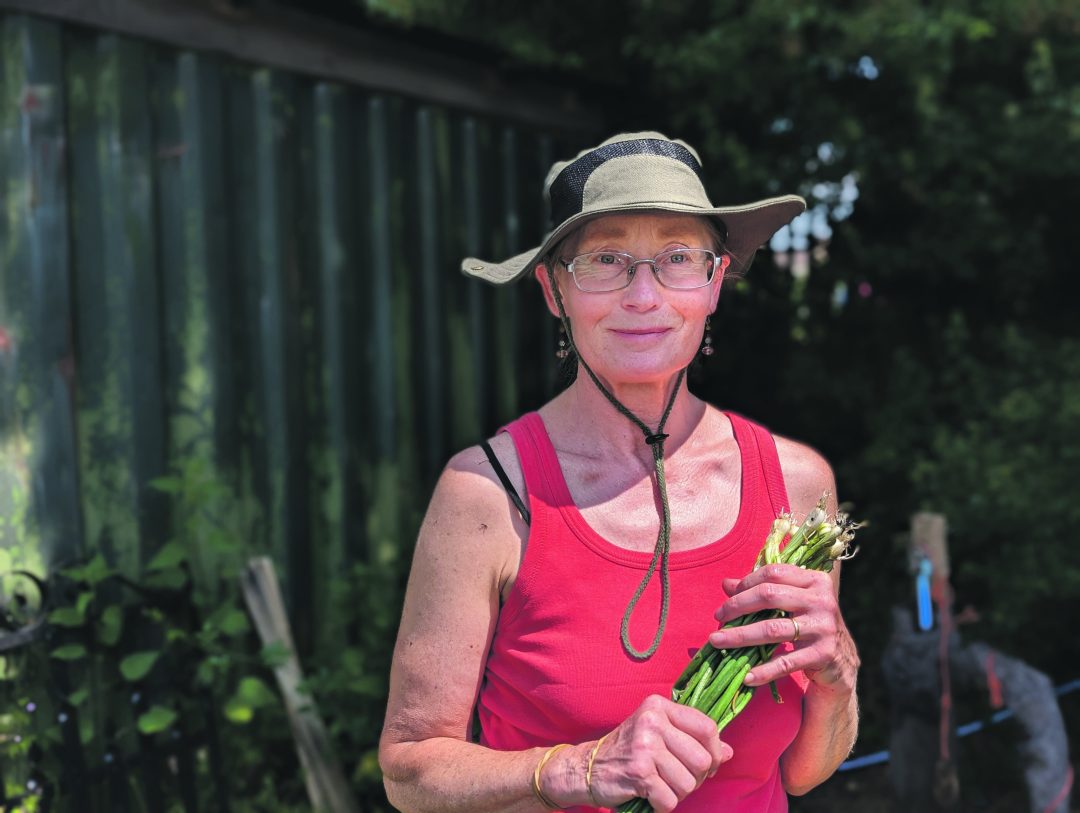 "I like working with the earth and seeing things grow," adds Woronowicz, who volunteers once a week. "It is a nurturing place. It is joyous."
She has been cooking with her share of the veg all winter long and preserving what she does not eat immediately. "I would love this [garden] to grow and prosper, and really become something for the benefit of the people and the earth," she says.
The garden is a haven for wildlife as much as people. There are badgers, foxes and hedgehogs living on the site. There are also bats and lots of birds feeding off the bugs in the beds. In contrast with intensive agriculture that is damaging soil quality and threatening food production, Lush Greens is also keen to preserve the wildlife below ground.
After everyone stops working to share a chilli made with broad beans and chard from the garden, Jimmy has a moment to reflect on what has brought him to this point: "I've been involved in lots of social justice and environmental justice activism but it was all about resisting things… where this is about prefiguring a different kind of world."
He knows this is just one modest patch of cultivation on the edge of Bristol, but he sees it as part of a movement seeking to reinvent farming. "This is small… but if lots of people get the chance to do this then all of a sudden it is productive and resilient," he says.