Healing is a justice issue: how can we radicalise the voluntary sector, amid a perfect storm of cuts?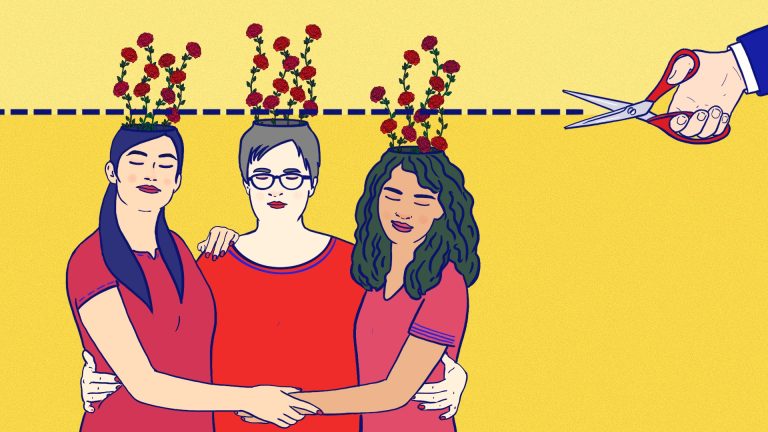 On a hot early summer's day I attended the closing celebration of Peony, a therapeutic service for women who have experienced complex trauma provided by women's charity One25, where I was privileged to work for many years. 
The phrase 'closing celebration' might sound like an oxymoron, but it represents the fundamental reason for the service's existence – promoting access to healing, joy, and connection. For what is the point of healing if it's not to access joy?
Even so, the reality is that One25, a cherished Bristol charity, has had to reduce its services this year as falling income and harsh operating conditions reduced its reserves to critical levels. In June the cuts included a drop-in for women who street-sex work and Peony, which since 2018 had offered a holistic programme of activities and groups for women beginning journeys of recovery.
In the last few weeks, the Pause project, which supports women who have had multiple children removed from their care, has also ended.
The experience of trauma is a widespread public health issue. The Mental Health Foundation highlights that one in three adults in England report having experienced at least one traumatic event.
Women who street sex work are at the extreme end of these experiences and experience multiple forms of trauma throughout their lives. These experiences are compounded by a hostile benefits system that is set up to distrust people, and the criminalisation of drugs and sex work that pushes women to the margins of society and safety.
At the same time, the voluntary sector has faced what has been described as a "perfect storm" of threats: years of austerity, a cost of living crisis (meaning increased organisational costs and a reduction in donations), and consistently growing demand. The brief injection of funding during the pandemic has been clawed back again.
In March the government announced £100 million of funding for charities as part of the spring budget. However, as Caron Bradshaw, chief executive of the Charity Finance Group said at the time, "Very little has been announced today that will fix the gross underfunding and under-resourcing of public services and local government".
The American academic and activist Ruth Wilson Gilmore has conceptualised the deprioritisation of caring for others as "organised abandonment" – in other words, the state and its policies are structured to abandon the most vulnerable communities.
The projects that have now closed stood in direct opposition to this process. It is difficult to emphasise enough that when it comes to recovery from trauma, it is not enough to just be concerned with people's 'basic needs' such as food, shelter, and physical safety.
One25's projects were designed with an understanding that meeting other needs are crucial to challenging the 'organised abandonment' in our current society. When women walked through the door they were given practical support, but we also said to them with our words and actions – we are here to hold your anger and tears, we want to know what you feel curious about, what music you love to dance to, and we want you to know you are loved.
Thinking beyond basic needs
For those who have accessed support services and/or have worked in them, it comes as no surprise that it is the services that provide long-term support and healing work get cut first.
Of course, when we live in a time of funding scarcity, charities are forced to provide services that meet people's basic needs first. But the very fact that we see services that provide long-term healing and joy as non-essential demonstrates exactly what is broken about the system.
Writing and reading poems was one of the many joyous activities that we had in Peony, and it's only fit that I use the words of Kae Tempest when considering human needs:
"I understand what humans need… is access to secure affordable housing, safe and fair working conditions, healthcare, readily available fresh, non-toxic food and water, an environment for families to grow up in that is not violent, dangerous or traumatic. But it is also my understanding that, right beside these basic requirements, humans have always needed – and will alway need – to play, to create, to reflect and release."
If we are simply firefighting crises and supporting people who have experienced significant trauma and harm to stay 'alive', then the voluntary sector is doing nothing but propping up a system that will continue reproducing cycles of harm and violence. We are maintaining a revolving door in which people continue passing in and out of services as we have neither addressed the systemic inequalities that create violence and harm, nor sufficiently invested in infrastructures and services that enable people to recover, and ultimately thrive.
Access to healing and joy is not a nicety – it's an issue of social justice, of healing justice. Prioritising this work not only makes common sense but it also paves the way for alternative realities where we no longer abandon people who have experienced significant violence.
Taking strength
It can become too easy to be beaten down by the relentless cycle of it all. But as I left the closing celebration, I spotted a quote on the wall, a reminder from Angela Davis: "You have to act as if it were possible to radically transform the world and you have to do it all the time."
This takes imagination and creativity that can be so much harder to do in our current voluntary sector culture of firefighting. However there are many beautiful examples and inspirations out there to take strength from (see box).
One25 will continue to deliver some critical services, including a daily van outreach service for women who street sex work. The charity's night outreach has seen a 44% increase in the number of women accessing the service compared with last year.
The laws of physics tell us that energy never dies, it disperses – and the connections and experiences made in the projects that have been closed will no doubt continue to feed new possibilities. As we face the gravity of it all, I hope we can also make space to re-imagine new ways we can care for one another.