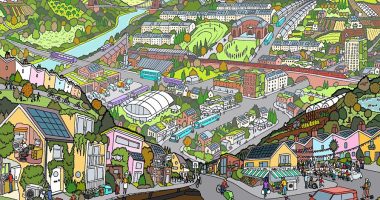 A Just Transition for Bristol at Trinity
13/06/23
12:45 - 19:00
FREE
More details: https://www.eventbrite.co.uk/e/a-just-transition-for-bristol-a-partnership-gathering-tickets-617625433297
---
Could the transition to net zero be a once in a generation opportunity to tackle systemic inequalities and improve the quality of life for people locally and globally?
The importance of a 'just transition' is increasingly gaining traction. It recognises that climate action and social justice are interlinked and need to be tackled together. As Bristol, the UK and the world continues to decarbonise, efforts must be made to ensure this happens in a way that improves rather than worsens existing inequalities.
Bristol Green Capital are hosting a gathering on 13 June at the Trinity Centre to hold a city conversation about just transition – what it means for Bristol, it's residents and organisations; why it's important, what's happening already and what change is needed. Our keynote speaker will give an overview of a just transition, and the audience will hear from speakers on a range of topics including green jobs, energy, disability, race, business and participation.
There will also be the opportunity to have discussions in small groups in addition to some creative contributions on the theme of just transition from local artists. All are welcome and it's free to attend but spaces are limited so do reserve your place.
After the main event has finished at 5pm we welcome you to stay until 7pm to for drinks, light snacks and to continue conversations.