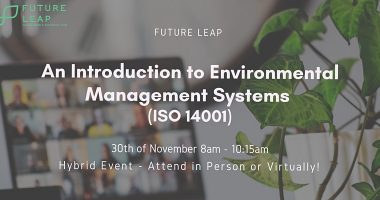 An Introduction to Environmental Management Systems (ISO 14001)
30/11/21
08:00 - 10:15
£5.06 – £25.20
More details: https://www.eventbrite.co.uk/e/an-introduction-to-environmental-management-systems-iso-14001-tickets-157054294623
---
Climate crisis. Interlocked ecological crisis. Is your business part of the problem or part of the solution?
You have probably already put measures in place – recycling waste materials, operating smaller vehicles, even turning down the heating. But how do they add up? Do they make any real difference? Can you even measure how you are doing…whether it all adds up to a business cost or saving?
You will never know until you have a system to coordinate your actions. That is what an environmental management system (EMS) is, what it does, and what it is for. It pieces together lots of small actions and shows the bigger picture and overall numbers. It isn't difficult, it needn't be expensive – it just takes coordination.
If you a B2B business and would like to understand EMS, come along to this hybrid business breakfast with expert speakers from Future Leap, Cala Sustain and University West of England to find out more.
Expect informative talks, valuable networking opportunities and inspiring discussions to further support your ability to discover, collaborate and innovate.
Louise Hart, Environment Officer at University West of England, will be looking at where ISO 14001 sits within the organisation and evolution of the system. She will also outline their lessons learned from the process, including:
The ability to explain the purpose of an EMS
The scope can grow
Interpretability
Audits can be vehicles for change and build relationships
How measuring performance allows for enhanced management
Richard Bromley, Co-Founder and Director, Carbon Lens Ltd will be explaining what ISO 14001 is, as an internationally recognised environmental standard that introduces good environmental practice and reduces our risk of damaging the environment.
What do we have to do?
— Ensure top management commitment
— Define the scope of the system
— Publish an environmental policy statement
— Identify relevant needs and expectations of interested parties
— Check and measure our current environmental performance (Environmental Aspects)
— Meet legal requirements
— Set objectives
— Continually improve the system
Mark Hedges, Founder, Cala Sustain
The implementation essentials, common challenges and opportunities:An Environmental Management System (EMS) is multi-faceted but what are the key areas for focus?How do the key elements of an EMS interact?What are the common challenges and pitfalls for implementation and ongoing management?Why implement and EMS? – an exploration of some of the benefits and opportunities
Agenda
08:00 – 08:20 – Registration, Refreshments and Networking [Plus Virtual Attendees Networking Session]
08:20 – 08:30 – Event Introduction
08:30 – 08:40 – Richard Bromley, Carbon Lens – An introduction to ISO 14001
08:40 – 08:50 – Q&A
08:50 – 09:05 – Mark Hedges, Cala Sustain – The implementation essentials, common challenges and opportunities
09:05 – 09:15 – Q&A
09:15 – 09:30 – Louise Hart, University West of England – Case Study
09:30 – 09:40 – Q&A
09:40 – 09:45 – 60 Second Pitches
09:45 – 09:50 – Close
09:50 – 10:15 – Networking & Nibbles [Plus Virtual Attendees Networking Session]