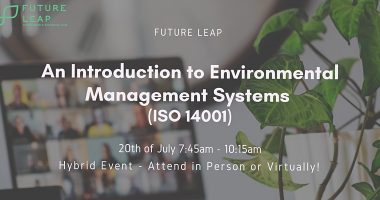 An Introduction to Environmental Management Systems (ISO 14001)
20/07/21
07:45 - 10:15
£5.06 – £24
More details: https://www.eventbrite.co.uk/e/an-introduction-to-environmental-management-systems-iso-14001-tickets-157054294623
---
About this event
Are you a B2B business?
Are you looking to understand environmental management systems (EMS) or ISO14001 but would like to know more first?
Preventing companies from causing negative environmental impacts is one of the most important challenges facing businesses today. One of the biggest benefits of implementing an EMS is the recognition that comes with being among those businesses that care to reduce their environmental footprint. This can bring better relationships with customers, the public, and the community at large for your company, and it can also save you money.
An EMS is comprised of the policies, processes, plans, practices and records that define the rules governing how your company interacts with the environment. ISO 14001 has become the international standard for designing and implementing an environmental management system.
There is a stable trend of businesses becoming ISO 14001 certified. But is the process right for you? Come along to this hybrid business breakfast with expert speakers from Future Leap, Cala Sustain and University West of England to find out more.
Expect informative talks, valuable networking opportunities and inspiring discussions to further support your ability to discover, collaborate and innovate.
More information and speakers to be announced.
Government guideline and pandemic dependent, this event will take place physically and virtually. Both options offer the full event experience, including networking, Q&A and our famous 60 second pitches. Virtual attendees will need to B-Y-O-Breakfast!
If you purchase a physical ticket but the event is moved fully online, you can choose to have your ticket fully refunded or attend virtually with a partial-refund.
Agenda
07:45 – 08:10 – Registration, Refreshments and Networking [Plus Virtual Attendees Networking Session]
08:10 – 08:20 – Event Introduction
08:20 – 08:30 – Simon Forsyth, Future Leap – An introduction to ISO 14001
08:30 – 08:40 – Q&A
08:40 – 09:00 – Mark Hedges, Cala Sustain – The implementation essentials, common challenges and opportunities
09:00 – 09:10 – Q&A
09:10 – 09:25 – Louise Hart, University West of England – Case Study
09:25 – 09:35 – Questions
09:35 – 09:40 – 60 Second Pitches
09:40 – 09:45 – Close
09:45 – 10:15 – Networking & Nibbles [Plus Virtual Attendees Networking Session]