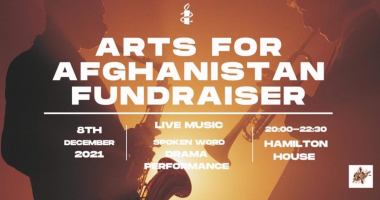 Arts for Afghanistan Fundraiser
Activism
Culture
Fundraiser
08/12/21
20:00 - 22:30
£6
More details: https://www.facebook.com/events/1502614880111248/?acontext=%7B%22event_action_history%22%3A[%7B%22mechanism%22%3A%22discovery_local_tab%22%2C%22surface%22%3A%22bookmark%22%7D]%2C%22ref_notif_type%22%3
---
JOIN US 8th DECEMBER!!!
To round off the end of our campaign we want you to join us to help raise money for a crucial cause. 
We are being joined by local bands, Bristol Dramsoc, poets and more to raise money for two charities, AfghanAid and Sanctuary Scholarship Legal Fund Campaign
TICKETS ARE GOING FAST so get yours now!!!
Bring your friends or just rock up solo – it's going to be a laid back sociable evening with some great local talent! 
This is a completely not-for-profit event! Ticket sales go straight to our charities and anything left over will be used to reimburse venue cost so that we can continue to put stuff on in the future! 
All proceeds will be going to Amnesty Society, Afghan Aid, and the Sanctuary Scholarship Fund.
Tickets:
Members: £3 (To gain £3 entry, you will be required to provide proof of membership). 
Non-members: £6
Everyone is welcome! Please note this event is not exclusively for Amnesty members or those affiliated with Bristol University.So come grab yourself a drink, enjoy amazing music and support a crucial cause!
Looking forward to seeing you there!Love, Amnesty Soc