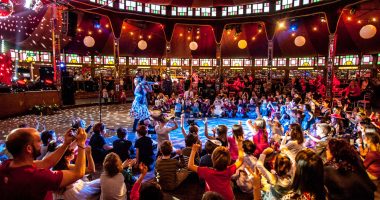 Baby Disko at The Spiegeltent – 17th December
17/12/22
13:15 - 15:30
£10.00
More details: https://christmasspiegeltent.co.uk/product/baby-disko-17th-december/
---
Baby Spiegelers, come and take centre stage in the big tent! Raid your dressing up box and come on down to the Harbourside with your grownup and friends for an exciting event filled with music, dancing, silliness, face painting, bubble blowing, dressing up and fun games. Recommended for 0-5 year olds but everyone welcome.
Entertainment will include a 30 minute kids show, serious craft-making malarkey and of course lots of feel good chart floor fillers mixed with nostalgic pop classics!
It's the hottest date on the baby calendar!
This is a standing show. It's recommended for families.
Event details
Doors open at 1:15pm
Show begins at 1:30pm
Show ends at 3:30pm
Tickets – £10 each for all ages (under one's are free)
Party Booths * can be reserved for an extra cost of £10 – seats up to 8 adults or 39 kids(OK, about 10 or 12).
*Booth reservation does not include admission, a separate ticket is required for entry to the Spiegeltent.
…and yes, the bar will be open!
Location: The Spiegeltent Bristol, Waterfront Square Bristol BS15LL
Phone: 0117 287 2484
Email: Info@christmasspiegeltent.co.uk
Please hit attending on our Facebook event page to be kept up to date with any event updates