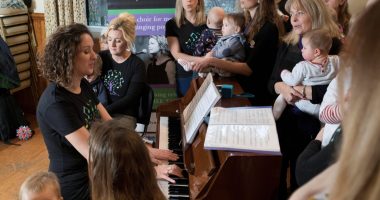 Baby Friendly Choir – Southmead
27/09/23
10:30 - 11:30
£30 for 10 week term - FREE taster sessions
More details: https://bristolbeacon.org/whats-on/baby-friendly-choir-2/
---
Bristol Beacon Baby Friendly Choir is a supportive group of parents and carers of young children, raising each others spirits through songs, music and encouragement. In partnership with Melody Makers Choir.
Wednesdays 10.30-11.30 Beacon Music Centre, Southmead
This is a daytime choir for adults singing uplifting pop/rock songs in harmony, where babies and toddlers are welcome with their parent/carer.
No musical experience is needed, just a love of singing and openness to learn a new skill. Through games, call and response, circle singing, rounds and laughter, you will be drawn into learning new music without realising!
10:00 – Teas and coffees and biscuits. Bring your Thermos mug.
10:30-11:30 – Sing
11:30-12:00 – Wind down. Stay for a chat and make friends.