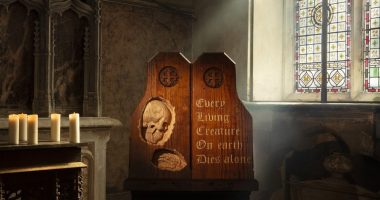 BEN TURNBULL EXHIBITION: I DON'T LIKE SUNDAYS
06/06/22 - 09/06/22
All day
FREE
More details: https://www.benturnbull.com/
---
Celebrated British artist Ben Turnbull will unveil his latest body of work, twelve pieces exploring acts of violence resulting from religious influence, at The Mount Without (formerly St Michael's on the Mount Without), Bristol, opening on 6th June 2022 in a collaboration with Bristol creative collective ART808.
I Don't Like Sundays, by the London-based artist, follows last year's hugely well received show at the Saatchi Gallery. A cradle Catholic, and now an atheist, his pieces draw on his strict early upbringing at a Catholic school run by nuns.
The twelve works match the number of Jesus' apostles. Turnbull says, 'They [the disciples] took the word of God to the wider world, and in a sense this exhibition is my own spreading of a truth, via posters and flyers – and from a radically different perspective, of course.'
The carvings will be arranged around the edge of the church and down the aisles, blending in with the existing ecclesiastical decorations and furniture.
Two of the guiding inspirations for these new works, which were made over a two year period beginning in 2020, are British artist Stanley Spencer's never realised chapel which was conceived as a tribute to the women in his life, and the movie version of The Who's 1975 rock opera, Tommy. The church scene features the band and Eric Clapton with Christ and God replaced by Marilyn Monroe iconography, in a service that is more like a bluesy bacchanal than a religious ceremony.
The exhibition will be promoted a week in advance of that, with a billboard and flyposting campaign across the city in partnership with creative advertising specialists Jack Arts, and flyposting experts UNCLE.